Sports Betting Guide
Point spread betting explained: what is pick'em?
How familiar are you with sports betting lingo? Do you have a hard time understanding some of the terms you find online? Do you know what they mean and how do they work? Let's take a look at one of them today in our special online sports betting guide. Read on.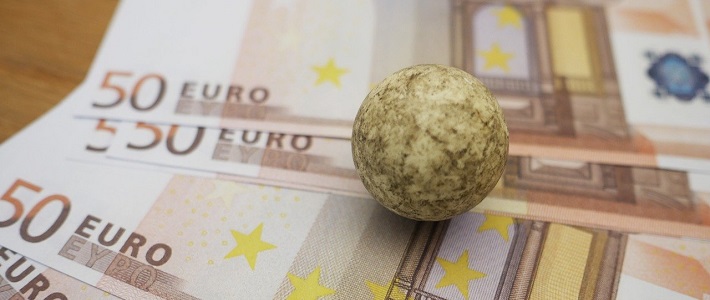 Introduction
Hello and welcome to our sports betting tutorial, where we would like to explain what pick'em is and how you can use it in your betting.
Before we get into pick'em more, we need to be familiar with something like a point spread. Point spread, or simply spread, is one of the most popular ways of betting on such sports as American Football, Basketball, however, it can be applied to any sports discipline you can imagine. Basically, a point spread is the number of points by which a team is projected to win.
What is point spread betting & how it works?
So, let's take a quick look at what exactly is the point spread. When betting on a point spread, you are not directly betting on a team or a player to win but rather on the margin of their victory. Just before you start googling what exactly the point spread is, let us calm you down. It is pretty much the same as a handicap (the term you might be much more familiar with). If you would like to check out some of our sports betting guides about the types of handicaps (Asian Handicap & European Handicap) and how to start betting on them, please click here to visit our sports betting guide library.
Back to the point spread, you can usually see two types of the point spread in your online bookmaker's sportsbook offer. They usually come with a negative sign «-» to describe a favourite, and the positive sign «+» to describe the underdog. Before we move on further, please take a look at the example of the point spread for a random NFL game from one of the top online bookmakers, William Hill, down below.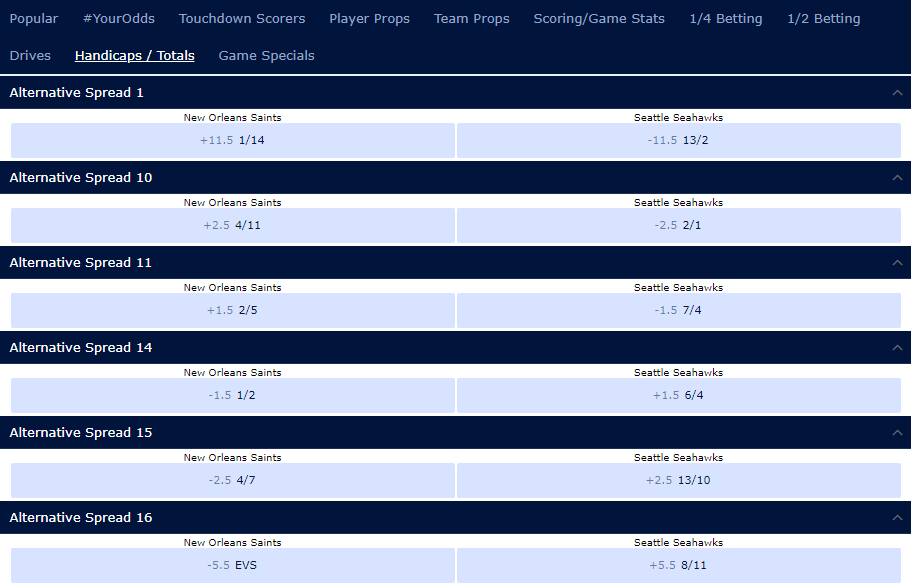 As you can see, it is the NFL game Between New Orleans Saints and Seattle Seahawks. Looking at the very first spread line, we can tell right away that the Seahawks are 11.5-points favourite over the Saints. In other words, the -11.5 spread means that Seattle must win by at least 12 points for such wagers to come in. On the other side of the market, we have our underdog, which in this particular case is New Orleans. Using the same point spread line example, we see the Saints listed as an 11.5-points underdog (+11.5). That means the home team should either win the game or lose by 1-11 points in order for the bet to win.
What about the draw, you would ask? Well, if you have a «fractional-looking» point spread, which in other words is (Asian Handicap), you simply do not include the draw outcome in your betting. Well, not exactly. Think about it this way. You cannot possibly get half a score in an NFL game, right? So if your point spread is 2.5, 3.5, 10.5, or 20.5, and your backed team (assuming you are betting on the favourite) only wins by 2, 3, 10, or 20, respectively, they would simply not cover the given point spread and, thus, you will lose your bet.
Luckily, there are also «whole number» point spreads (or, in other words, European Handicaps). Those spreads do not differ from the fractional type ones in any way, except for one thing. In the case of «whole number» spreads, you get lines like 8, 12, 21, etc. Thus, if the favourite wins exactly by the respective number of points, your wager will end up in a draw, which subsequently means a void. 
Hopefully, it is now clear for you. However, let us point out a couple of things before we move on. When you start betting on point spreads, you will most likely come across the phrase «covering the spread». It is nothing else but a way to say that your team won by the number of points needed for your point spread bet to win. The same would go for the underdog team, if they lost by fewer points than the point spread states or won the game, they covered the spread.
Another useful term you most likely will come across is «ATS». ATS stands for «against the spread». Sometimes you will see ATS and some numbers next to it. This tells you the record of the team/player covering the spread (something like wins & losses but based on the spread).
Looks like you are all set to move on now.
What is pick'em?
Finally, we made it here. So, what exactly is pick'em? First of all, you are not always going to see pick'em, the term is usually shortened to «pick» or «PK» (the more common version). PK is another type of point spread where neither team is favoured. It basically means the spread is zero or that there is no spread at all. The odds for such a bet should be the same for each side, and punters simply need to back one of the teams to win in order to land their wagers.
Sports Betting Tutorial: The 6 No-Nos of Online Sports Betting
Whenever you come across such a spread, do not jump right into the assumption that both teams are considered equal by the bookmaker. There is still a difference between them. It just happened that the bookmaker's model produced such a result due to a variety of reasons like injuries, home-field advantage, etc. Think about it as rather the oddsmakers believe both teams have an equal chance to win that particular game.
While pick'em is somewhat an easy version of a normal point spread, it never means it gets any easier to land such a bet. Markets like NFL are extremely sharp nowadays, online bookmakers have every possible tool to measure any of the needed metrics and statistics to make their odds as close to the true possibilities as possible. Nevertheless, there are a few ways to gain an edge over your online bookmaker. 
First of all, do not blindly back the «better team» (record-wise). This is in no way suggested and will most likely result in a loss. It is one of the most common mistakes punters make when betting on pick'em spreads.
Do some research about the home team. Home-field advantage is quite a crucial aspect when it comes to the top-tier team sports like NFL, NBA, etc. Analyse the home team's home record, H2Hs, and factor that into your betting algorithm to beat your online bookie.
Check out power ranking and other stats you might have access to. The rule here is the more, the better. Compare and analyse every statistic possible to build a better betting model. Remember, bookmakers do not always know everything, however, catching them making a mistake is quite a challenge.
Summary
Hopefully, this online sports betting guide finds you very useful. Good luck betting on point spreads in the future. Remember to never place any wagers without proper analysis and review of the available information. Collect as much information as you possibly can to build up your own betting model and slowly but gradually start applying in real-time. Good luck, and remember to gamble responsibly.
If you missed our latest sports betting guide, please, click here to check it out.