Sports Betting Guide
How to beat a bookie? Secrets of the world's best punters.
Sports betting is not as simple as many would have thought. Anyone who at least once tried it knows what we mean. How do we still lose our bets, despite long hours spent on analysing matches one after another and detailed knowledge of players and teams? Thus, where is the flaw, within which lays the key to betting success? If you're asking yourself the same questions, you've come to the right place! Let us share these secrets, which the best punters only keep to themselves.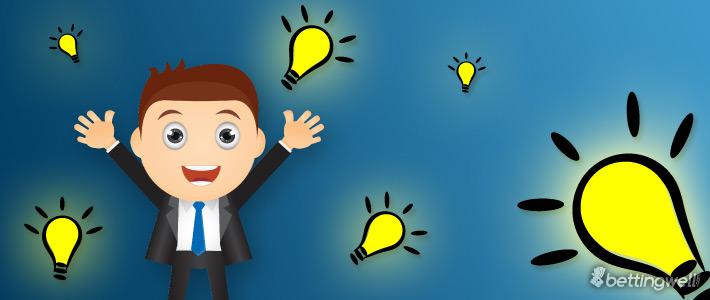 What kind of punter are you?
There is no such thing as a perfect punter. We know those who watch thousands of matches, know what players had for breakfast and how much sleep did they get, and despite all of that their statistics are quite mediocre, at best. On the other hand, there are those who follow their intuition and have long winning streaks. Too bad it's only luck, that unfortunately ends at some point. After all those years, we have realised, that a good punter isn't recognised by his best streak. That would've been way too easy. Imagine trying to count all of those poor punters who shined for a short time, and fell off right after, not being able to handle the pressure.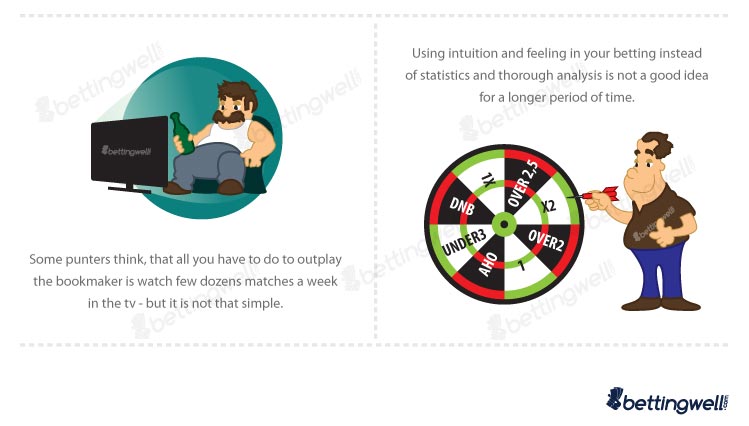 When we thought that nothing could surprise us after all these years, something completely insane happened. Some time ago, we hired a new IT guy for our sports betting office, and it was only a matter of time before we got into betting himself. Well, it is hard to not when you're spending several hours a day around sports betting maniacs and betting enthusiast. What happened next was completely nuts. This guy, who shamelessly admitted he had watched only a couple of football matches in his life and had almost no idea about what is going on on the football field, appeared to be incredibly good at betting. He perfectly combined our knowledge about sports with his analytical skills, to accurately calculate the probability & risk factors. Some people thought that he was secretly stealing our free tips and analysing them in a way known only to himself. Anyways, his yield & results were so good that it was extremely hard to believe it was real.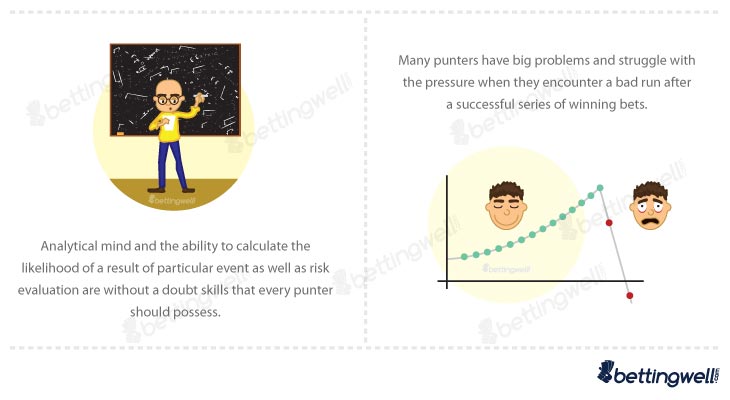 The secret of the world's best punters success
Holding the bragging rights, we can say we've met some of the world's best punters, and you know what? They were just regular guys, who didn't stand out in the crowd at all. You could've passed one of them in a line for a movie ticket, and you would have never guessed that this guy makes enormous cash on sports betting. We spent hours (hundreds of them probably) talking to them, and it was not only a great but also a very insightful experience. Now, we would like to share that experience with you.
Find your niche
Have you ever met these people who are absolutely great at everything? Yeah, well, we neither. Just as there is no doctor who performs open-heart surgeries at 3:00 AM and makes horseshoes at 3:30, there is also no punter who bets on the NBA on Monday, Alaskan Sled dog racing on Tuesday and Ski Jumping in Senegal on Wednesday. Or maybe there is, but we promise you his yield isn't jaw-dropping. Having said that, you have to choose your sports discipline wisely and stick to it regardless. Moreover, pick two or three leagues/competitions at most and become the expert in those. Interested in the Champions League? Focus, analyse and bet only on its matches. We can assure you, your statistics will immediately get better just by following this simple rule.
When choosing a specific competition, it is wise to assume that the more exotic it is, the bigger are your chances to gain an edge over the bookmaker. It is not a big of a deal to back Barcelona or Real Madrid to win at home. That's common sense, not betting expertise. A true betting skill hides in finding value in Croatian 2nd league matchup. You must realise one simple thing - everyone knows something about top leagues, therefore, those markets are highly verified. If you consider yourself a Serie A expert, then you can be sure that your top online bookmaker employs at least 10 statisticians, analysts and oddsmakers that are way more proficient in betting than you. The situation looks completely different in less popular leagues. Being an expert in Croatian 2nd league, you have a substantially much better position against one of the online bookmakers. In some cases, you might even know more than bookmakers do.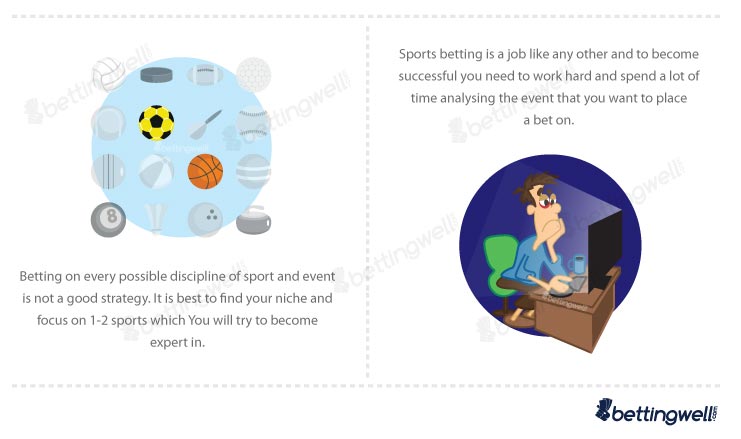 Match analysis
One thing that scares us is the number of punters who treat sports betting only as a way to kill some time or just fun. This is a very vague approach that will not lead you anywhere. Just think about it, what are the chances of having the positive long-run record for punters who place a couple of bets every weekend only based on how they feel that day. Sports betting is like any other job, it requires time, dedication and hard work.
That is exactly why we keep emphasising the importance of analysing as much data about the given event as possible before placing a bet. If you would like to learn more about how to properly analyse sports data, assess risk and calculate the likelihood of any sporting event, please, click here, to read one of our sports betting guides.
Number of placed bets
Let us talk a bit about one of the most vital aspects of beating a bookmaker. Guess how many times the world's best punters find value per month? Well, usually around 10-30, in the best case. This should make you question the approach of placing 20-30 bets on a Sunday afternoon. Statistically speaking, such a strategy has no way of succeeding. If your goal is to stay profitable in sports betting in the long run, then you have to limit the number of bets you place right now! If that works for the best punters in the world, then why shouldn't it work for you then?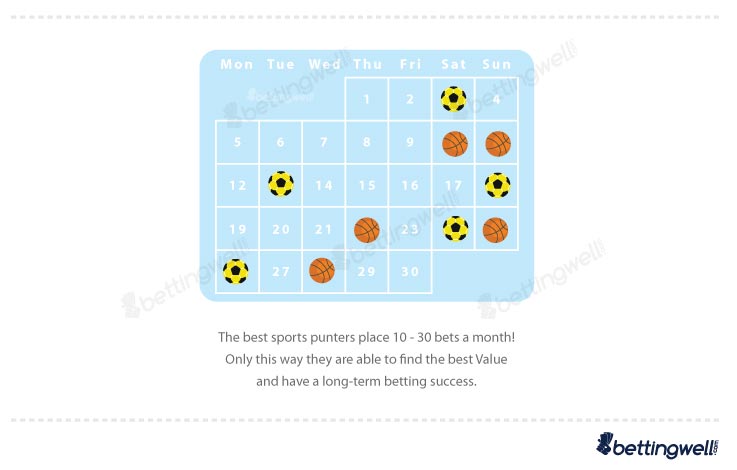 Please, be aware, this will be one of the hardest skills you would have to master, however, the very feasible one. So where should you start? If you already have a league/competition you want to become an expert in, just simply pick 3 or 4 selections that you think have the most value… and that's it! Seems quite easy, isn't it? The key here is to stay patient since the urge to keep betting will be huge at first. However, it should eventually become a habit and won't bother you at all.
The Setback Phase
Online sports betting has no room for rushing. Let's set the record straight, sports betting at its very best is not a nerve soothing activating, but rather a complete opposite. Since every one of you already knows that making a decision while jumpy or edgy is not the best way to do it, we would suggest you take a short break from betting every now and then. Just take a couple of days off and do anything but sports betting. Our experts also suggest a bit more advanced approach by taking such a break after every big loss and, what is more, every big win! Doing it this way makes more sense. 
As we have already mentioned, there is no easier thing to do than sports betting, however, only when it goes according to our plan. The problems come after the first winning streak. Unfortunately, 90% of the less-experienced punters cannot go through such a stage intact. In other words, the majority of bettors are not able to bounce back and usually enter a losing streak wasting their budget.
Our sports betting experts have a great solution for this. Just set a certain amount, based on your budget (for some it might be £10, for others - £1000) and every time you win or lose more than that, just sit back and relax. Forget about bookmakers, betting and everything that comes with it, just simply take a break. Some of you might say that it only makes sense to take a break after a loss but not after a win. Well, the main reason for taking a break from betting after a significant win is that many punters lose their focus after a temporary success, thinking they got it now and every bet they place is going to win. Unfortunately, this is not the case, and many punters are losing everything they have won and even more in a series of bad decisions.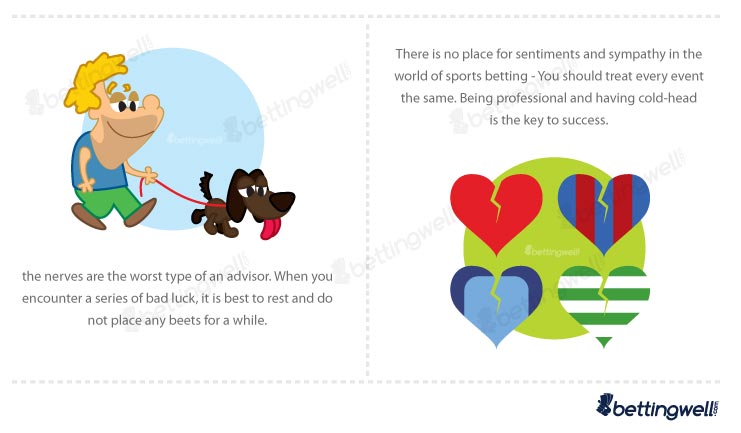 Get rid of emotions
Let's say something about another tough but very achievable aspect of beating the bookmaker. Remember out IT guy? The main reason behind his unbelievable success was, surprisingly, him having no idea about sports whatsoever. Every bet he placed was solely based on the value of that bet, risk factor and its profitability. While it is not that hard to do in general, someone who has been following sports their whole life and already has their favourites might have a rough time dealing with it.
Let us explain it better using a simple example. Let's assume that Team A (favourite) is playing Team B (underdog) in the competitive national league matchup. While in 75th minute, the scoreboard shows 0:0 and the price for the odds-on favourite winning the match is around 1.30 (3/10) - 1.40 (2/5). On the other hand, the X2 option is being priced at 4.50 (7/2). Looking at the odds and the situation on the field, our IT colleague was shocked. He couldn't believe why the odds for the most likely outcome were so long. Obviously, Team A fans would be thinking that their star forward will carry the team and score a goal or two, but the stats were showing a complete opposite. The match finished with 0:0 on the scoreboard, as it was expected, pocketing significant winnings for our IT guy. This is a great example of how emotions can affect your betting. Please, try considering this approach more seriously if you want to maximise your profits in the long run.
Using the opportunity, if you are still wondering which top online bookmaker would be better to start betting journey with, you might want to check out our bookmakers' review section. 
For those who find this betting guide rather more complicated, we would like to suggest checking out this tutorial for beginners.
Summary
Everyone who is serious about betting on sports aims to make profits. There is simply no other way of doing it, and if someone thinks otherwise, they are just cheating themselves. Therefore, if you haven't had much success betting your way, then it is time to look for another hobby or start doing it the right way.
Start betting right today and claim an awesome welcome bonus at one of our recommended online bookmakers.
You can keep betting your way if you want to and have your ups & downs. However, you can also do it using our methods based on our knowledge and experience, avoiding mistakes that we have already fulfilled. Obviously, we cannot make you, but if you would just simply give it a try, we promise you, you will never go back! Come back for more useful betting articles and, like always, Happy Betting!