Sports Betting Guide
How to beat a bookie? Secrets of world's best punters
Sports betting is not as simple as many would have thought. Anyone who at least once tried it, knows what we mean. How is it, that despite long hours spent on analysing matches one after another and considerable knowledge of players and teams, we still lose our bets? Where is the flaw, and within it, the key to success of the best tipsters? If you're asking the same questions, you've come to the right place! We give you these golden rules, which the best of the best keep for themselves.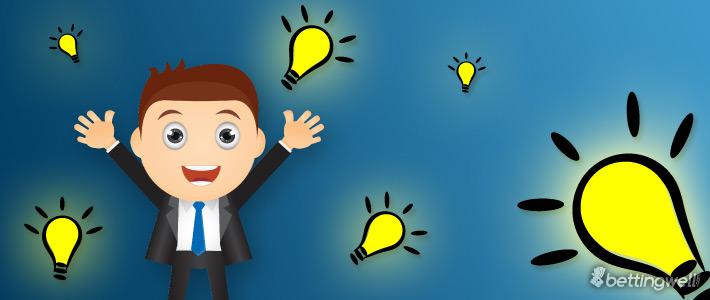 What kind of punter are you?
There is no such thing as a perfect punter's profile. We know those, who watch thousands of matches, follow what the player had for his breakfast and how much sleep did he get, and despite all that their statistics are average at best. Then, there are those who follow their intuition, and they tend to have long winning streaks. Too bad it's only a bit of luck, that unfortunately ends at some point. After all those years, we have realised, that a good punter isn't recognised by his best streak. That's way too easy. We can't count all the poor souls who shined for some time, and just couldn't handle the pressure in the moment of defeat, and that's when their statistics collapsed, burying them underneath their losses.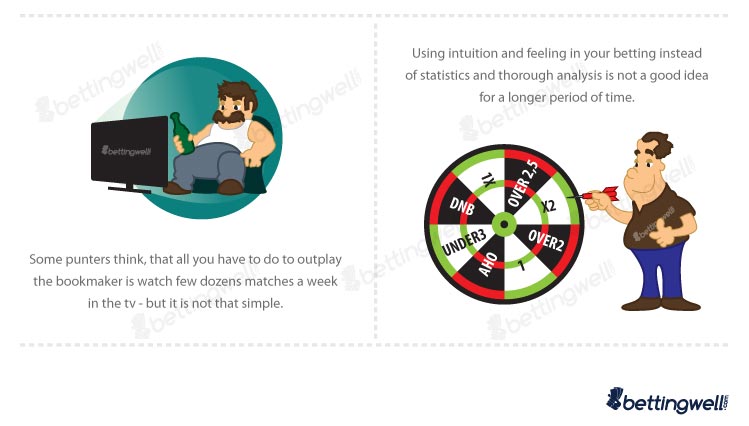 When we thought that after years in business nothing can surprise us, something completely insane happened. Some time ago, we introduced an IT guy in our office to sports betting - believe me, in the crowd of sports maniacs and betting enthusiasts it's hard not tu succumb to the dark side of the force. But what happened? This clueless person, who shamelessly admitted he had watched three football matches in his life and during Euro 2016 wondered why all of a sudden people stick flags on their cars, just happened to be incredibly good at betting. He simply combined our sporting knowledge and his cold analytical deduction, calculating the probability and risk factor. You could say that he was secretly stealing our bets and analysed them in a way known only to himself. His Yield and statistics were so good, that we didn't know what to believe anymore.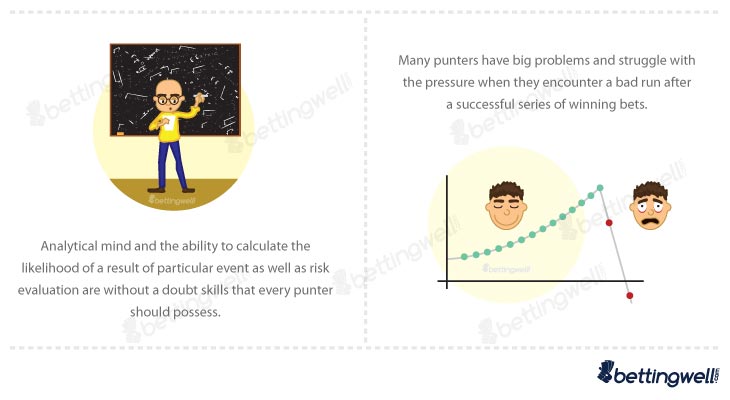 The secret of world's best punters success
We've met some of the world's best punters, and you know what? They are regular guys, who doesn't stand out in the crowd. You could pass one of them in a line for a movie ticket and you would have never guessed that this guy makes enormous cash on sports betting.We spent hours (hundreds probably) talking to them, and it was not only a great fun, but also insightful experience. Now we share our experience so that you can learn the secrets of the best.
Find your niche
You ever met these people who are absolutely best at everything? Yeah, we neither. Just as there is no doctor who performs open heart surgery at 3.00 o'clock and makes horseshoes at 3.30 o'clock, there is no punter who who bets on NBA on monday, Alaskan sled dog racing on tuesday and Ski Jumping in Senegal on wednesday. Or maybe there is, but I'd bet you his Yield isn't jaw-dropping. So choose your discipline - and choose wisely - and let it be your one and only. More than that. Pick two, three leagues at most and make it your own field of expertise. Interested in Bundesliga? Analyse and bet only there. We assure you that this will give your statistics a solid boost.

When choosing a sporting competition it is wise to assume that the more exotic it is, the bigger are your chances for success. It is no big deal to predict Barcelona or Real Madrid to win when playing at home - That's common knowledge, not betting expertise. True skill is to find value odds on Croatian 2nd league. You must realise one simple truth - Everyone knows something about top leagues. If you consider yourself an expert on Serie A, then you can be sure that your bookmaker employs 10 similar, or - what's more probable - slightly better analytics than you. This looks different in less popular leagues. Being expert in Croatian 2nd league I've mentioned earlier you're on much better position against one of your typical bookie. You may even surpass his knowledge.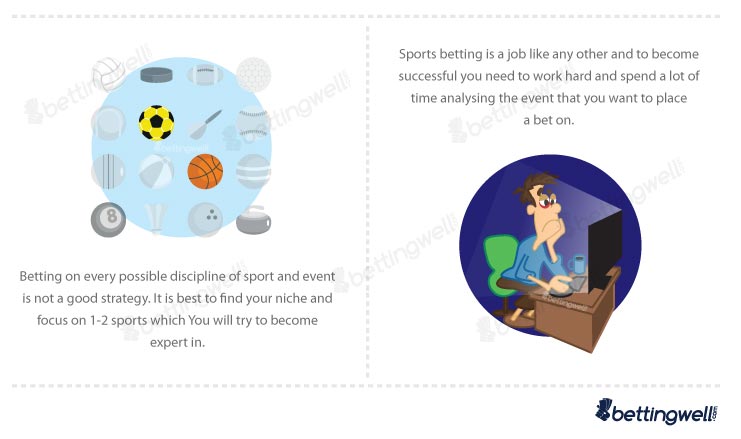 Match analysis
One thing that scares us is the number of punters who treat sports betting only as a way to kill some time, or as a good fun. This is playing with fire, and sure way to catastrophe. There is no way, that punters who bet on weekends based on "Because I think so" are on plus in long run. Sports betting, like any other job requires time investment and a solid deal of patience.
That's why our job is to thoroughly analyse matches and potential odds for you. We've written articles on that, so instead of repeating ourselves we strongly recommend you to check them in our archives.
 
How to effectively analyse matches?
 
Number of placed bets
Guess how many valuable types the best punters find monthly? 10 - 30 max. And believe us - it's 10 rather than 30 most of the times. This stats really makes us think, especially that we know "punters" for whom placing 30 bets is a matter of time between breakfast and lunch. There is no way this strategy is going to work. If you wish to regularly earn money on sports betting, you must drastically reduce the number of bets. If that's what the best are doing, then there must be something in it, isn't there?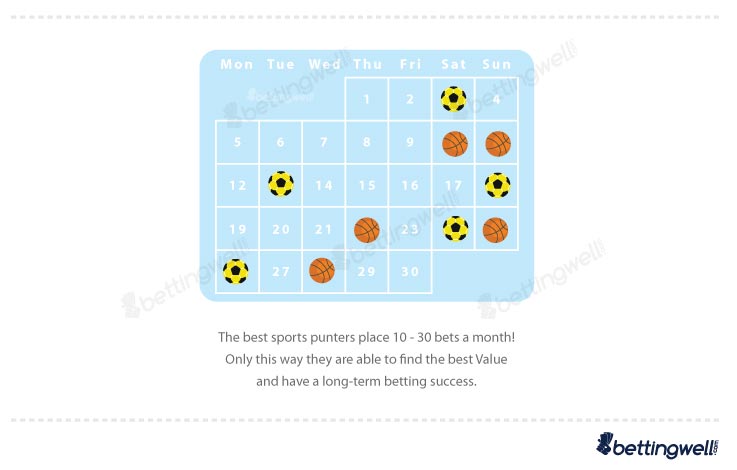 Warning! In our opinion this might be the hardest trait to achieve, but surely not impossible. How to do it? If you have already picked a league you wish to gain expertise in, simply take 3 or 4 picks that you think have the most interesting value and…that's it! Stop right there. We know the urge is strong, but it will eventually become easy to suppress.
The Dormant Phase
Sports Betting is not a race and there is no reason to rush yourself anywhere. Let's say that high level betting isn't remedy for disturbed mind, but the opposite - the adrenaline rushes like crazy. And because nerves aren't the best advisor everyone needs a little time to soothe the mind. That's why all of us need The Dormant Phase - a time when we just forget the betting world even exist. We don't check favourite sites (even bettingwell), check the odds or talk about it. Just relax. The experts think it's essential after every big lose, but we would go even further - do it after every big win. Euphoric brain is just as bad in analysing the situation as bummed one.
 
We've mentioned earlier, that in the world there are no simpler tasks than sports betting - but only when everything goes as we planned. The problems appear when good streak ends. 90% of less experienced punters can't hold on during the losing streak and instead of coming back, they lose all of their funds.
 
Our experts have easy solution for this. Set a quota that is meaningful for you (for some it's £10 for others £1000) and after each lose or win over that quota just pass. Let it rest and go for a walk. Sure - someone might say - understandable after a lose. But after a win? Why stop when Lady Fortune is on our side? It appears, that for most of punters a temporary success lowers wakefulness, leading to series of bad decisions. Everything they win is immediately put on stakes, just to realise they are suddenly paying out of their own pocket.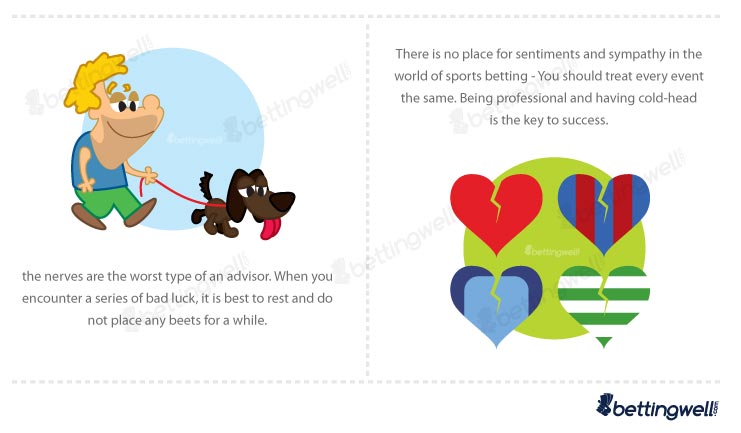 Don't let your emotions get in the way
Aanother uneasy, but achievable attribute. Do you know why our IT-punter was such successful with his bets? Because he had completely no idea about sports whatsoever, and every match for him was just counted in terms of value, risk and probability. For someone who's enthusiastic about every match he watches it's not an easy thing to do.
 
Example? Barcelona-Malaga match on Camp Nou. When in 75 minute the outcome was still 0:0, the odds for Barca was still ~3/10 while option X2 - 7/2. Our colleague couldn't believe his eyes. How could the odds not favour the outcome that was on the board 15 minutes before the game ends? Every football enthusiast would be worried that in a moment Messi would speed up and score few goals. For IT guy - raw numbers and value spoke for X2. The meeting finished (no wonders) in 0:0 draw. That's why it's important to lose the sympathy (and antipathy), and treat every match with maximally professional look, as a mean to earn money.
 
We didn't mention basic rules, that every respectful punter should follow. We hope you already know them. If not - check our betting guides for beginners.
Summary
Everyone who takes sports betting seriously, does it to earn money. It's hard to believe that it's meant for something else, and everyone who thinks different lies not only to us, but also to themselves. If your journey with sports betting wasn't an easy way to success, maybe it's time to retire as a punter or look for another hobby or...you can try again and start doing it well. You can still achieve success. Give us a chance and put our tips and advices to use, even for short time, just to see how your statistics will go. We promise that with a bit of patience, your profits will rise.