Sports Betting Guide
Introduction to sports betting
Betting is a type of gambling activity in which people place money on a bet, in which they have to correctly predict the outcome of a sporting or cultural event in order to win money. We would like to explain you the basics of this quite popular activity, teach you how it's supposed to be done and help you make your first steps in the world of online sports betting.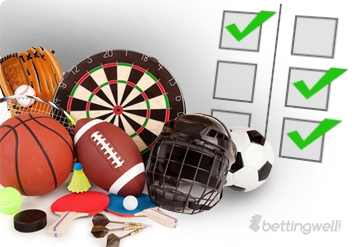 Short Introduction
You have probably heard a lot about betting on the Internet or from people you know. As we have already mentioned, you can bet on a variety of different events, however, sports betting is the most popular type of betting. Generally, people place bets with the bookmakers, either via betting shops or websites. The amount of money won on a particular bet is calculated by multiplying the amount of money we placed on the wager, known as the stake, by the odds offered by the betting operator. People are engaged in betting are often referred to as punters (UK & Europe) or bettors (USA & Western World).
Essentials of sports betting
The entire bookmaking industry is based on the probability or likelihood of the events occurring, represented by something called odds. Bookmakers are offering these, let's call them, rates based on a large range of factors that might affect the chances of a particular outcome taking place. Not only these numbers are telling you the implied probability of the event but also how much you can possibly win. Professional punters use the odds along with some simple calculations and analysis to find value. More about value is explained here. When you get more familiar with betting, you will notice that the odds change very rapidly, especially when it comes to livebetting. It is quite common that punters win more on the same bet just because they place their wagers at the right moment. Therefore, the timing is also very important. Betting markets are also another thing you must keep in mind. You have to learn their mechanics to be able to read it properly. Sometimes top online bookmakers are shortening their odds on a particular player or team just because of the volume of bets place on their side. This is done for one simple reason - to limit possible losses & mitigate risks. Such market situations are quite normal and open up a possibility to back the opposite side (whose odds are getting longer instead). These are only few points you need to consider when opting-in for sports betting or betting in general. If you have already made a decision to become a punter, you must first get familiar with a so-called started-pack:
Proper bankroll management (managing your betting budget)
Good ethics (positive thinking, focus, cool-head, patience)
Analytical skills
Statistics & data
Proper strategy (an approach that you are going to use through your betting journey)
Good reflexes
Learn more about how to become a better punter and how to beat your online bookmaker in our sports betting guide section.
Landside or online bookmaker
Back in a day, there used to be the only way to place a bet, and that is via a betting shop. These betting shops were basically traditional bookmakers' outlets where you could've come and place wagers. These shops were a part of the particular betting operator's network limited to its geographical location. Luckily for all of us, the things took a change with the introduction of the Internet. Nowadays, it is hard to find a bookmaker without a website via which you can place your bets. Moreover, online bookmakers became so popular that the majority of top online bookmakers only exist online nowadays. Despite offline betting still being present, the benefits of betting online are quite obvious and self-explanatory. Betting online provides a far more convenient, flexible and friendly experience.
In the case of online betting, you are not required to be physically present at the betting shop. You can basically bet from any place in the world via your phone, tablet or computer. Another great thing is that you can do it not only anywhere you want but also anytime you want it. Another reason behind the online bookmakers' superiority is the access to all the necessary information connected with the particular event. Top online bookmakers always provide the up-to-date match statistics, feedbacks and sometimes even their own predictions, along with live streams. Majority of our recommended online betting services also provide various apps and tools that can help you when betting. If that is still not enough for you to register with one of the top online bookmakers, then here you go with the unbeatable reason why you should do it today - livebetting! Yes, livebetting, or in other words, in-play betting. This is the form of betting available exclusively via online betting sites, which allows you to place live wagers on the in-game occurring events.
Choosing the online bookmaker
Whether or not our words were convincing, at some point, you will get fed up with walking back and forth to your local betting shop. Therefore, it is a great time to start checking out your possible options and choose your online bookmaker. Do not go for big names or flashy ads, choosing the online betting operator is a very individual matter. The book that works well for your friend might not fit your need at all, therefore, choose whichever one suits YOU best. There are a couple of things you have to look at when choosing a particular sportsbook. First of all, you must look at the reliability, trustworthiness and swiftness of payouts. These are the main criteria for choosing a decent online bookmaker. Next up, you have to check out the offer and the price competitiveness of the particular company. This is also very important since if you choose the bookmaker that doesn't have much to offer for your favourite sport, it will simply not have anything to bet on. If you have made past that step, it is the right time to check out what your chosen online bookmaker has to offer in terms of bonuses & promotions. This is another great feature of online bookmakers. These free bonuses play a huge role in the online betting market. A generous welcome bonus or frequently offered occasional promotions quite often play the decisive role when choosing between two or more online bookmakers you would like to register with. If you would like to learn more about the leading online betting operators, please visit our review section and get the objective overview & feedback to help you make the right decision.
Forms of betting
You have to decide which form of betting you are going to use before actually placing your very first bet. The majority of bets placed around the world are fixed-odds. This means you are betting against the odds offered by the online bookmaker, which do not involve any fluctuation at the payout. This helps you to have a clear idea of how much you are going to win. The most popular fixed-odds types of bets are traditional 1X2, outrights and correct score bets. 
Before we get too deep into various betting options, let's talk a bit about the different types of odds. There many of them, however, it is commonly agreed that there are three main types of odds: fractional, decimal and moneyline. Fractional odds are the most traditional odds out there, they are primarily used in the UK up to this day. Decimal ones are the most popular and arguably the simplest to read, they are used by the majority of European countries, as well as all around the world. As for the moneyline, or as they are also referred to as American odds, they are used in the USA and Western World countries. This is pretty much all you need to know about the odds.
Back to the betting options, another popular type of betting is a handicap. Punters need to predict whether a team or a player will cover the offered by the bookmaker handicap (also known as a spread). It is some sort of a theoretical advantage given to the underdog of the event. Another type of bet is offered in the form of a line for the number of goals, points, corners, penalty cards, etc. depending on the sport. Such markets are usually called Over/Under or total points. As its former name suggest, you basically have to predict whether the stats will go over or remain under the offered line.
Types of bets
There is a wide variety of bets for almost every sports discipline. They can be classified by the following categories: singles and multiples. Single bets are the most popular type of bets. Singles include for following betting options like handicaps, point spreads, totals (over/under), outrights (futures) and of course classic 1X2 bets. Multiples, just like the name suggests, include multiple selections at once. However, besides the combination of the aforementioned betting options, accumulators could also have a form of permutation wagers, like Heinz or Lucky 15. As for the other types of bets, you can come across forecasts, conditional bets (any to come), specials (novelty bets) and live bets (in-play).
Read this article if you want to know more about types of bets.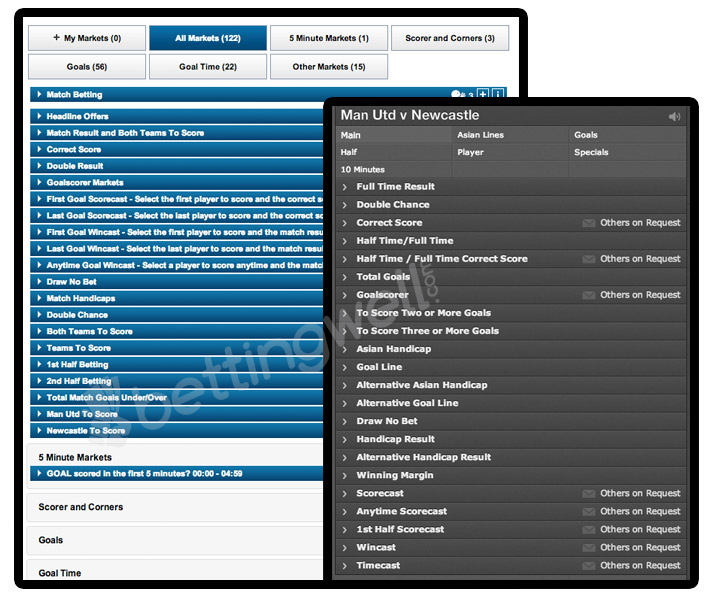 What sports are best for betting
Choosing a sports discipline and especially the event you are going to bet on is very important. The golden rule here is to stick with whatever sports you are the most comfortable with or know the most about. Following this advice will only simplify your entire betting experience. There is no such thing as a sport that is easier to bet on than the other one. It solely depends on you, your preferences and skillset. If you cannot make up your mind about which sport to start betting on, check out one of our sports betting guides, to learn more about the predictability of sports disciplines.