Sports Betting Guide
Predictability of sports disciplines
Football or basketball? Tennis or maybe hockey? You often ask us which sports disciplines are the most predictable and thus the easiest to bet on. It is hard to give a simple answer to that question. Nevertheless, after years of analysing sports betting, we have observed a few tendencies when it comes to particular sports disciplines. In this article, we will analyse some of the most popular sports with a special focus on their predictability.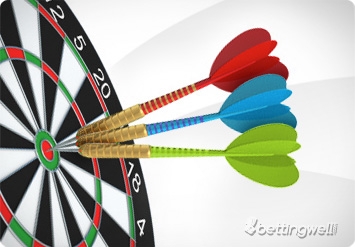 Is betting on football a lottery?
Let us begin with the world's most popular sport - football. A sport which is also favoured by the majority of sports punters. From mathematical point of view football does not seem to be very predictable. Why? First of all, taking into consideration the fact that there are three possible outcomes of every match: victory, draw and defeat, we have only 33,3% chances for correct prediction of a football match result with regular bets and 50% chances with two-way bets, especially asian handicaps.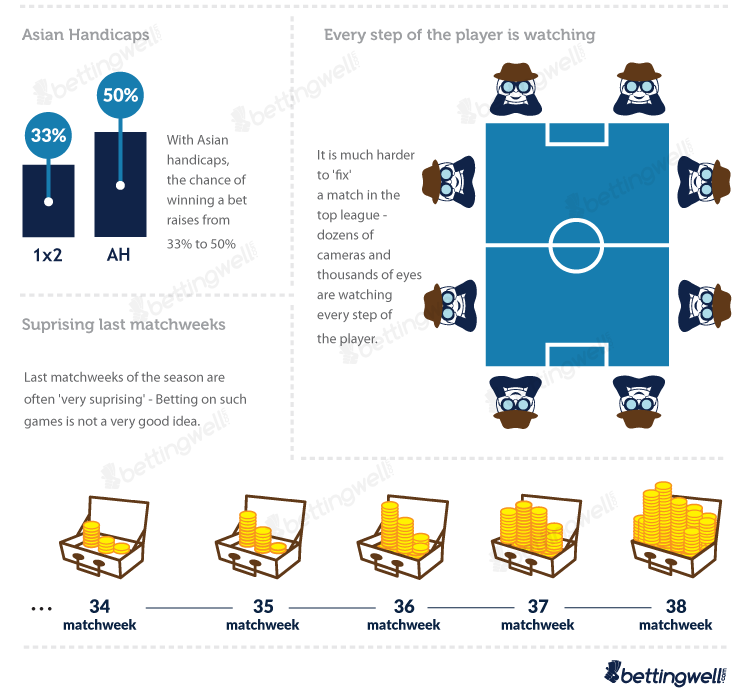 Furthermore, we are constantly reminded by the media that football is getting more and more corrupted, and the possibility of fixed matches is increasing. In a way, football became a victim of its own popularity. Remember that the favourite may not need to lose, for the scammers to win money in a fixed game. Sometimes, all it takes is for the underdog to score a goal, for example, the first one in the game. The odds for such possibilities are often very high, and nobody will remember that the team who eventually won 4:1, conceded the first goal. Nobody, except people who made millions on that game. We believe that the possibility of making big, easy money is too tempting for some people, and such situations will, unfortunately, happen.
As for the most prestigious top European competitions, we think they are mostly free of corruption. Millions of fans around the world watch the best European teams compete each week. Every single match is being recorded and live-streamed with the usage of state-of-the-art technology and multiple cameras. This leads to match-fixing in such leagues being extremely difficult, although not impossible. Keep in mind that there are leagues in which we can be confident that corruption is very unlikely due to recently imposed restrictions and laws of football federations.
What is more, in competitions such as UEFA Champions League, English Premier League, Spanish La Liga, German Bundesliga, French Ligue 1 or Italian Serie A, the financial level of clubs as well as their reputation is at such a high level, that they cannot afford to damage their public image over some corruption scandal. This was visible a few years ago in the Calciopoli scandal where few Italian teams, Juventus among others, were punished and even relegated to second division because of the corruption. The club from Turin, as well as Italian football in general, had to rebuild its name from the beginning.
Without a doubt, competitions that are more exposed to corruption are those from national leagues and cups of post-socialist countries such as Ukraine, Poland, Lithuania, Latvia, Georgia and even Russia as well as Balkan states including Serbia, Macedonia, Bosnia and Herzegovina, Montenegro, Albania and Kosovo. If you have decided to put your money on football betting, you should pay attention to the moment of the season. Nowadays, nobody is surprised by the weird games at the beginning and especially at the end of the season, where theoretically stronger teams often lose points to weaker sides that are in need of those. What is more, two clubs who have very good relations will sometimes 'give' win or a point in the match to the side that desperately needs it. When betting on football, we should consider even the smallest details like that.
Summing up, the lower and more obscure the competition is, the less predictable it is and even with proper knowledge of statistics and good reflexes you could still lose money while betting on such events due to corruption and numerous variables that you are not aware of due to the lack of information.
Ice-hockey predictability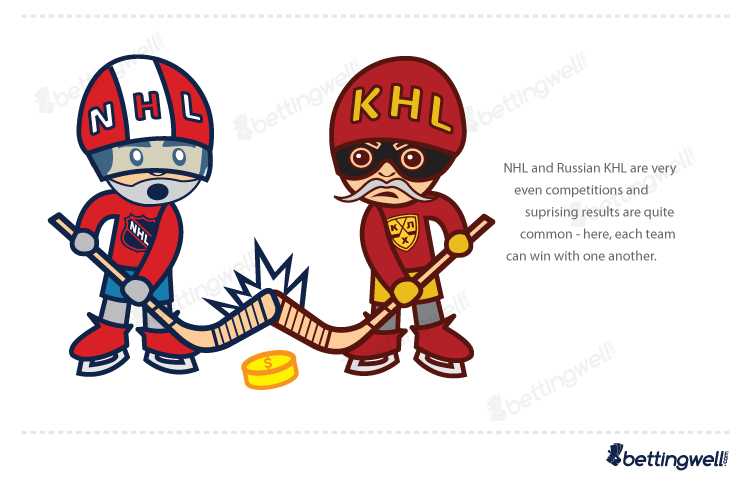 Hockey is another sports discipline which is worth considering to bet at. This sport increasingly gains popularity among both fans and punters. Unfortunately, for hockey punters, the chances of successful prediction in hockey are even lower than in football. Online bookmakers are aware of this and thus offer higher odds for hockey matches, even in cases of those with a clear favourite. The main reason for that is to encourage punters to place bets on this discipline.
It should be noted that games of two strongest and most popular hockey leagues, NHL and KHL are the hardest to predict. In the NHL (Canada and U.S.A), which is considered to be the best hockey competition in the world, surprising results are very common, and even the best teams often lose to complete outsiders. This could be explained by the number of games in the season, as well as the level of the players of each team in those leagues.
The problem of the Kontinental Hockey League is the finances which are often influenced by the Russian mafia, as well as the political situation of the region. The standings in this mostly Russian league change very rapidly and heavily depend on the status of the companies that sponsor the majority of hockey clubs in KHL. Unfortunately, we cannot say that this competition is free of corruption, as it's stated otherwise on many occasions. It is much easier to predict the outcomes in other European leagues, especially Sweden, Finland, Czech Republic, Slovakia, Germany and Switzerland. The reason behind this may be that there is much less money invested in those leagues, which consequently decreases the possibility of a fixed game.
Predictability in tennis betting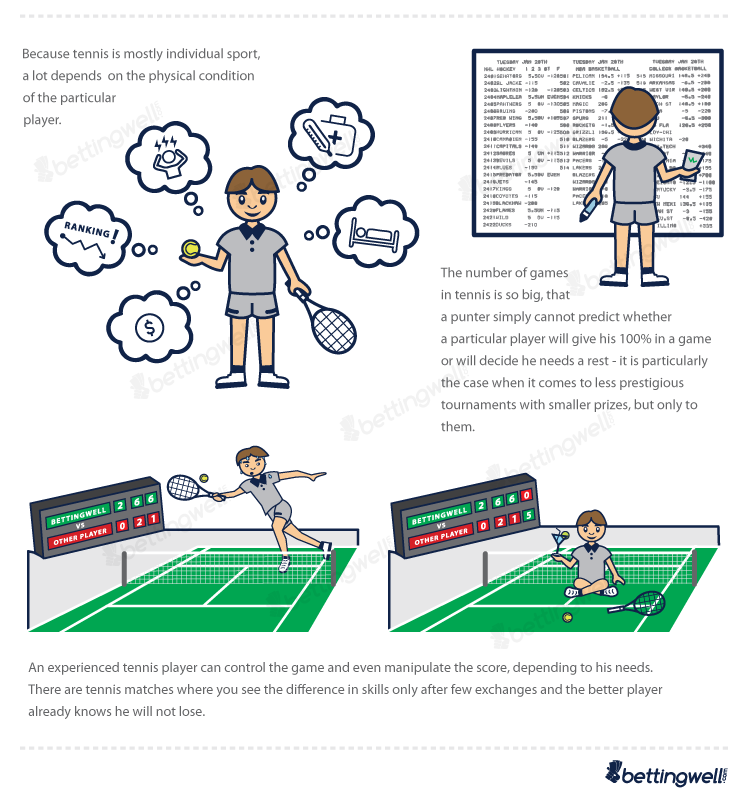 Tennis is considered to be one of the most entertaining sports in the world. Both men and women competitions are quite popular among fans. Once again, we do not have any good news for punters, as this sport is also very unpredictable. However this can be used as an advantage too, as in the case of other more unpredictable sports, you can bet against the favourites in hopes of winning a lot of money because of the high odds. It should be noted though, that it is very hard for an inexperienced punter without knowledge and intuition to find such an opportunity.
Why is tennis such an unpredictable sport? There are a few reasons. When it comes to strictly sport aspects, remember that tennis is mostly an individual sport, in which a lot depends on the players' shape on a particular day. In contrast to team sports, tennis players are on their own. The main problem for tennis players is inconsistency, which is especially visible in women's competitions.
Apart from that, tennis games are really easy targets for all sorts of frauds and scams that are connected with game-fixing. The number of games and tournaments is so high that both journalists, punters or even fans, are not 100% certain that a given player will play in a particular event. It is especially important when it comes to less prestigious competitions, with smaller prize pools and awards. Top tennis players often tend to skip such events to rest before the more important competitions.
Similarly to other sport disciplines, for a game to be 'fixed', one of the players does not have to lose. As we already mentioned that in a football section, all the player needs to do is to lose a point, in this case, a set or few gems, so that the scammers will win millions. How often do we see a tennis match between a clear favourite and the underdog, where the better player takes control over the majority of the game and then, at some point, starts fading. In this case, the odds for the weaker player to win even a single set are astronomical. It is a perfect situation for fraud. The better player will win the game in the end, it does not matter that he lost a few points on the way. Nothing seems suspicious at first sight, doesn't it?
Another important thing that is worth remembering is that more experienced tennis players can easily control the game. There are tennis matches, where you know the skill difference between the players after only a few exchanges. A better player can use this to his/her advantage, and if he is corrupted, he can lose some points along the way. Nobody will suspect anything, after all, mistakes happen to even the best.
High predictability of basketball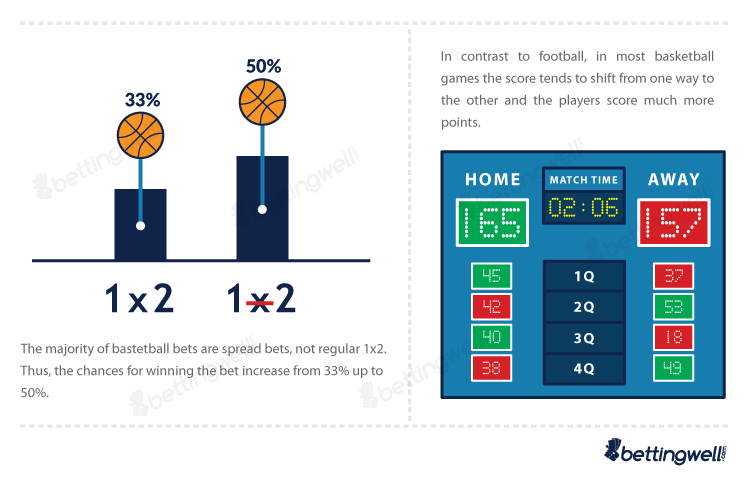 Many of you will be surprised, but in comparison to other disciplines, we consider basketball to be quite a predictable sport. There are several strong arguments for this thesis. First of all, most basketball bets are two-way bets, not regular three-way like in other sports. Our chances increase from 33% up to 50% because of this. Furthermore, odds for basketball games, are known for being relatively decent, and there is a wide variety of different types of bets. An experienced punter may even find a few value bets. If someone has considerable knowledge about particular teams, their strengths and weaknesses as well as their recent performances, he has good chances of successfully predicting the outcome of a given basketball game.
Another thing that makes basketball easier to predict is its points system. Unlike football or hockey, basketball games are known to have big scores because of its intensity and scoring (you can score more than one point in a single action). There are games where you can definitely expect lots of points. What is more, in basketball, every player scores points. Even more, defensive-minded blocking players tend to score a lot in the game. If a punter uses his/her knowledge of the particular teams and players and their scoring statistics, he could win money by successfully betting on Over/Under bets and handicaps.
Furthermore, because of this intensity that we mention, the scores tend to change very rapidly and often a team can win the game in a matter of seconds despite being a few points down. Therefore, if a punter has good reflexes and a bit of luck, he can live-bet on the team that is losing at the moment, knowing they have their momentum and could win the game in a few minutes. You can win a lot of money that way because of live-betting, the odds for the teams that are losing are much higher. If you are more adventurous, you can also try to predict the winning margin of the game.
Another important factor is the schedule. In basketball, there are a lot more games than in tennis or even football. Thus, the players tend to be very tired after a few consecutive games. This is a perfect opportunity for betting. What is more, you should also pick teams that are very good at home. Unfortunately, there are only a few teams that use their home-advantage very good. There are also teams that tend to score more in away games. If they play a team that is not as strong at home, it could be a great chance for placing an Over bet or simply Money Line bet on the away team.
You should also remember that the NBA, the most popular basketball competition in the world, differs from other basketball leagues like, for example, EuroLeague and national (domestic) European leagues. Read this if you want to know more about the predictability of basketball in the NBA and Europe. It should be noted that the NBA is much more balanced and more unpredictable when it comes to results in comparison to other competitions such as the EuroLeague.
Predictability of other sports
Volleyball predictability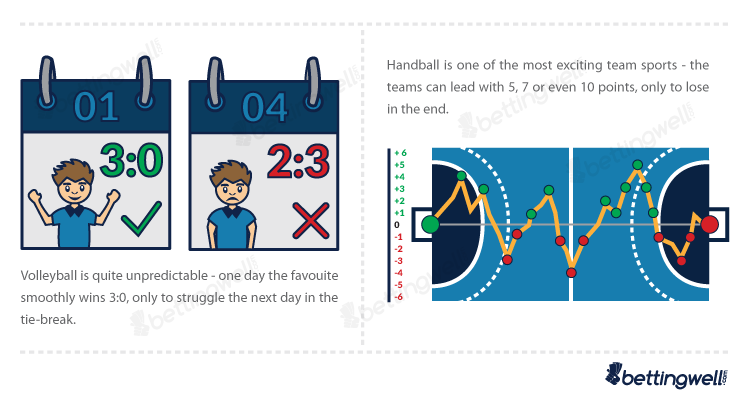 Although volleyball is considered to be quite predictable, it is one of the least attractive team sports to bet on. It is probably because of the low number of people who bet on it, as well as often insufficient knowledge of the bookmakers about the competitions, teams and players. As for the predictability of volleyball matches, it is very obvious that stronger teams rarely lose with the weaker ones. For years, the same clubs and nations have dominated the sport. That is why the bookmakers are offering handicaps and special bets to attract punters.
Handball predictability
Similarly to volleyball, handball is thought to be one of the less popular team sports. Both punters and fans prefer other sports such as football or basketball. First of all, handball is not very attractive because of its low predictability. Surprising results happen quite often in both club and national competitions. In the cases of other sports, this could be an advantage, here there is no successful system or strategy, and long-term betting on handball proves not to be profitable at all. What is more, as in the case of volleyball, the bookmakers offer low odds because of the small knowledge about the sport. The last factor behind lower predictability of handball is the classic three-way types of bet that are traditionally used to place a wage.
Cricket predictability
Despite being one of the most popular disciplines of sport in the world, cricket is not the punters favourite. Most bets on this sport are placed by the cricket fans and very experienced punters who have found a value bet in a particular cricket event. As for crickets predictability, most experts agree that with very few exceptions, both club and national cricket is quite predictable. This results in lower odds for the favourites such as England or India. It should be said here that club competitions, especially in lower, more obscure leagues are much less predictable than national competitions such as the Cricket World Cup.
Rugby predictability
Like cricket, rugby is one of the most widespread sports on the globe. It is especially popular in Great Britain and its former dominions. As in the case of already mentioned cricket, rugby in all its varieties is not as popular among punters as its younger brother - American football. When it comes to predictability in rugby, it is very hard to state whether the results in rugby are surprising or not. Often, the underdog can win with a better team, but usually, the same countries and clubs take over competitions.
Horse-racing predictability
Even though horse-racing is considered to be one of the oldest sports of our civilisation, it is not as well-known as other sports. It is different when it comes to betting on horse-racing as both sports betting and bookmaking were created mainly because of it. Furthermore, the majority of betting terminology was created for horse-racing betting. With time, the popularity of horse-betting diminished, but it is still relatively strong, especially in England. Bookmakers offer various bets for this sport, with Tote betting being the most popular form of horse-race betting. Most experts agree that horse-racing is not a very predictable sport. It is mainly caused by the fact that in this sport, the most important factor is the horse, its health, shape and even breed. Sometimes, even the best horses lose the race because of an injury or the smallest detail that distracted them.
Speedway predictability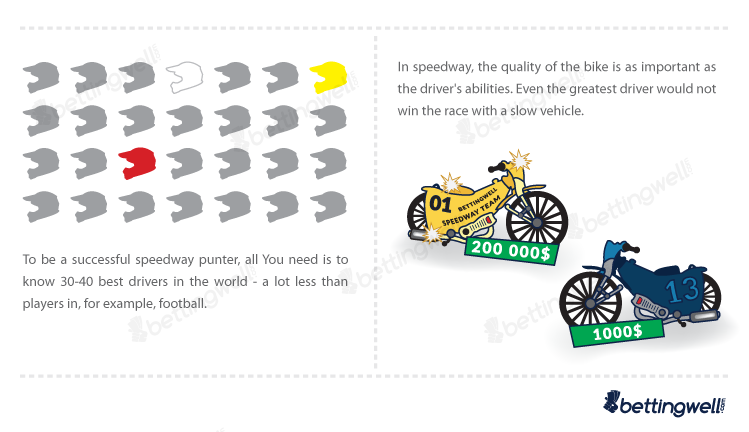 The most important factor in speedway is motorbikes. The type and the quality of the bike is crucial for the final outcome of the race. Even the best driver will not succeed without a good machine. Because of that dependency, speedway is considered to be quite unpredictable. Even with proper analysis and considerable knowledge about this sport, it is often very hard to predict the winner of the race, not mentioning about the correct order of places of all participants. Defects, crashes and numerous variables that could happen during the race that can completely change the final result.
Another important factor is the driver. His technique, mentality and experience have a significant impact on his performance in the race. There are roughly about 30-40 top speedway drivers in the world so analysing their statistics and performances will take significantly less time than analysing a single football team. The key to successful speedway betting is to know the hierarchy of the competitions both for clubs and nations. They differ in prestige and money prizes. The bookmakers offer lower odds for the competitions that are more obscure and which they do not have much information about. It should be said that speedway is not considered a popular sport among both fans or punters, even in the category of motorsports, it is far behind NASCAR, Formula 1 and MotoGP.