Bovada
American bookmaker established in 1994, Bovada is one of the biggest betting operators in the United States. The bookmaker has very good reputation and is considered one of the pioneers of the modern sports betting industry in the United States. It must be also noted, that Bovada is the most popular betting operator among the American punters. It is a trustworthy bookmaker with very good sports betting offer.
Advantages and disadvantages of the bookmaker
Solid, trustworthy bookmaker
Very good Livebetting section
Wide range of disciplines and events as well as multiple betting markets
Interesting bonuses and betting promotions
Great sports betting offer for American punters
American Dollar as only accepted currency
About the Bovada
Bovada is a true gambling giant. The bookmaker is definitely the biggest online betting operator in the United States. Bovada was established in 1994 and in 1997 launched its sports betting website. The company changed significantly when it bought the license for the American gambling market from Bodog, which had to end its operation on the United States territory. It was at that moment when Bovada flourished and became the betting giant it is today. In 2016, Bovada was the American online betting operator with the highest number of customers. It is also worth mentioning that Bovada is not only offering sports betting, the bookmaker also has casino and other gambling games in its offer. The bookmaker also frequently publishes many articles about sport and sports betting that are often coupled with thousands of useful statistics.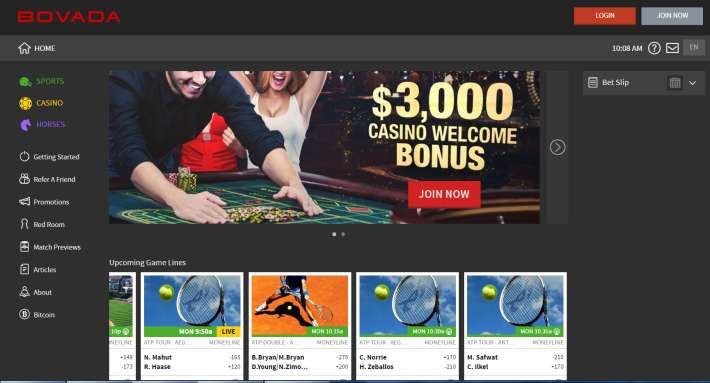 Bovada sports betting offer
Sports betting offer at Bovada focuses - which is quite obvious - on American-based sports. That is why, all fans of American football, basketball, baseball, ice-hockey and motorsports such as NASCAR would be definitely satisfied with Bovada sports betting offer. Of course, it does not mean that the fans of other sports would be disappointed as the bookmaker also offers bets for other spots such as football or tennis. It must be said though, that the offer for non-American sports is decent at most.
At Bovada, we can also finds many interesting bets for boxing, mixed martial arts or esports. There is also few special bets on politics. When it comes to the odds, the professional punters would be rather displeased as for the majority of sports and betting markets there are quite high margins. Another disadvantage are the late odds laid by the oddsmakers at Bovada bookmaker. Other betting operator are definitely better from Bovada in this aspect.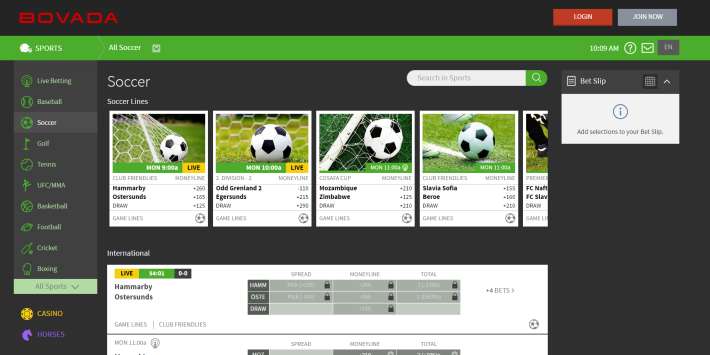 Livebetting
Punters who love to place Live bets finally got a separate section at Bovada bookmaker and we have to say it looks quite good. The number of betting markets to choose from as well as the long list of disciplines of sport and events that are available for betting will please even the most demanding punters. There is quite few interesting Live betting options and the overall feature is very solid.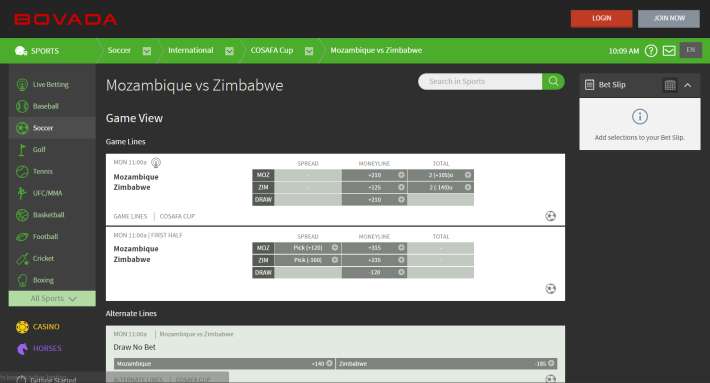 Bonuses and betting promotions
Solid offer, but nothing above that. When it comes to bonuses and betting promotions at Bovada it must be said that although there are multiple interesting bonuses, the majority of them are concerned with the casino, not the sports betting section of this bookmaker. The punters that want extra betting funds for betting on sports, not online casino, are offered mainly two bigger available promotions: decent Welcome Bonus as well as Referral Bonus granting additional betting funds for every invited friends who decides to register at Bovada with our help.
Mobile version
Bovada bookmaker have not yet prepared a mobile app for its customers. The only way to access the Bovada website through Your mobile phone is to switch it to its mobile version. This version of the Bovada online sports betting website works perfectly on all mobile devices such as smartphones or tablets. What is more, the number of options is the same as in the regular website. Furthermore, the number of disciplines of sports, sporting events as well as betting markets is almost as numerous as at the classic version of Bovada website. You should also have no problems with searching for the bet or event that interests You the most. It should be also noted that no one will have any troubles with making deposits and withdrawals as the website is fully responsive. 
Customer support
Customer support at Bovada is fairly decent. Apart from the obvious lack of Live chat, there is nothing much that we can complain about. You can contact the Bovada customer support department employees via email or by phone and the response time in both cases is not very long. Overall, not bad, but it definitely could be better.
Payment methods
Although we understand that because Bovada is strongly focused on the American market, and seeks to please mainly American punters, it could also prepare just a few options for people from outside the United States. We believe that the bookmaker of such reputation and quality, could offer something more than American Dollar and Bitcoin, which is a virtual cryptocurrency and is not as widespread as regular, classic currencies. Furthermore, when it comes to payment methods it is also not good. The list of payment options is quite short and we believe that if the bookmaker offers such modern invention as Bitcoin as a currency, it could also offer at least few e-wallets as payment methods. Credit cards and Bitcoin are unfortunately the only payment methods at Bovada bookmaker. 
Bovada's bonuses and promotions
Quick

Bovada

info
Minimal deposit
Minimal withdrawal
Payment options
Minimal stake
Odds type

Decimal

Fractional

Moneyline

Betting options
Live betting