Sports Betting Guide
Managing your bankroll
Many inexperienced punters believe that to achieve success in betting you will only need a substantial knowledge about sport. In a way it is true, but knowledge alone is not enough.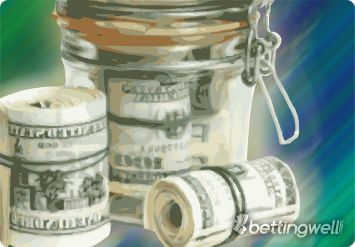 Introduction
Data concerned with players, their injuries and absences, team tactics, statistics and history of direct matches (H2H) between teams without a doubt help to make a winning bet. Nevertheless, to regularly make a profit on sports betting, you also need the ability to select from thousands of odds the most valuable ones (value) and most of all, properly manage your funds, just like it is in a successful company.
Because in a way, it is just like a company. A company in which we invest - our time, knowledge and money required for the start-up of the business - and we expect that it will be profitable in the near future. We do not predict any major success for those who bet just for fun, without any reseach or experience and we advise that they find a new, less expensive hobby. As for the rest, You should read this article.
How to start?
What would you do first while planning the creation of your own company? In our opinion it is good to set your financial boundaries, so that it will be easier to plan your development. Same thing goes for bookmaker betting. Before making the first coupon bet it is wise to set a limit to the money you will spend and create the strategy for the game you will bet on. So, what kind of budget is needed to start the game? The one that you can afford at the moment and that will not burden your personal finances in any way. Similarly like in the case of an actual company, here you must take into account a financial failure. Thus, it is important not to use the money you want to pay the bills with, while betting, but only those funds that you can afford to lose
It is good to split our bankroll into units
The next step to do is to split our capital into units, the best number would be a 100. If we pay into €100, the value of a single unit will be €1, with €500 it will be €5, and so on. It will help you in the future with evaluation of the risk of a particular bet and with selection of the odds.
It is said that the maximum money value of a single bet should not be over 2%-3% of the entire bankroll (your betting budget), in some extreme cases it can reach 5% at most, but not more if you want to manage your capital rationally. So with the bankroll of €100, your stake for a single bet should not be more than €5. If you want to bet for a longer time you should be rational and stick to these rules.
Nevertheless, there is no problem to raise the betting stake if the bankroll became bigger. Summing up, the stake of 2 - 3% will enable you to withstand even the longest 'drought' (which eventually happen to every bettor, do not fool yourself that it will be different in your case).
What is more? Terms such as 'going all in' or 'va banque' do not exist in professional bettor's dictionary. That is why, if you want to join that elite group, we advise to forget about those things. Professional bettor will never bet 'all in', even for the most obvious fixture. Furthermore, never borrow money for bookmaker betting. Similarly, it is not a very good idea to get a bank loan for such an uncertain financial operation. The consequences for such actions could be very severe.
Correct odds-picking
Alright, we set our budget and the boundaries that cannot be ever crossed (max 5% for a bet, never 'va banque' or playing with borrowed money). The last thing we need to do is to choose the strategy of the game in which we would feel the best betting on. We describe most of the popular bookmaker game systems here. At this point, we will focus on two, theoretically easiest systems, that we recommend for the begginers.
Flat stake betting -  is a system that the unexperienced punters should start using at the beginning of their adventure with betting. In this case, the bettor sets a fixed stake (not exceeding 2% of the bankroll) and bets in accordance with it, regardless of the risk factor or the odds. Using the flat stake significantly decreases the risk of bankruptcy, and in the case of high effectiveness in betting it is very profitable. Though, not as profitable as other systems can be and the odds must be at relatively high level for the long-term profit (single bets with lower than 1.70 odds are dropped).
Proportional betting - a relatively easy system used very often by some of the best punters in the world. It is somewhat a modified flat stake system with betting on different number of units (1u - 10u), depending on the risk and the odds for the fixture (it is advised that the money value of the 10u should not exceed the 2%-3% of the entire bankroll, 5% at most). At the same time it is the most common betting system on various websites and chat rooms concerned with bookmaking and betting. The only disadvantage of this system is that it is very difficult to pick an adequate odds for a particular event (when 2/10 and when 8/10?).The unexperienced bettors are lured by the 10/10 odds, which in reality should be used only in certain cases.