Sports Betting Guide
Most common mistakes committed by punters
We were looking forward to writing this article for a long time now, but we wanted to do it in the best way possible. That's why we have collected information, interviewed punters & betting experts, to be able to show you what is really preventing you from succeeding in a nutshell. Let's take a look at the most common sports betting errors together.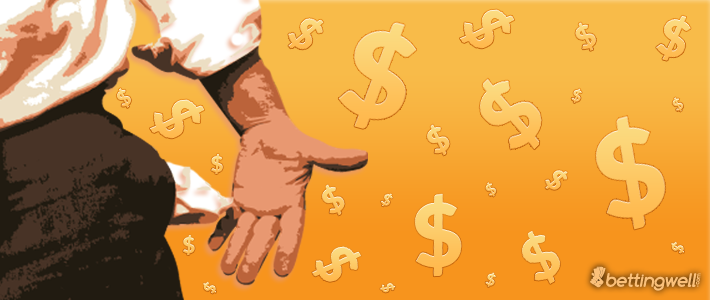 What mistakes do punters make?
We noticed some time ago that our articles and guides are more oriented towards something like «How to successfully analyse football matches?» or «How to beat a bookie?» - we generally have a whole lot of articles about what to do, but we have not had, so far, a single thing about what absolutely not to do. Time to fix it! Let's find out together what errors & mistakes are most often committed by inexperienced punters and check whether you commit them as well or not.
Lack of knowledge - quite self-explanatory and should not be given too much attention here. It is obviously hard to succeed in any field without proper knowledge and substantive preparation. However, if you woke up one morning and decided to become a great punter even though you have not been following any sports until now, your path to success would be a bit tougher and confusing than in the case of those who already possess the needed knowledge & skills. Besides all of that, it doesn't mean it would be impossible to achieve, though. We know many punters who became experts on certain leagues and competitions, despite doing completely different things in life. Generally speaking, if you already have that knowledge, it is good, if not, it's the right time to start catching up.
No plan or strategy - sports betting is like the actual sport, it would be hard to achieve success without a well-planned approach and a proper strategy. Therefore, it would be wise to come up with a strategic concept, set goals and stick to your agenda. Each punter has its own unique style, and it would be hard to implement someone else's approach to your betting, it is simply not going to work all the time. Thus, you must come up with your own approach. Of course, you do not have to reinvent rocket science but just build your own betting routine based on the experiences and hints from other punters. Next up, you would need to choose the field you will feel most comfortable in, that includes: which type of bets you will focus more on (single/ACCA), how are you going manage your bankroll, and, what is more, what yield you are looking to achieve by the end of a selected period (week/month/year). Remember, a clearly defined goal is always easier to accomplish!
Lack of specialisation - «One who is good at everything, will never be great at anything». Every punter must get this saying through their thick skulls and stick to it all throughout their betting careers. After interviewing a couple of punters and our website visitors, we were shocked that the majority of you is betting on everything that comes across your sight. Basketball? Here you go! Field hockey? Why not! Politics? You've heard about it on the radio, right? The list goes on and on. Believe us, that's not the way to do it. All of the world's top punters specialise in one, maybe two sports. What's more, they choose two or three leagues and focus exclusively on them, leaving the rest of the markets aside. If you want to be successful in sports betting (which is probably the reason why you are reading this right now), you have to become a true expert in a couple of specific markets.
Multi-fold accumulators - we actually should've put this one first. A large share of profits what bookmakers make comes from casual players who do not treat sports betting seriously enough and every now and then place a so-called tapeworm-like accumulator. These bets are usually built up of a couple of selections put together. What is more, we have also seen the cases where punters put several dozens of selection in a single bet, making it look more like a Christmas grocery shopping receipt from Tesco, instead of the betting slip. Once again, this is not the way to go by. Just for the record, 80% of the world's best punters are betting only singles, we also know a couple of punters who managed to reach success with doubles (ACCA bets with only two selections). However, everything above that has a 99% chance of failing in the long-run.
Greed - another common mistake made by the inexperienced punters. It comes from the same motives as the previous point, which is the desire to make instant profits. There is no room for rushing when it comes to sports betting, especially if you would like to stay profitable in the long run. That is exactly why it's important to set goals and stick to your agenda. We suggest you rather opt-out from trying to break the bank every week and focus more on making smaller but more regular profits.
Betting routine - sports betting is not ditch-digging, where the weekly plan could be done within Monday & Tuesday, and the rest of the week could be spent just chilling around. Hard work, and most importantly, a systematic approach is what is valued the most in sports betting. There is always something new happening every single day in the world of sports & sports betting. Therefore, if you would like to stay up-to-date with the most relevant information, you have to constantly monitor the discipline you would like to be good at. We would also like to mention that having fun and enjoying what you do will make it easier for you to become successful, and sports betting is not an exception. Nevertheless, if you are not a die-hard sports betting fan, it does not mean you have no chance of making it. However, it would be rather more difficult for you to achieve.
Urge to get even - in other words, a hothead syndrome, which many inexperienced punters struggle to cope with. The majority of such punters gets immediately triggered by a short losing streak (4/5 consecutively lost bets), desperately trying to win back what they have already lost. Surprisingly or not, but there are punters, who would not call it a day, if they haven't won their last bet. They would simply not fall asleep unless they land that last wager. It does not really matter for them what to bet on, whether it is a 4th division badminton league somewhere in Asia or the 2nd female football league in Central Africa, they have to win it as fast as possible. Unfortunately, the results are usually the opposite of their intentions.
Overconfidence - having confidence in yourself is one of the main factors of achieving success, however also of its lack. Emotions take over not only during the losing but also a winning streak. A couple of consecutively won wagers can easily get you carried away, even if you are a field-tested veteran bettor. You have to keep your guard up at all times! Overconfidence always decreases your focus & alertness, which leads to placing bets without proper preparation and analysis. Success in such situations is rather an exception, therefore, we urge you to think twice.
Intuition reliance - lost of pseudo punters heavily rely on their intuition when placing their wagers. Not the thorough analysis, not the statistical data but simply their feel of the particular event. Such an approach has no chance to succeed in the long run. The world's best punters spend hours on analysing the data before actually placing their bets. Only by sticking to this approach, you will have a chance to make it to the betting Olympus. Nothing is guaranteed in sports betting, however, you will have a decent shot of making it, if you follow this advice.
Relying on «experts» - the Internet is swarming with websites and specialists who offer their betting tips both for a fee & not. Of course - there is never too much data, and you should not underestimate new information, but we advise you not to overexaggerate with following everything you read on the Internet. It is quite common that people intentionally tweak their stats in order to look more professional and, therefore, more trustworthy. More about how to avoid being scammed, buying betting tips online is written here.
«If they have to, they will» - many punters think that if a team necessarily needs to win (e.g. to avoid relegation or advance to European cups), then it will probably happen. Well, it is not quite the case. Teams that play under pressure are often unable to deliver the needed results and appear to perform worse than usual. Despite all of that, we can never be sure about our backed team's rivals who could've also got motivated by the important matchup. Such things take place on a daily basis and should always be factored into your equation.
Going all-in - there is not such a thing as going all-in in the professional betting lingo. Lots of less experienced punters capitalise by raising their stakes during the downtime, which sooner or later results in going all-in. Please remember, no professional punter will ever even consider opting-in to such a strategy! There's one simple reason behind it, in order to stake your whole bankroll on a single event or wager, you have to be 100% sure that it will go down as you have planned it, which is only the case of fixed events. Do you still need more reasons..?
Fake fixes - as we have already mentioned, the Internet is full of scammers. Crooked «experts» will do anything to catch your attention, from bragging about having contacts in the bookmaking industry to having the first-hand information about various fixes. Remember once and for all - a fix is ​​good but only for a leaking sink. Even if someone has legit information about such an event, do you honestly think they would go online and let the whole world know about it??? If that is ever to actually be the case, top online bookmakers would immediately suspend all the related markets.
Sure bets - we are not going to reinvent the wheel with this one. Inexperienced and rather new players are usually afraid of the long odds, which actually offer good value, and as a result opt-in for a combination bet with a couple of much likely to happen selections, however, at the expense of much shorter odds. Such an approach rarely brings good results, and we would like to show you why using a very simple example. Let's assume we have a really great tip that is extremely likely to happen. Let's give it a 90% probability. Now let's make an ACCA using a couple of similar highly probable selections. Spoiler alert! It will only decrease our chances of winning. If you do not agree, then keep on reading. Let's do a couple of simple calculations - 1.10 (1/10) x 1.10 (1/10) x 1.10 (1/10) x 1.10 (1/10), which is only going to give us the total ACCA odds of 1.46 (23/50). What is more, the chances of such a combination bet are dropping from the initial 90% to barely 65% (0.90 x 0.90 x 0.90 x 0.90). Still think it is worth it?
Reading promotional T&Cs - another widespread, yet very petty mistake lots of punters commit. Bonuses and promotions are your best friends when it comes to betting or beating your online bookmaker. Not only they offer you extra free funds for betting on a certain market, but they can also protect your bankroll in case you lose your wager. Every promotional offer comes with a set of rules that a commonly called terms & conditions. These are the rules and guidelines you have to follow if you want to get a bonus or qualify for the promotional offer. Unfortunately, not everyone reads them. Many punters just look at the promotional banner and immediately start wagering. Bookmakers are offering these bonuses for you to stay engaged, however, they will never miss an opportunity to cut on their spendings when it comes around. Make sure you go through every single promotional T&Cs' point and never miss another free bet or special offer.
Don't drink & bet - the last but not least. Actually, we left this one for the end on purpose. It's not just a mistake, it's THE mistake. Betting with the real money after a couple of beers is a slippery slope. Alcohol affects our ability to realistically assess the situation and risks that are coming along with it. In other words, being «under the influence» makes us do things we would've never done if sober. There is no point talking about more. Alcohol & sports betting should never come near each other.