Sports Betting Guide
Kelly criterion
Kelly criterion is a formula used in probability theory to determine the optimal size of a series of bets. In long run Kelly criterion is said to bring better results than any essentially different strategy in the long run. How may we incorporate it in our betting system?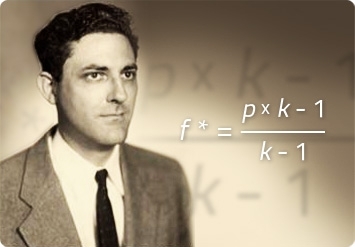 What is it and what is it about?
Kelly criterion is a strategy and money management formula. It was developed by American scientist John Larry Kelly Junior. Many betting experts still believe that the key to the bookmakers bets and the recipe for the success lies in the Kelly system. The point is to assess the possibility of the result and to set / adjust the best bets for this event. Simply put, Kelly formula determines what percentage of our budget (bankroll) we can spend at each stage of betting on the match, depending on the predicted chances to get a certain result. In order to use the Kelly criterion, we should find and place bets which have steep odds (according to our opinion, our team has a higher chance of winning despite the opinion of bookmaker). A good solution is to look for the so-called Value Bet or bookmakers' mistakes. The bet should be proportional to the corresponding odds. In the end, a regular betting with the help of Kelly criterion can bring large profits.
Kelly formula
Here is Kelly formula:
Bet = C x (p x O - 1) / O-1
As you can see mathematical statistics is used in this formula.
C - capital
p - the probability of guessing bets, expressed as a percentage.
O - odds.
x - multiplier
Examples
Example 1 (Value Bet)
We will show this by example. The bookmaker set odds for the match between Fuenlabrada and Real Madrid in the Spanish basketball league ACB. The bookmaker set hosts' chances of winning, who have won 12 out of 14 matches, at the height of 39/20 (2.95), and the odds for the guests from Madrid - 7/20 (1.35). Given the fact that this is derby, unequal condition of the royal team and that Fuenlabrada is the host team, the host's chances of winning are a little higher (Value Bet). So, we must set the probability of Fuenlabrada's winning with odds 39/20 (2.95) at the level of 40%. Assuming that we have £500 on our budget we put these data into the formula:
Bet = [500 x (40% x 2.95 - 1)] / 2.95 - 1
Bet = [500 x (1.18 - 1)] / 1.95
Bet = [500 x 0.18] / 1.95
Bet = 90 / 1.95
Bet = ~ 46
Example 2 (low odds)
We decided to prove that Kelly criterion does not apply to low odds. Let us imagine the opposite situation. Having a budget of £500 we decide to bet on Real Madrid with the odds of 7/20 (1.35), while the probability of guessing amounts to 80%. All data are put into the formula:
Bet = [500 x (80% x 1.35 - 1)] / 1.35 - 1
Bet = [500x (1.08 - 1)] / 0.35
Bet = [500 x 0.08] / 0.35
Bet = 40 / 0.35
Bet = ~ 114
The result of the game:
In the first example we put £46 on Fuenlabrada's victory, the odds totalled 39/20 (2.95). We assume that the hosts won 46 x 2.95 = £135. Hence, our net profit equals to 135 - 46 = £89. In the second example we put £114 on visiting team's victory, the odds totalled 7/20 (1.35). If we assume that Real Madrid won then our profit would be: 114 x 1.35 = 154, 154 - 114 = £40. As you can see in both examples the correct assessment of the probability of the event is very important while using Kelly Criterion. You should also pay attention to the fact that if we place the lower bets on high odds we will get more profit rather than if we placed high bets on low odds.
Things to remember while using Kelly system
In the first part of this strategy you have to choose the match with high odds, above 17/20 (1.85). A good thing to do is to look for Value Bet (steep odds) or bookmaker's mistakes.
Another important thing is to assess the probability of the expected result correctly.
Assuming that we have a certain budget, we calculate the bet to use it properly. We use the formula:
Bet = [C x (p x O - 1)] / O-1
We place the bet and wait for the result. It would be a good idea to use some elements of progression: if we lose the odds decrease, if we win the odds get higher.
Here we never put bets on low odds such as all-in betting.
Our opinion:
Kelly strategy in our opinion is the best betting system which can be used not only in mutual betting. This system is definitely intended for the punters who appreciate a regular, long betting. First of all you have to own a suitable start-up capital. This strategy is obviously for the progressive punters with substantial experience, because it consists in the proportional assessment of chances to predict a certain outcome. Such an assessment of a chance is not a simple task because it requires a great knowledge of sports. To sum up, we can recommend Kelly criterion only to professional players who can control the game and have a corresponding capital. Placing bets according to Kelly system we can limit the risk of bankruptcy, but our budget will be close to 0, in case of a series of failures.