Sports Betting Guide
Progression
Sports Betting systems are methods and strategies that purpose is to help the punter to get an 'edge' over the bookmaker and increase his chances for the potential win. The majority of betting systems and strategies can be split into two categories: positive progression systems and negative progression systems. In the positive progression betting systems you raise your stake after every won bet. As for the negative systems, you increase the stake of your bet after each loss.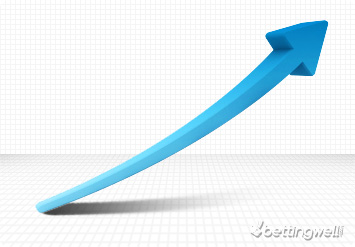 What is progression?
As their name suggests it, the progression betting systems are based on the simple concept of progression, which is a sequence of numbers that either raises (positive) or decreases (negative) with each number differing from the previous one by a constant quantity. In sports betting, the progression means the process of adjusting your stakes in accordance to your bets, depending on the results. As it was already mentioned, in positive progression system you increase the amount of your stakes when you win and decrease when you lose. In negative progression, it is the other way around.
Positive progression betting systems
The positive progression systems are thought to be quite profitable if you have a longer winnings streak. What is more, in case of a loss, you do not lose a lot of money and it does not have a significant impact on your betting budget.
Positive progression betting systems include:
Paroli betting system
The 1-3-2-6 betting system
Reverse Martingale betting system
The Reverse Labouchere betting system
The Contra D'Alembert betting system
Ascot betting system
Oscar's Grind betting system
Negative progression betting systems
The negative progressions systems are designed to be a bit more long-term than the positive ones. Here, the plan is to have few wins that will cover all the previous lost bets.
Negative progression betting systems include:
Martingale betting system
Fibonacci betting system
Labourchere betting system
The D'Alembert betting system
Progression betting on draws
Probably the most popular approach to the progression betting systems is betting on draws. We bet on such results because apparently the bookmakers have more problems in forecasting such outcomes and often offer very high odds for them. In case of a negative progression, if there is no draw and we lose a bet, we make a new one doubling our previous stake (Martingale system). After few successful bets, if we have any profits, we end betting this way and either change the team and start from the beginning or completely change the method. It is worth noting that in some competitions such as Italian Serie B, French Ligue 2, Portuguese Segunda Liga or South African Premier League the possibility for a draw is much higher than in other leagues (over 33% of all results).
Example:
First, we look through the statistics. Then we choose a team which often draws - Fulham. Our starting bet is £2 and the odds are 3.50
Level
Bet
Odds
Loss/Win
Loss/Income
1
2
3,50

-2

-2

2
4
3,50

-4

-6

3
8
3,50

-8

-14

4
16
3,50

-16

-30

5
32
3,50

112(32x3,50)

-62

+112=50
Analysis
We have invested an overall of £62 in all our bets. After 5 games we earned £50 (112 (win) - 62 (bet amount)) = £50.
What should be remembered when using the progressive betting systems?
You should establish your starting budget and set the boundaries of how much you can bet
If you do not want to end up bankrupt, you should estimate your potential losses. So whether you have the amount of money to cover them or not.
Do the thorough research on teams and competitions that you want to bet on
This system is most successful in football and hockey.
To win a significant amount of money you need to predict the outcomes of two events in a row.
This system is not intended for the impatient players who quickly want to win large amounts of money.
When betting on draw results try to avoid competitions where there is a lot of goals and a handful of draws. What is more, try to bet on teams with defensive-oriented style of playing.
Avoid betting on teams that often have series of same results.
Do not bet using this system at the beginning and at the end of the season.
Remember not to use any progressive betting system for a longer period of time.
Our opinion
As any other betting systems, the progression betting systems will not give you 100% certainty of winning any money. They can, however, help you to be more organised and reasonable in your betting. If you follow their rules and do not use them for a longer period of time, you should not lose a lot of money and could win some. Another advantage of the progressive betting systems is that they are relatively easy to understand and use. What is more, they help you to bet rationally and improve your knowledge about statistics. They can also be a good way to manage your bankroll.
Nevertheless, every progressive betting system rely on the streaks. If you do not win at least two bets in a row, you will not make any profits. From the other hand, if you lose few consecutive bets, it is very likely that the stake that you need to place in the next bet will be too high for you to cover. Consequently, you might end up losing all your money. That is why, every progressive betting system, whether it is positive or negative progression, is designed in accordance to some rules that help the punter to bet reasonable and to have better chances of winning the money.