Sports Betting Guide
What impact Messi had on betting odds?
We all know how many things go into the betting odds we see on the bookmaker website. Well, how much do you think a single player can affect them? What if that player is nobody else but Messi? Read on to find out.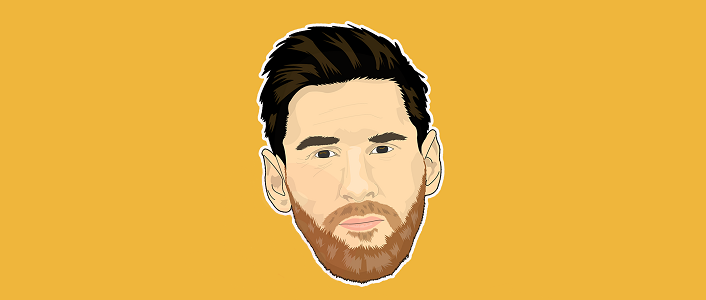 Introduction
Very few would agree that one player can flip things upside down, especially when it comes to the football betting odds. Well, the time has come to rethink that after we have witnessed one of the most shocking football transfers in the history of the sport. As you might have already figured, we are going to talk about the Argentine legend - Lionel Messi - probably the last true one-team footballer of our decade. If you are not leaving under the rock, you have certainly heard about Messi at least once, even if you are not following football at all (even my mom knows about him). Messi is not only widely considered to be one of the greatest players ever but the person who's solely responsible for a whole era at Barcelona. Lionel Messi has spent over two decades representing the Spanish side but, unfortunately, had to leave the club after being unable to sign a new contract with Barca due to harsh financial league regulations. Well, 21 years, 35 trophies & 672 goals later, the Barcelona six Ballon D'or story had to come to an end. Of course, we can talk about Messi's legacy for hours, but how important was he to Barca?
Paid Betting Tips - How do online tipsters take money from punters?
 
What do odds tell us?
Messi's impact on Barcelona can clearly be seen in their odds. The departure of the Catalonian side's captain had an immediate result on their La Liga title odds. The latest odds before the news about the new contract not being signed broke out were 2.75 (7/4) at one of our recommended online bookmakers. However, they were lengthened to 3.75 (11/4) by August 11, two days after the club confirmed the departure. Such a change in odds immediately put Barcelona behind its two main league rivals, Real Madrid & Athletico Madrid. Note, Barcelona have finished outside the top two in La Liga once in the last 13 seasons! At the same time, the odds for winning this year's Champions League lengthed as well from approx. 15.00 (14/1) to even up to 26.00 (25/1) at some bookies. On the other side of things, PSG, which acquired Messi on a free transfer, saw their UCL odds improving from 6.00 (5/1) to 3.75 (11/4).
Football Betting - How important is the first goal in the match?
The impact Messi's departure had on the betting odds across various markets is not surprising at all. Bookies have previously responded to Messi's absence in a similar way. For example, when injured Leo had to miss a match against Real Madrid back in October 2018, bookies moved Barca's odds from about 1.60 (3/5) to more than evens, which slashed their winnings chances from almost 60% to less than 50%. Traditionally, Madrid's odds improved in the meanwhile.
The answer hides in the stats
The heavy impact of Lionel Messi on the entire football world does not come from nowhere! Simply taking a look at Messi's stats will tell you more than enough. The Argentinian helped Barcelona win four Champions League trophies, 10 La Liga titles, seven Copa del Reys, eight Spanish Super Cups, three UEFA Super Cups, three Club World Cups, and get six Ballon d'Or honours for himself in the meanwhile during 17 full seasons at the club. That being said, Messi played a total of 778 matches, scoring 672 goals and assisting 268 ones, which corresponds to 1.20 direct goal involvements per match throughout his entire career at Barcelona. What is more, Messi holds the biggest share of Barcelona's goals every season, with the lowest numbers being just under 40% (only twice). Taking a look at Messi's last season (which was not the best for the player and for the club), you can see that he was involved in 40.98% of Barcelona's goals, which is his second-worst in the last five seasons. Antoine Griezmann is the only other player to be involved in more than 20% of goals. It would be hard to find anyone who can even get close to such stats when it comes to Messi's value for the club. What is more, Messi's 30 league goals last year gave Barcelona a total of 15 standings points, without which Catalans would've been 20 points behind Real Madrid & 22 behind Atletico.
Sports Betting Guide: How are the most goals scored?
The secret of such a phenomenal performance hides in Messi's ability to constantly outperform his expected goals (xG) & expected assist (xA) forecasts. In other words, Leo is constantly providing more value than everyone is expecting from him. Using the stats from one of the online resources and comparing it to the actual numbers across the last five seasons, we can see that Messi's combined goals & assists number drastically outperform his expected metrics.
How good will be PSG Messi?
Undoubtedly, Lionel Messi has to meet even higher expectations at his new club. Many bookmakers favour him to score over 27.5 goals in the French top-tier, which he couldn't achieve only twice during this entire career. According to the top online bookmakers, PSG is an odds-on favourite to lift this year's Ligue 1 title & the front runner to win the Champions League.
Betting Tutorial: Myths related to football betting
Can the six-time Ballon d'Or winner make star-stacked PSG even better? Let's see what the future brings. Please, visit our betting tips section for more PSG, Champions League & Messi tips throughout the entire season. Good luck!
Please, also check out our latest sports betting guide here.