Betting News
Best NBA outright markets worth of attention before the start of a season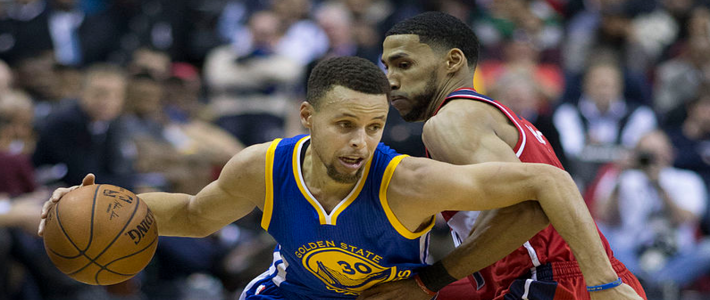 The most competitive basketball league in the world is less than a week away from its 2019-2020 tipoff. The date that every basketball fan has circled on their calendars is getting close. It seems to be the right moment to place a wager on some of the NBA special markets. Check out what top online bookmakers have to offer.
The 2019-2020 NBA season is destined to be a special one. The league took a whole new look bringing the expectation to the unbelievable heights.
Therefore, it would be wise considering some of the special NBA outrights market while we are still waiting for the real basketball action to come up. 
Many American bookmakers have already pleased their clients with special NBA offers. However, we have selected some of the best offers from European top online bookmakers for those from Europe. Take a look at what's according to us is worth placing a wager on.
To start off, of course, we have to go with the most popular NBA market, and that is Championship Winner. Bookmaker Betfred is currently offering the lowest price on the market for both Los Angeles teams. LA Clippers and LA Lakers are given the odds of 4.00 (3/1) and 5.00 (4/1) respectively.
This is far not what we are looking for, though. Our focus would go to the special NBA Awards markets, like for example MVP, PPG Leader, RPG Leader, DPOY, MIP, Sixth Man of a Year and so on.
Most of the markets will traditionally be led by the NBA's top talent. So, take a look.
Bookmaker 888sport has opened quite a few NBA markets for its clients. According to the book, Stephen Curry (Golden State Warriors) will lead the league in made 3-pointers. The price for that is set at 1.40 (2/5). Curry has proved himself to be the best shooter in the history of the league by averaging an impressive career 43.6% from behind the arc. He seems to be beyond the competition as his closest challenger James Harden is only being priced at 6.00 (5/1).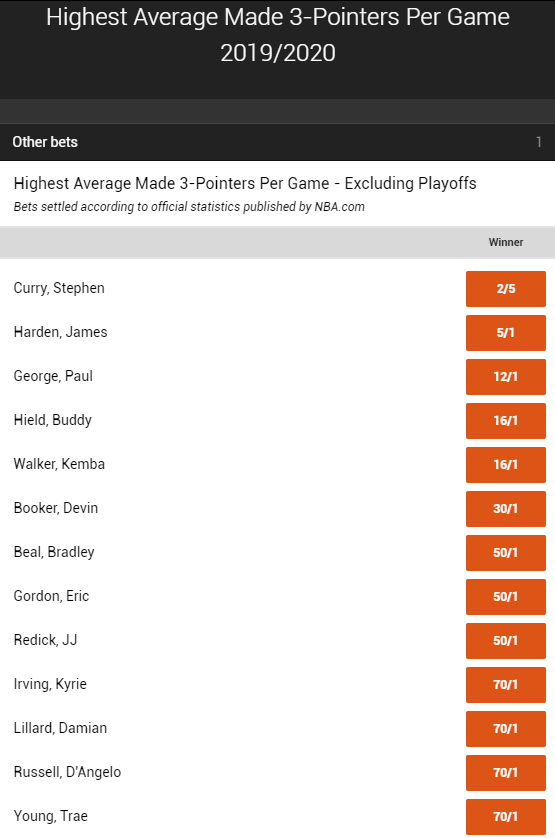 Moving on, another interesting market, this time you can back the player who's up to you will record the most blocks per game during the regular season. This market seems to be more competitive, but an early favourite is New York Knicks youngster Mitchell Robinson. Robinson was only 0.3 BPG shy from the last season blocking leader Myles Turner, who had a phenomenal year, averaging 2.7 blocks per game. The newest Laker, Anthony Davis also shows some blocking potential, however only being priced at 5.00 (4/1). The player to watch out for, though, are Joel Embiid, Hassan Whiteside and Jarrett Allen. Each of them showed some of the best defensive performances last season.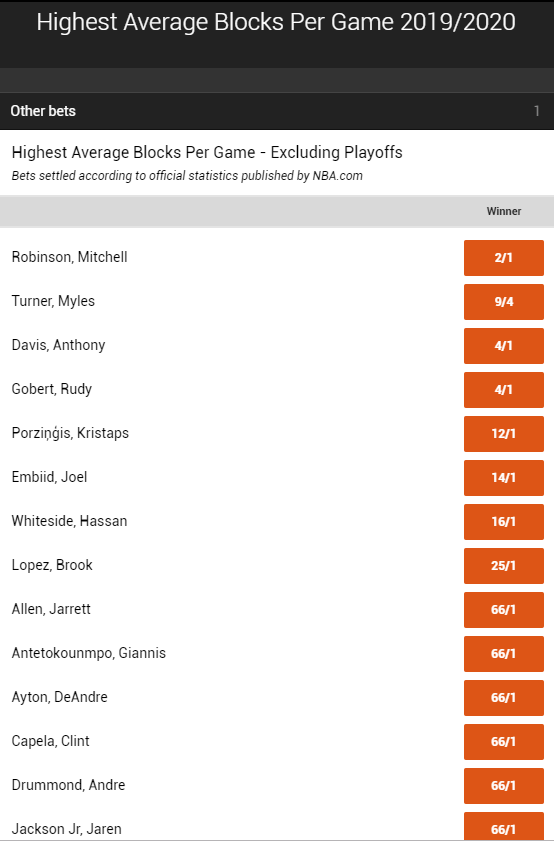 For those who do not like to wander around, we would suggest sticking with the bookmaker William Hill. This top bookie has probably the widest NBA offer on the market. Despite Stephen Curry being favoured to score the most 3-pointer this upcoming season, he is not quite favoured to claim the scoring title. William Hill ranks Curry's main 3-point rival James Harden over the "baby-faced assassin" on the points per game market. Listing Harden & Curry as top two favourites of the scoring race. They are currently priced at 3.25 (9/4) and 3.75 (11/4), respectively. 
According to the oddsmakers from William Hill, the rebounds per game market is out of the conversation. Detroit Pistons' Andre Drummond has led the league in rebounds in three of the last four seasons. The center recorded a historical 32 games with 20 points and 20 rebounds in his last 7 season, while other top NBA rebounders have only managed to 31 such games combined. Drummond seems to be out of the reach even for such players like Embiid, Gobert and even Antetokounmpo. Considering him as your rebounding leader during the 2019-2020 season would not be a bad choice.
The last but now least is the assists per game market. Due to the recent roster changes and role assignment. The newly paired teammates James Harden and Russell Westbrook are known to have to league's highest ball usage percentage. However, Houston coach Mike D'Antoni seems to find the solution. Westbrook is expected to play more off-ball, which, as a result, will affect his AST significantly. It won't be an article about the NBA if we don't mention Lebron "The King" James, himself. According to the reports, the Los Angeles Lakers have experimented with Lebron playing the point guard position and would like to implement it during the regular season games this year. This, in addition to Lebron's exceptional passing skill and basketball IQ, lists him as a joint-favourite (with Russell Westbrook) to lead the league in assists.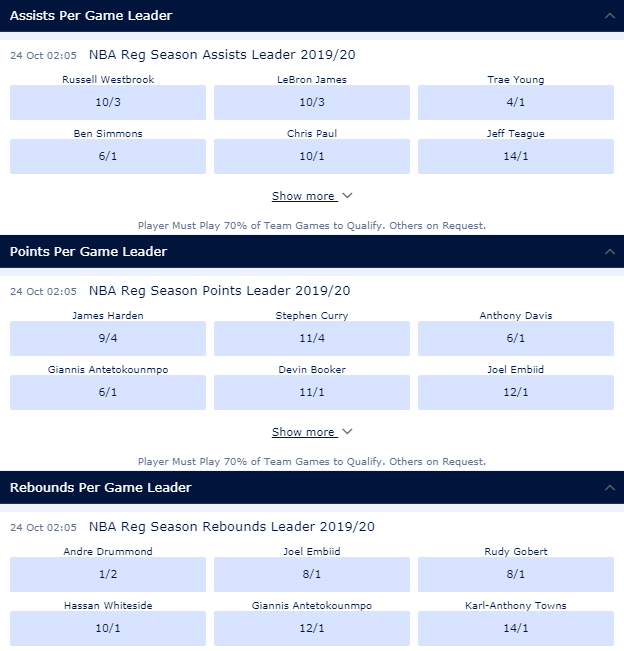 For those who want to test their luck, even more, William Hill has special #YourOdds props in its offer. If you're going to risk it all, you might as well place a wager on the following bets:
Trae Young APG Leader And Andre Drummond RPG Leader For Regular Season - 7.50 (13/2)
Stephen Curry To Average Over 29.0 Points Per Game - 1.50 (1/2) 
J. Harden Points Per Game Leader, T. Young Assists Per Game Leader & A. Drummond Rebounds Per Game Leader - 23.00 (22/1)
Gain the edge in these markets while they still are getting verified. Remember, that detailed analysis is vital for your outrights betting. Stay tuned for new betting articles and as always, happy betting!
NBA guide: The best strategy of how to pick an NBA MVP Winner