Sports Betting Guide
Middling in sports betting
What is middling? How to make sense out of it or what is the key to success when it comes to selecting a proper betting strategy?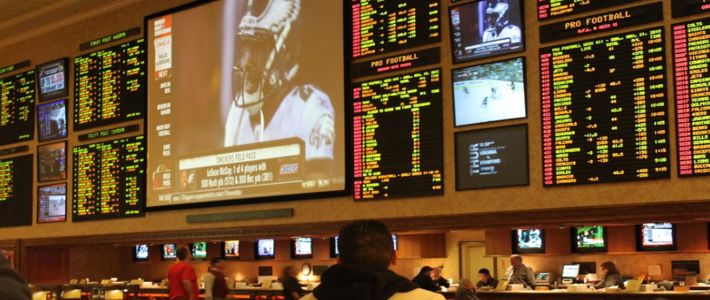 What is middling? Basically, it is a betting strategy that is designed in a way to turn the price difference in your favour. It is similar to what financial market traders use. It has its pros and cons while being a sort of complicated strategy, it brings you the best results if successful.
How to make use out of it and what to pay more attention to while utilizing this strategy? Answers to these and the other questions can be found in our today's betting guide.
To explain this betting strategy better, we would like to show a practical example. The best way to do it would be a basketball game. Let's assume there are two bookmakers, A and B. The one offers a 204.5 and the other one 200.5 total. In such a case our so-called middle would be created by betting under 204.5 and over 200.5, this would limit our success criteria to 201, 202, 203 and 204 total points of the game. The main advantage of this strategy is that you can never lose both bets, you either win both or win one. 
Besides Totals, middling could be used on Handicaps as well. It is a type of hedging strategy where you try to use line movements in your advantage, limiting your exposure. The main idea here is to determine if the middle would be a profitable one and is worth betting on. Going back to the basketball example, let's assume that both odds are equally priced and would be bet on with the same stake. In order to explain you how this hedging works, let's use a $/€100 stake and simple odds of 2.00 (1/1) as an example. If we get lucky and land our middle on 201, 202, 203 or 204, our total profits would amount to $/€200 ($/€100 for each bet), therefore, losing one bet would result in overall $/€0 losses. Seems like a go for option!!!
Let's be a little more realistic and use the same stake with shorter odds of 1.90 (9/10). Then, in the best case, we would win $/€180 ($/€90 for each bet), in the worst - we would only win $/€90 and lose $/€100, leaving us down $/€10. Does it look like a profitable formula for you? 
It is tricky at first sight, many would say it is not, because "you are down $/€10"! Silly you. If one of our bets does land, it will bring us $/€190 revenue (100 state + 90 winnings). With such a scenario, this would be enough to cover the losses of the next 19 games! Quite nice, huh? That is not all, though, do not forget that it is a 19-game span, and the chances of winning one out of them is 5.3%. It is equal to landing a $/€10 single bet with the odds of 19.00 (18/1)!
How often can you find a good middle?
First of all, not all middles are the same. They don't only vary from sport to sport but also within. Betting a middle requires a deep understanding of scoring patterns and tendencies. A middle does not always mean a value, some of them are more profitable than others. For example, using tennis as an example, we can say that four-game point handicaps are more valuable then three-game ones. The same distribution differences could also be seen over time. Such line shifts are very common in American college football (NCAA). You can usually expect at least three points line change between the market opening and game day. It is also not a rare occasion when such line move by even 7 points, which equals to a touchdown (+1 extra point). Lower and less popular leagues, divisions and sports often are subjects to bigger fluctuations, compared to top leagues.
Is middling a safe option?
Every bettor is different, we all have different approaches when it comes to betting, and unlike others know what the best strategy is. However, middling does not have such a feature, it is the way it is and only that way. One cannot just say that an NBA or Premier League game has a valuable middle when it doesn't. There is no alternative approach to it. Therefore, if you manage to master it, you are very surely heading to success. It is a very important thing, not all middles, even if they are present, are to be bet on. On the other hand, you only need one in many games to stay on the winning side. 
Out of all the betting strategies, this one might be at the top of the list, if you take your bankroll safety serious. Assuming that you wager 21 times on both sides in order to hit a middle at the odds of 1.91 (91/100), you only would need one middle to secure profits. One out of twenty-one! The chances of landing it are as low as 4.8%. Not even 5% of success is enough to be winning isn't is impressive? 
Though you only need 1 out of 21 middles to land, there are still certain risks behind it. We would like to mention the importance of taking betting seriously once again, as we always do, in order to keep our readers away from making the most common mistakes. Despite middling being such an attractive betting strategy, it is not guaranteeing you anything. Therefore irresponsible behaviour could lead you to certain problems, among which is bankruptcy.
Are bookmakers aware of middling?
Of course, most of the top online bookmakers are aware of something like middling. Can they somehow prevent it from happening? Not always, but be sure they will not let you slide so easily. The best example of middling resulting in a huge upset for bookies occurred in 1979 during the Super Bowl XIII. It taught everyone a lesson and changed the middle betting forever. 
The actual game was between the Dallas Cowboys and the Pittsburgh Steelers, where the second one was a favourite. The opening day lines of -3.5 for Steelers and +3.5 for Cowboys set the tone. Due to a large volume of bets placed on a favourite, bookies had to move the line to -4.5 on Dallas to encourage some betting. Well, to say less, they succeeded, and moments before the kickoff, the majority of bets were placed on Dallas. The game finished at 35-31 for Pittsburgh. Many bettors won both bets, hitting a middle, which resulted in a huge upset for bookies. The losses were so big that Super Bowl XIII got the name of "Black Sunday", which it holds up to this day.
Livebetting as a middling enhancer
Livebetting has extremely grown in popularity in recent years. More and more tipsters are using this feature. It doesn't only bring more betting options but also more opportunities to gain the edge over the bookie. If you have some knowledge about the sport and correctly predict the game, you can use handicapping to your very advantage. With teams coming back from being down at the beginning being common, you are open to the various options. From underdog covering the spread to the favourite winning with a handicapped score, you can easily find a valuable middle. 
Although this provides multiple options for your betting, it also carries high risks as well. We would suggest getting familiar with less sophisticated techniques first before hopping on something like livebetting.
Is it worth messing with?
At the end of the day, all betting strategies are aiming to profit maximization. This is not possible without the extensive knowledge about the particular sport and betting itself. Even though we have mentioned how attractive and clear middling is, it is still listed among the advanced betting strategies.
Besides all that, it requires lots of dedication and patience. You always have to keep the upper hand on the line movements to pick out the right middle. Sometimes hitting a middle is equal to landing a longshot, so you must be disciplined and prepared for unavoidable obstacles.
Having said all of that, new punters have no room in middling. Take your time getting familiar with more basic things before going big. You can learn more about the most popular betting strategies from our betting guides section over here.