Sports Betting Guide
Flat Stake
Every punter, who's just getting started with their betting adventure, always has to make some tough choices along the way. One of which is a choice of selecting the proper tipping style, which would appear to be the most profitable. Today, we would like to share with you some insights about the flat stake and how you can benefit from it.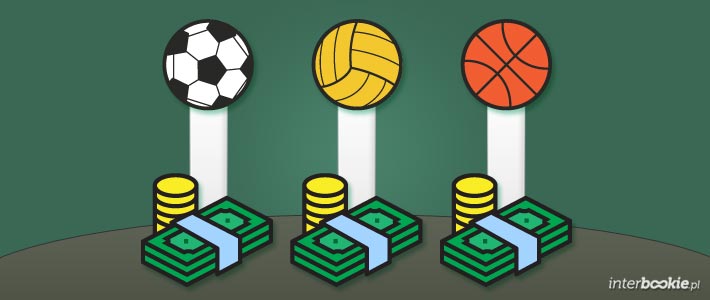 Flat Stake Types
The flat stake is for sure one of, if not the easiest betting technique. Thus, every inexperienced punter should start their betting adventure with it. Do not underestimate it, though, the easiest does not mean the weakest. There are lots of professional punters who have been using this very technique for years and are 100% satisfied with it. Generally, the flat stake is not very complicated, however, there are a couple of variations that you can take advantage of depending on your needs and tipping style:
The same stake for every bet - it is very straightforward. After you know what budget you are going to have, you can select the stake, which you are going to use for every wager. So, how to select the proper flat stake amount? Generally, the maximum size of your flat stake cannot exceed 2 or 3% of your actual bankroll. However, in the case of a flat stake, you can make some exceptions. That is why we have to select the betting strategy we're going to use in the first place. The flat stake size for bettors who value safety should not go over 1% of their bankroll when betting on singles. On average, punters usually go with a 3% stake size, with the most experienced ones staking up to 5% per bet.
 
The same share from your bankroll - this type is very similar to the previous one, however, it has one quite distinctive difference. You have to place the same percentage of your budget on every bet. For example, if you decide to cap our flat stake size at 1% while having, let's say, 500 EUR/USD budget, then the next bet you place should be 5 EUR/USD. This is the part where this approach is different from the «the same stake for every bet» variation. It all actually depends on how well is your betting going at the moment. Let's assume you lost your first 5 EUR/USD wager, which leaves you with a 495 EUR/USD budget. Sticking with the same strategy will result in the next wager having a 4.95 EUR/USD stake. Evaluating the risk and sticking to your selected betting approach is the key here. Thus, remember about the recommended sizes for your flat stakes.
 
Modified flat stake - just like in the previous types, we have to agree on the budget first and then go with 1%, 3%, or 5% stakes. The only difference here is that we are allowed to switch between our stakes' sizes, unlike in the two previous variations. Please, keep in mind, while we are allowed to make some changes to our stake size, it is still a flat stake approach. The main aspect of this system is the odds for the event we are looking to bet on. If the odds are shorter than 2.00 (1/1), we must use the highest boundary of 5%, for the odds that range between 2.00 (1/1) and 3.00 (2/1), we can use the 3%, and for the odds above 3.00 (2/1), we should rather stick with a 1% stakes.
Pros and Cons of the Flat Stake
Just like every other betting system, flat stakes have their own strengths and weaknesses. Let's go over both of them together to have a better understanding of this system.
The probably most significant advantage of this betting system is that it limits your chances of going bankrupt. A flat stake usually means a single bet with a tiny share of your budget. Thus, going bankrupt using this method will require you quite a bit of effort to actually make it. For example, you would need to lose quite a few consecutive wagers in order to completely empty your betting budget. Assuming you take your betting seriously enough and try to bet in the smartest way possible, it would take you around 100 consecutive lost wagers before your zero out your bankroll.
The flat stake also guarantees the stability of your money, you are not going to experience large swings on our account, like in the case of other betting systems. Assuming you will be betting a lot, the flat stake would serve you as more or less proof of maybe not the highest but very systematic profits, which actually is a key when it comes to profitable betting. Knowing that the odds for your bets will usually range around 2.00 (1/1), your winning rate should not be less than 51% in order to make profits in the long run, which in reality is quite feasible.
So far, so good, but what about the disadvantages? Does this betting system have any drawbacks? Some would say that self-discipline would be a huge challenge, which, of course, is required in this case. However, if you have issues with that, you should seriously consider changing the entire approach or even staying away from betting at all. Self-control, discipline, cold head and responsibility are integral components of the so-called starter pack of every professional punter.
The secrets of the best sports betting punters in the world
There also would be those that would complain about the, up to them, low profits. That is somehow true, indeed, but the argument is rather pointless. Betting on the professional level is not about breaking the bank the first day but rather about making smaller but more consistent profits. There are also bettors who don't like staking the same amount on bets with the odds of 1.40 (2/5) and 2.40 (7/5). They are right, but this can be fixed by utilizing the modified version of the flat stake, which we have already discussed a moment ago.
Exceptions
Just like we mentioned already, flat staking requires tremendous self-discipline from bettors. Potentially, the success of this system depends on the fact, if at the lowest point, which no one is safe from, the punter will not decide to get loose and play more recklessly. The trick of this systems lays in bringing small but frequent profits. However, it can only happen in the situation when it goes along with the consistency and a constantly same stake that is not being modified to match the situation. Nevertheless, there's a small exception. The increase or decrease of the stake is only allowed under two conditions:
It is allowed to increase the share of your stake by up to 2%, only if your results have increased your bankroll by 25% since the start.
 
In the case of a reversed scenario, when your bankroll goes down by 25% from what it used to be at the beginning, we would suggest decreasing your stake by up to 2%.