Sports Betting Guide
Why is it better to register accounts at multiple bookmakers?
As you know, most of the professional tipsters hold accounts at multiple bookmaking companies. Have you ever asked yourself, why? Do you know how it can benefit you? If not, then this sports betting guide is exactly for you.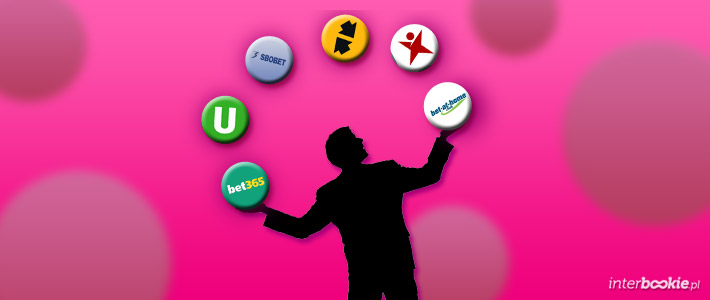 Why do you need to have accounts at multiple bookmakers?
You also have to look up to the best in betting just as much as you do it your regular life. Lots of professional punters hold accounts at multiple bookies, and there is probably a reason why!
First of all, let us clarify one small but very important thing. Despite what you might have heard from your friends or on the Internet, holding account at multiple betting sites is not illegal and has never been that way. Moreover, it is completely free and comes in handy if you're looking to stay profitable in the long run. Here are a couple of reasons why:
Selecting the best offer. By having accounts at multiple bookmakers, we have more options to bet on the event we're interested in, as well as find some value. Let's agree that we are not going to find much value in Champions League or Serie A markets (everyone is offering them). It is easier to look for it in lower leagues & competitions, where bookmakers do not have much knowledge. Unfortunately, not every leading online betting operator offers them. That is exactly why having accounts at multiple bookmakers allows us not to miss a single opportunity. Simply saying, we are betting on what we want instead of on what we can.
Odds shopping. One of the most common mistakes made by inexperienced punters is neglecting even the tiniest odds difference. Are you also guilty of it? Is a 2% price difference a lot or not?  We'll tell you that 2% is huge in betting. For example, there is the event priced up at 1.80 (4/5) at the bookmaker A and 1.83 (83/100) at the bookmaker B. Nothing special at first sight, the difference is barely 2%. You can find events with the difference of 2,3,4 and even more percent every day. 

Of course, you won't see the difference the first day, but as we have already mentioned a number of times, betting is not about breaking the bank the first week, it's rather about making a constant & systematic profit. Winning a bet with the odds of 1.83 (83/100), instead of 1.80 (4/5), and a £100 stake will get us a £3 profit, ten similar bets will make it £30, 100 - £300, and so on. If you are still not convinced about the importance of odds shopping, please take a look at this sports betting guide.

If you are a true ACCA fan, then we have even better news for you. Still don't believe us? Take a look at the odds difference for the same event offered by two different bookmakers:

- ACCA bet at the bookmaker X: 1.50 (1/2) x 2.10 (11/10) x 1.93 (93/100) x 2.41 (141/100) = 14.65 (273/20)
- ACCA bet at the bookmaker Y: 1.54 (27/50) x 2.13 (113/100) x 1.98 (49/50) x 2.47 (147/100) = 16.04 (376/25)

Just for the record, the difference in winnings between these two cases is more than 9%.

Shopping for a better price will not help your betting much unless you have an account at the bookmaker who is offering a better price. The registration process will only take you a couple of minutes, but the benefits it gives you can be seen with a bare eye. The profit maximization - is what betting is all about.
Surebets. This is a type of betting where at least two bookmakers are involved. Thanks to this method, we are going to get a guaranteed profit regardless of the outcome by properly manipulating tips and odds differences. It is also quite simple to master. Let's take a look at the Italian 2nd league volleyball game, for example. Bookmaker A sets its odds for home team victory at 2.12 (28/25), while the away team victory is priced at 2.08 (27/25) by the bookmaker B. Having accounts at these two bookies, you can easily place a bet both ways, eliminating all the risks and insuring your winnings even before the first serve. Let's say you wagered £200 in total (100 on the home win + 100 away on the away win). Your possible winnings will be £208 or £212, your net profit is going to be either £8 or £12. Please, do not get overexcited, surebets that we can find online will usually have a  1-3% profitability. Though, you can a more significant value, in some rare cases. We would also like to mention one important thing before you get going with your surebetting. The chances of getting your bets voided, using this technique, are around 20%. The main reason for that is because bookmakers always hold the right to cancel a bet or suspend the whole market at any moment.
Bonuses and promotions. Top online bookmakers do whatever they can to lure new clients and keep the old ones for long. They offer generous welcome bonuses, cashbacks, free bets and other special promotions. Let's not leave them without a chance to please us by taking advantage of whatever is offered to us. You can easily collect up to a couple of hundreds on welcome bonuses just by signing up with multiple betting websites. Such an awesome opportunity is hard to be passed on even by the top bettors. Please, check out our bonuses and promotions page to learn more about all the current special offers.
Avoiding limits. On the one hand, bookmakers really enjoy giving away bonuses, but on the other one, they are constantly monitoring regularly winning punters. Sooner or later (depending on the operator) such tipsters will get under the bookmaker's radar. The bookmaker is then going to limit the account by disallowing its user to place bets with the odds exceeding a certain level, making it extremely unprofitable. This is another reason to have multiple accounts.
Bankroll management. This is the ultimate betting advice. Since you are basically giving the bookmaker your money, it would be smart to do so with only reliable operators. If you are still looking for a 100% reliable betting operator, please click here to view the entire list of our recommended bookmakers. Nevertheless, nothing is really promised. How many times have you heard about a major financial world-class institution going bankrupt all of a sudden? Gave you a second thought, right? We believe this is enough to be a reason for not keeping your entire bankroll at just one bookmaker. A better way to do it will definitely be splitting in among all your account. This will not only protect you from unexpected situations but also serve a prevention mechanism from going «all in».