Sports Betting Guide
How to outplay the bookmaker - part 2
Some time ago we published a special punters guide called "How to outplay the bookmaker - the secret of the success of the best punters in the world". The article was met with very positive reaction which was seen in the comments where You praised it and asked for another part of this series because after reading this guide You claimed that Your betting effectiveness have become much better and placing money on sporting events became considerably easier.
As we promised, that article was not the last one from the series of betting guides about the strategies, methods and all things that need to be considered to win with the online bookmaker. We are happy to announce that we will publish such articles from time to time. And well, this is the "time" to show You the next part of the how to successfully bet on sports betting guide series.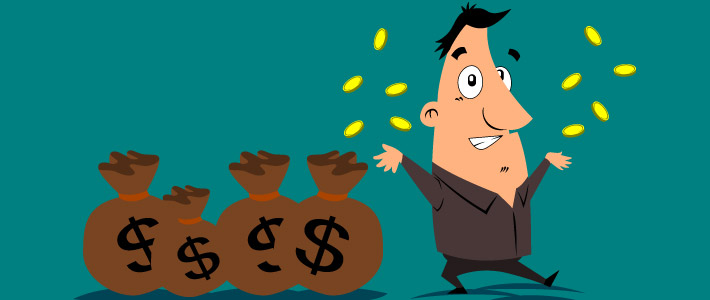 Quality, not quantity!
In the previous betting guide, which You can read here, we wrote about the general rules about which You need to remember when placing bets at online bookmaker as well as about the skills and characteristic traits that you need to possess to be a successful sports betting punter and achieve major profits. In this article, we will focus on only one characteristic that needs to be trained to be a good punter - patience.
You surely know the saying that the opportunity is what prompts a person to become a thief. Of course that does not mean we want to steal anything or talk You into committing any sort of crime. We only want to show You that to achieve a long-term success in sports betting, patience is a key ingredient - one that needs to be used in Your betting because otherwise You will make many mistakes. After all, we all know that rushing things can turn out very badly, for everyone.
That is why, we asked You dozens of times to not make several bets on one day, but to focus and thoroughly research the events that You want to place a bet on and try to stick with few bets a month, but those that possess real betting Value, and somehow slipped the system of the online bookmaker while setting the odds for the particular event and type of bet. This is Your chance, those rare mistakes of the bookmakers that You need to "steal" by using a bit of luck and most of of all - lot of patience.
Hands up: Who likes betting promotions and bonuses from online bookmakers?
We can bet, that every one of You, loves receiving betting promotions and special bonuses that are granted from time to time by online betting operators. It is always nice to get some "free" money that can be used to boost our betting budget and increase our betting capabilities. But sometimes, when You look closely, You can spot another type of a "betting bonus" that bookmakers give freely to all their customers, without even knowing about it. What are we talking about?
We obviously mean the mistakes of the oddsmakers and employees of the online bookmaker that are responsible for analysis data and setting up the odds for a particular event. In general, this should be the job of the punter, to evaluate the risk in accordance with the probability and to search the events or types of bets that were wrongly set by the bookmaker. This can often mean much higher odds than they should be in reality and a chance to win some money on quite probably scenario. Usually, when bookmaker makes such a mistake, it is not very big error and the real value different from the one he offered by merely few percent. But imagine that if a hundred people make bets and use this mistake to win their money, the bookmaker will lose quite a fortune, and from the other hand, if the punter can find few dozens of such mistakes, it could mean the fortune for him, with very little risk. The key to outplaying the bookmakers when it comes to such outrageous, not logical odds is to have patience and be watchful when something like this happens, and we can count on quite good profits.
Betting promotion in the Women's UEFA Champions League
To illustrate what are we talking about, we want to show You an example. Few days ago, we spotted a very interesting event - a football match in Women's UEFA Champions League with a very weird odds. It was a second leg match between Women's football team of Olympique Lyon (One of the best female football clubs in the world) and Kazygurt Shymkent. In the first game in Kazakhstan, the french football team showed no mercy and dominated the whole match from the first till the very last minute by winning 7:0 and showing some excellent football. So, imagine our confused faces when we saw that before the second leg match between those teams, one of the online bookmakers offered a 2.25 odds for Both To Score option with NO selected as the result, in default as the against goal for the Shymkent team. The offered bet was available on the official betting website of that bookmaker only for few minutes before the betting operator understood what terrible mistake he made and changed the odds, but who was cautious and fast enough to see it, probably made quite good money on this bet.
Ooooooh, and we would almost forgot to mentioned to most important part of this story. The french team once again proved to be superior over their much weaker opponents which managed to only once penetrate the Lyon's half and all they were able to do was attempt a sort of a shot, which was definitely not a treat to the french clubs goalkeeper. If You do not believe us, see it for Yourself by looking at the statistics of this second football match between those two teams.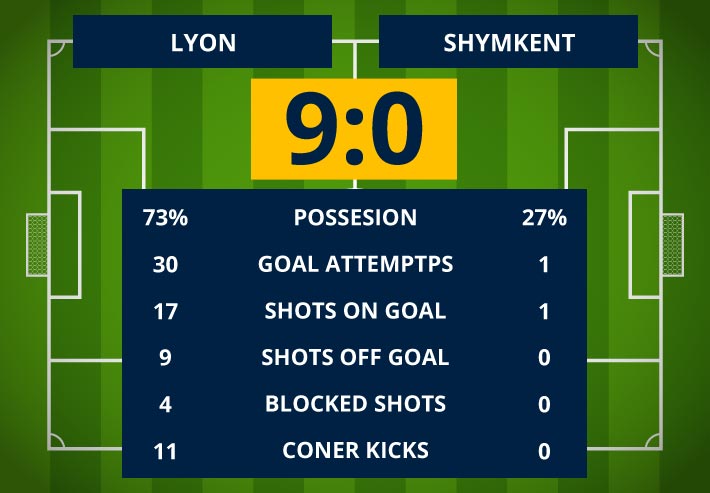 Value - A key term when it comes to success in sports betting
The mentioned above example is just one of the few that prove that every bookmaker makes mistakes and to say more, some bookmakers ever make few or even few dozens of such mistakes a week. It seems that the broader the sports betting offer, the higher the number of offered sporting events and types of bets, the easier it is to find a mistake in bookmakers calculations, as he may not be able to properly react to all things with such huge database of information. Of course, not every mistake ends up as a such spectacular flop from the bookmakers side, but even with lesser odds, You can still manage to make profits, and even a small fortune.
To name other interesting examples, let us see a few random games from the last few days:
UEFA Youth Champions League game between Polish side, Legia Warsaw U19 and Ajax U19, where You could obviously tell the difference in quality between one of the worst youngster teams in competition and one of the best in the world. The opening odds for Ajax win in this game, offered by majority of online bookmakers was something close to 2.50, more or less, only to drop to a more reasonable 1.44 after few hours - the difference was a stunning 74%! and the dutch team obviously won without any problems by smashing their opponents 4:1.
 
Next up, we have another Champions League match, this time in the regular age gap, between current Eredivisie champion Feyenoord Rotterdam and soon-to-be English Premier League champion, Manchester City. This was the first leg in the group stage of the UEFA Champions League this year and therefore, the bookmakers were probably not well informed about the disposition of both teams and offered a questionable 1.70 odds for the win of the Citizens. Later on, they corrected their mistake by setting the 1.25 for the win of the English team, which of course won 4:0.
 
It seems that the most mistakes in odds setting by the bookmakers are made in the female UEFA Champions League and are weirdly common when it comes to the Olympique Lyon female football team. The french team was once again playing against much weaker sider, this time a polish team called Medic Konin. Obviously, Lyon footballers were the favourites in this game but the asian handicap for this match was 1.75. Later on, once again the bookmaker changed the odds to 1.38 and the game finished in a total annihilation of the polish team that lost 9:0.
 
Last but not least, another Women's UEFA Champions League game, this time a real hit match, between Atletico Madrid and Wolfsburg female football teams. Before the game, it was difficult to predict that there will be many goals in this game. That is why, the bookmakers offered very high goal lines. For example, the initial Over for over 8,5 goals in the game was 67.00, only to decrease before the first whistle of the match to 41.00. The german team proved the bookmakers once again, that they have troubles setting the odds for female competitions, especially Women's Champions League, by winning 12:2!
 
This betting guide shows that apart from patience and a bit of luck, You need to remember about one very important rule - You are not betting against a particular team, but rather against the odds offered by the online bookmaker!