Sports Betting Guide
Why is it better to have accounts with multiple bookmakers?
As you know, most of the professional tipsters hold accounts at multiple bookmaking companies. Have you ever asked yourself, why? Do you know how it can benefit you? If not, then this guide is exactly for you.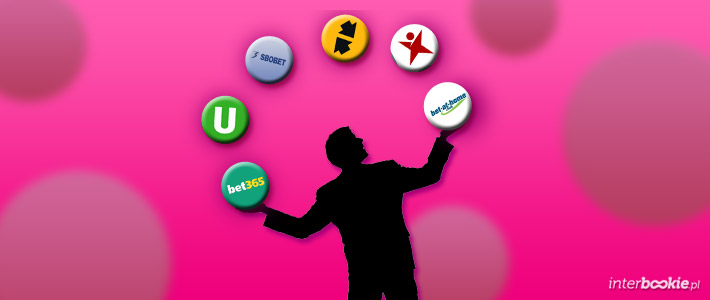 Why do you need accounts at multiple bookmakers?
In betting as well as in life - it is worth to look up to the best. Lots of professional bettors hold accounts at multiple bookies, and probably there is a reason why!
Despite the common idea that having multiple betting accounts is illegal, we would like to ensure you that is it not! It is completely free and moreover, comes in handy if you're looking to make profits constantly. Here are a couple of main reasons why.
Selecting the best offer
Having accounts at multiple bookmakers we can bet on the event we're interested in and see the value. Let's agree that we are not going to find value in Champions League or Serie A betting (everyone is offering them). It is easier to look for the value in lower leagues, where bookmaker's knowledge wishes to be better. Not every bookie has them in there offer. That is exactly why having accounts at multiple bookmakers allows us not to miss a single opportunity. Simply saying, we are betting on what we want instead of on what we can.
Odds browsing
One of the most common mistakes made by unexperienced tipsters is neglecting even the minimal odds difference. Are you also guilty of it? Is a 2% odds difference a lot or not?  We'll tell you that 2% in betting is huge. For example, the event with 1.80 (4/5) odds at the bookmaker A and 1.83 (83/100) at the bookmaker B - the difference is barely 2%, and there's nothing special about it. You can find events with the difference of 2,3,4 and even more per cent every day. 
Of course, you won't see the difference the first day, but as we have already mentioned a number of times, betting is not about breaking the bank the first week, it's rather about making a constant & systematic profit. A one winning bet with the odds of 1.83 (83/100) instead of 1.80 (4/5) and the stake of 100 will make us a 3 profit, ten of those will make it 30, 100 - 300, and so on. Do you think looking for bets that are 2% higher is still not worth it? 
An even a bigger difference is waiting on the acca lovers. Still don't believe us? Take a look at the odds difference on the same event offered by different bookmakers:
Acca offered by X: 1.50 x 2.10 x 1.93 x 2.41 = 14.65
Acca offered by Y: 1.54 x 2.13 x 1.98 x 2.47 = 16.04
The possible winnings of a tipster, who placed a bet at the bookmaker which offers better odds will be more than 9% higher.
Searching for the better offer will not make you any good by itself unless you have the account at the bookmaker offering it. The registration process will only take you a couple of minutes, but the benefits it gives you can be seen with a bare eye. The profit maximization - is what betting is all about. 
Sure bets
A type of betting where at least two bookmakers are involved. Thanks to the properly adjusted tips and odds differences, they will guarantee us profit regardless of the outcome. It very simple, let's take a look at the Italian 2nd league volleyball game. Bookmaker A proposed 2.12 (28/25) odds for home team victory, while the away team victory is priced at 2.08 (27/25) by the bookmaker B. Having accounts at multiple bookies, a tipster can bet his/her money both ways, eliminating risks and counting winnings even before the first serve. For example, with a 200 bet (100 home + 100 away) the possible winnings will be 208 or 212 (raw profit will be either 8 or 12). Sure bets that we can find online are usually 1-3%, but you can as well find more significant value. We would like to warn you before you will go deep into sure betting. The chances of getting a void using this technique are around 20% mainly due to the fact that bookmakers are allowed to cancel the bet any moment.
Bonuses and promotions
Bookmakers do whatever they can to lure new clients and keep the old ones. They offer appealing welcome bonuses, as well as cashbacks, free bets and other promotions. Let's not leave them on hold and take advantage of whatever is provided to us. You can collect up to a couple of hundreds on welcome bonuses just by registering on multiple bookmakers' websites. Such an opportunity is hard to be passed on even by the top bettors.
Avoiding limits
Bookmaking companies really enjoy giving away bonuses but constantly are watching those tipsters who are regularly winning. Sooner or later (depending on the bookmaker) such tipsters will get gubbed, limiting their ability to place a bet with odds exceeding a certain level, therefore making it unprofitable by default. Thanks to having multiple accounts, we can easily avoid it.