Sports Betting Guide
When should you place your wager?
The question that bothers all of us, when is it better to place a bet? Right at the market opening weeks before the event, or maybe, a few minutes before the kickoff? Let's find it out together.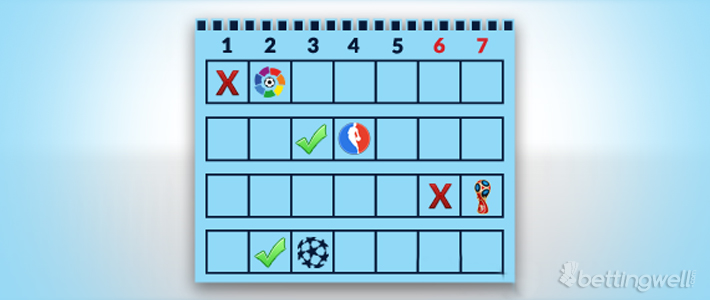 The best moment to place a bet
In pursuits of beating online bookmakers, punters come up with all sorts of tricks. They analyse matches, monitor the odds, follow the betting gurus online and try new betting methods and strategies. Being honest, all of that actually pays off. Online betting is just like sports - every detail matters & the more you know your craft, and the more you master it, the more chances you will have to succeed. Therefore, it would be foolish of you not to take advantage of it.
The most commonly bet on sport is, of course, football. Football punters' life is so much easier compared to basketball or volleyball ones'. The markets for various football matches sometimes open weeks ahead of the actual event, giving all of us the opportunity to place our wagers well in advance. Well, is it always better to do so, though? Let's find it out together.
Betting right at the market opening
Advantages of early betting:
Longer odds - oddsmakers that work for bookmaking companies are people just like us. That is why bookmakers make mistakes assessing the odds for particular teams, player or event. The experienced punters always keep an eye on something like that and respond promptly, before the odds would get verified by the market. This is vital for punters who bet on favourites, the best teams from the most competitive leagues in the world. The closer to the actual game it is, the lower are the odds for Real Madrid, Barcelona, Manchester City, etc. Finding value at that a stage is almost impossible.
Benefits - such a strategy is beneficial from the punters' point of view. They don't have to keep up with all the betting forums, monitor odds and do all that extra stuff. The wager is already placed, and all you have to do is just patiently wait for the outcome. The «lazy» bettors mostly prefer the strategy, but it doesn't mean that it's bad at all.
Counter bet possibility - with just a little bit of luck, there is a high chance of winning the bet even before the actual kickoff. Everything could happen over the course of a few days, and the odds could flip upside-down. If we would pay attention, we could also have a chance to find a surebet.
---
Disadvantages of early betting:
Bigger risks - time works against us sometimes. Anything could happen after you placed a bet, the best striker could get injured, tensions between the coach and player or delayed payments. We do not have any control over such things. Despite all that, a couple of days are enough for a team to completely change its priorities from striving to compete in the top European tournaments to not trying to relegate. No risk, no fun! - as they say.
The bankroll cap - this one is rather related to the younger representatives of the betting community, who have somewhat smaller budgets. Experienced punters do not have any issues with waiting after making a certain investment.
Signing up with multiple bookmakers - we listed this one under the disadvantages because new bettors tend to have lots of issues with it. We suppose that holding accounts at 2-3 bookmakers is a must-have requirement. It is hard to select the best offer on the market, as well as shop for the best odds when you are registered with only one bookmaker.
Betting Guide - Why is it better to have accounts with multiple bookmakers?
Betting right before the event
Advantages of late betting:
More information - it is quite self-explanatory. In case of placing a wager one or two days before the event, we are going to have more information regarding the roster, locker room environment and priorities of both teams than we would, placing a bet weeks in advance. Another important thing is that we have the opportunity to compare our punts with the other tipsters', therefore giving us a better idea of what's going on.
The odds movement - seeing how the market tends to act lets experienced punters respond accordingly. Odds fluctuation have helped a lot of smart punters to place a winning bet.
Better underdogs odds - the perfect strategy for the underdog punter. Traditionally, the underdog odds are substantially longer than on an opening day. It all happens due to the fact that people place more and more bets on the favourite closer to the kickoff, which has a snowball effect. Such market behaviour only works in your favour, if you are looking to back the underdog. This happens, once again, due to their odds getting longer, possibly offering your even more value!
Bonuses - yes, promotional offers are also an advantage of late betting. Top online bookmakers are usually posting their promotions a couple of days before the event, sometimes, a bit earlier (up to seven days on average), so punters can fulfil all the requirements. This is usually quite beneficial for punters since they have a chance to get extra money to bet with or secure the initial stake they wanted to invest.
If you would like to claim a generous welcome bonus or qualify for an awesome free bet, click here to review hundreds of ongoing promotional offers from the best online betting operators in our bonuses & promotions section.
---
Disadvantages of late betting:
Shorter favourite odds - just like we have already mentioned above, the closer it is to the event, the more bets are placed on the favourite, leading to the odds shortening, which is very disappointing if you are looking to back the favourite (especially).
Constant monitoring - you must always be aware of what's going on, therefore dedicating more time. You must continuously monitor the situation and bookmakers in case if there is an unexpected odds swing, etc. You also have to be engaged a lot with following all the media because even a small mistake could be a costly one.
Summary
So which strategy is the best? It is completely individual and depends on the experience and style of a particular punter. Professional punters do not care about waiting for the outcome, while it might be a problem for their younger colleagues. Early betting will benefit bettors, who wager on favourites. If you want to support an underdog, you should rather wait till the very last moment, because there is a chance for its odds to stretch.
Early betting comes with many risks too. However, they do not always play against you. For less-experienced punters, the best option would be to place a bet 2-3 days before the event. The odds do not swing left and right too much, and there's enough information already available.
When do you think is the best moment to place a wager? When do you personally place yours? Share your experience & knowledge down in the comments below.