Sports Betting Guide
Importance of thinking or how to place a «good bet»?
Assessing risks and choosing the proper staking method is a good way to place your wager, but what role your thinking plays in your sports betting success? Let's find out how to process information to place a good bet correctly.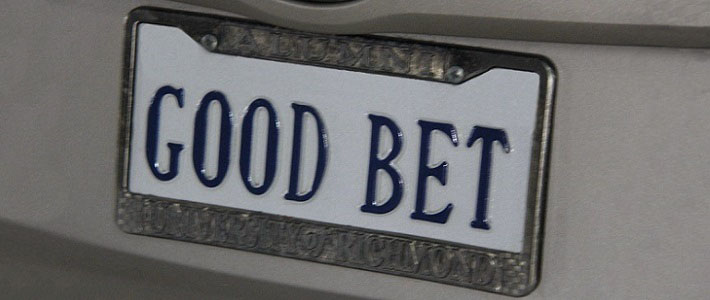 Introduction
We would like to start this betting tutorial by pointing out, once again, the importance of thinking when participating in sports betting. Besides all the biases and heuristics that we have already covered in our sports betting guides, there is one very fundamental feature that we all possess, which has a large influence on our betting and decision making. This is nothing else but the way we think, or to be more exact, the way we process information. This phenomenon has its own name and is called binary thinking. Just like that eponymous computer code that only has two mutually exclusive options - 1 and 0, binary thinking does not have anything in between, as well. 
Many experts believe that it is a neutral mechanism that we got from our ancestors, which qualifies it for another heuristics you should watch out for. Unlike nowadays, such a binary way of thinking was of substantially greater importance. Moreover, it was of the primary mechanisms needed to survive, thanks to quick, almost automatic, decision-making. Such a thinking approach proved effective against predators that were about to strike or in other extreme life-or-death situations. Sometimes, even nowadays, the reward for assessing information entirely and the time it consumes is not worth the risk. Thus, having such a mechanism in your arsenal is quite helpful in certain situations. However, betting is not the place for such practices.
Sports Betting Guide: Betting 101. How to collect & analyse data for betting?
One of the best examples of binary thinking nowadays is the old way YouTube used to rank its videos. Back in the day, it was the traditional 5-star rating method, however, it proved highly ineffective due to the vast majority of users choosing either 1 or 5. This was a perfect example of binary thinking, where people who liked the video were giving it 5 stars, and those who didn't - 1. Such behaviour forced YouTube to change its ranking to the all-beloved thumbs up & thumbs down.
Outcome bias
Speaking about good & bad bets or even decisions, we cannot forget to mention the outcome biases that go well in tune with binary thinking (especially in sports betting & sports). Our natural desire to split everything into two basic categories, whenever is possible, could be easily witnessed in betting. However, such thinking is not the only thing that affects the way we feel about our bets. Generally, punters say that a good bet is a winning one, and vice versa. It could be true for an inexperienced punter, but veteran bettors know that is it a completely false statement. There are numerous occasions where punters land a terrible bet & come short on their best effort.
Betting Guide: When should you place your wager?
This happens due to another phenomenon called outcome bias. People tend to hang the «good» or «bad» tag on various events based on their outcomes, regardless of all the extra information linked to the event. Just think about your favourite team or player and their last move during the transfer window or the last play. Bet you can recall some of the most fascinating skill moves by Neymar or Ronaldinho (back in a day), or any of your favourite players. Well, how many of them did not quite achieve what they planned? What was your first reaction, then? Still, don't get it? Well, let's talk about one of Chelsea's most recent signees - Timo Werner and his struggles to find form. The majority of The Blues' fans most likely call it a bad move by the team, making their decision based on the outcome rather than plenty of other aspects connected with an underperforming form of Werner. Now, assume that Werner was producing even better than in Bundesliga from the very start at Stamford Bridge. What would've your reaction about the trade been then? In all likelihood, it would have been different!
Is there a good bet then?
The road to success in sports betting lies in nothing else but your ability to avoid and cope with such biases & heuristics. There is no 1 & 0 or good & bad in sports betting, everything in between is what matters the most. You simply cannot say whether the bettor is good or bad based on how good or how bad their wagers are. This is total nonsense! There is only one way of telling how good the punter is, and it is by their percentage. In other words - predictive ability & its accuracy. If this percentage is more accurate than the bookmaker's, then success will be inevitable in the long run.
Here's the funny thing, how can you tell if those percentages are accurate or not? It turns out, the only way to answer that question is by testing the same prediction (or bet) on a large enough sample, meaning running the same exact simulation over & over until enough. There are also a couple of issues with that, as well. Firstly, you simply cannot repeat the same situation over & over in reality; and secondly, the number of runs has to be quite significant thus, making it even more impossible to happen.
Sports Betting Tutorial: The Monty Hall problem
An example could be anything where something or someone is given a certain probability of achieving something. Let's say your favourite tennis player is given a 40% chance to have a flawless record in their next 10 upcoming matches. Assume they fail to do so, what do you think your first reaction would be? Most likely, you would say it is inaccurate, wouldn't you? This is completely wrong, given the 40% probability the player only winning 4 out of 10 times. It was only this one time that they did not win it, which in reality tells us nothing about how accurate or not the prediction is. Once again, in order to find that out, we would have to run the same 10 matches under the exact same conditions, which is impossible in reality.
Betting Tutorial: How to make the most accurate Premier League predictions?
Summary
Having said all of the above, some might feel a bit disoriented and lost. We are not trying to say that there are no good or bad predictions. There is just no way of showing real-life proof of that. From the binary thinking and outcome bias perspective, bettors are always operating in the in-between space. If you are willing to achieve certain things in betting, you must, first of all, change the way you think and move on from this traditional classification of good & bad. Simply do your best in finding the edge over the bookmaker & look for a better value when it is possible. That is the only way!