Sports Betting Guide
Confirmation bias in sports betting
There are lots of factors that are taken into consideration when it comes to betting. Some of them like the discipline itself, teams and/or players and their shape are purely sports-related; however, there are also those of a more psychological nature, which also play their crucial part.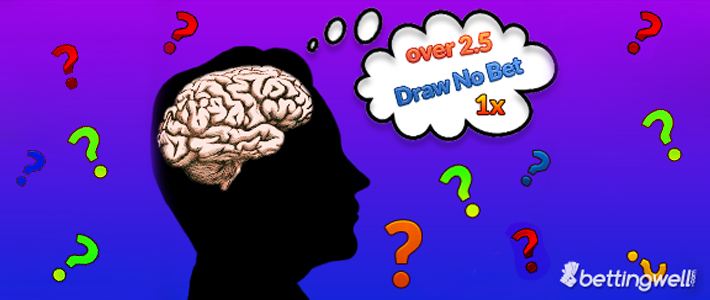 Introduction
Just like a timid football player who cannot cope with a huge pressure & misses the game-winning penalty in the 90th minute, a punter who lets their emotions, weaknesses and second thoughts take over will not progress too far. Especially if such matters are not recognised and worked on. Mental health & strength are playing an extremely crucial role when it comes to the psychological aspect of the top level of sports and sports betting, as well. Talking about the psychological part of sports betting, we cannot leave aside one of the most interesting, however, most commonly committed mistakes that almost every single punter is guilty of - confirmation bias. What is it? Who does it work, and how does it affect our predictive ability? Let's find out together.
According to numerous studies, people prefer information that confirms their personal opinions rather than the one that states otherwise, regardless of its accurateness and credibility. People tend to present and view the information in such a way to match & confirm their expectations and/or opinions, as well as, to avoid any rejection and discreditation of them. Such behaviour only makes you feel good with your inner self but leaves the credibility of your opinion questionable.
Confirmation bias in sports betting
The so-called confirmation bias plays a more significant role in sports betting than you might think it does. Inexperienced punters and those who are unaware of such bias get caught up in its mechanism, which severely impacts their decisions. How, though?
Every one of us has placed a wager without any additional analysis or whatsoever at least once. Confirmation biases behave in a similar way. Let's use a football match between Argentine & Bolivia as an example. When you see such a match listed somewhere online, you immediately assume an Albicelestes victory. Nevertheless, you still do a, let's call it, «pseudo analysis», in order to clear your conscience. In other words, we are looking just for the information that confirms our opinion, which in this case is Argentine's victory, completely avoiding anything that states otherwise.
Let's just take a look at some of the data that we might be available online:
Slump performance of Messi
Great head-to-head statistics between the two sides
Argentine's huge victory few days prior to the matchup
Bolivia's recent winning streak
Our brain will automatically choose the one, which goes along with our original statement and form our further thinking around it. Using the given example, which one of the listed bullet points appears to be more appealing to you? The answer is quite clear, right?
Sports Betting Guide: Tipster's strategy - hindsight bias effect
Biased punters will simply neglect the fact that it was a very terrible win, with poor performance from the rivals and a missed game-winning penalty in the injury time. Their brain would also blur out the fact that Bolivians have won their last 5 games and that Messi, who is Argentine's best player, is not playing how he supposed to. In such a situation, the affected punter only focuses on the «positive» factors, which only strengthen his biased opinion, which they are going to use when placing their wager.
How to deal with confirmation bias?
The only way to avoid being biased is to perform a thorough and detailed analysis for every single event you are looking to bet on. Try to leave all your personal preferences and emotions aside and find as much information for both sides of the argument as possible. Focus on forming your opinion only on raw facts rather than around wishful thinking. A great approach here would be finding at least 3 counter-arguments for each of the already found facts. Try to implement this trick into your betting routine and let us know if your effectiveness has improved. Please, let us know your results down in the comment section below.