Sports Betting Guide
Confirmation bias in sports betting
A lot of factors are taken into consideration when betting. Some of them are connected with sports aspects, like the knowledge of discipline and players, whose matches we want to bet on. Some of them are purely psychological, and they are just as important, if not more.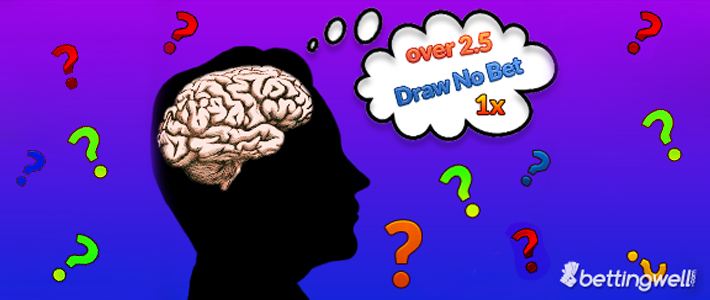 If the facts state otherwise, too bad for facts.
Similar to a weak willed football player who misses a penalty in 90th minute of a match, a punter who lets his weaknesses rule over him won't get far. Especially if he prefer not to admit to his weak points. In sports as well as in top level betting (and that's the only level we're interested in) a key role is filled by psychological aspect. One of the most interesting concepts, and at the same time most committed by punters error is so called confirmation bias. What is it, and how does it affect our predictions? Let us explain.
According to scientists, people have tendency to prefer information that confirm their previous opinions, despite its final accurateness. It is common practice to stretch the information in such a way as to confirm your expectations and to omit or reject any data that might undermine them. That way, the opinion has little to do with the truth, but it allows us to be in peace with our inner self.
How does the confirmation bias works in sports betting?
The confirmation bias plays a significant role in sports betting. Unaware punters falls for this mechanism, which often has a huge impact on their decisions. How?

We suspect that every punter has committed an event without conducting any analysis. In the case of a confirmation bias we are dealing with a very similar phenomenon. For example, when seeing a match between Argentina and Belgium in the table, we immediately assume that we will bet on the triumph of Albicelestes, but to have a clear conscience we carry out a "pseudo analysis". We are only looking for information that confirm our choice, completely ignoring any evidence that is against our type.

Among these events:
Unsure performance of Messi
Perfect head-to-head balance for Belgians
Argentina's win with Germans a week ago
Series of 8 won matches for Belgium
Our brain will choose one, and around that event will build its opinion on this match. Guess which. Of course, that of the victorious match of the Argentineans with Germany! And it won't be impressed that it was a win in terrible style, and rivals wasted a penalty in the added time of the game. It will also miss the Belgian's excellent run and the most dubious player of the best Argentine player. It will focus on the only positive information in this comparison and it will be its only argument to place such bet.
How to deal with confirmation bias?
The only way to counteract is to perform thorough and truthful analysis of every event and let ourselves be as honest as it is humanly possible, losing all prejudice and sympathy. Base your opinion on pure facts. In addition, the best way to disprove even the most reliable type is to find at least 3 counter arguments, information or statistics that would prove its disadvantage. This simple trick will make you even more effective punters, and will also save you a bit of money and nerves.