Sports Betting Guide
Esports betting guide: How to bet on Dota 2?
Esports are all fun and games before you start treating them seriously, especially when it comes to betting on these digital competitions. Being one of the most popular esports disciplines - Dota 2 has gathered dozens of millions of fans from all around the world. The complexity of the game & the variety of its betting markets sometimes makes it hard for inexperienced bettors to get the hang of it. Therefore, we would like to explain some in's & out's in today's esports betting guide.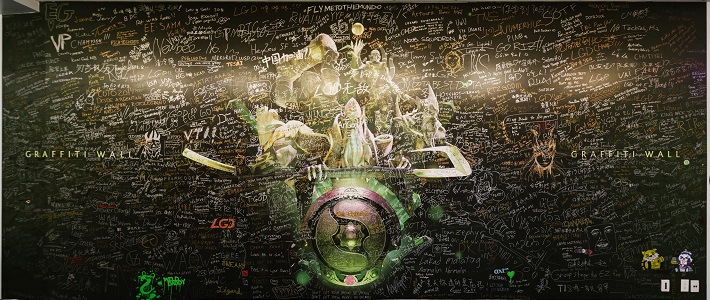 What is Dota 2 and how it came about?
First things first, what is Dota 2 or as its full name goes Defense of the Ancients 2? Dota 2 is one of the world's most popular multiplayer online battle arena (MOBA) video games, which is, by the way, free-to-play. Simply saying, Dota 2 is a real-time strategy game, which has been played competitively for a very long time.
For those who are wondering the game is very similar to another popular MOBA - League of Legends, yet has its fundamental differences. The history of this mainstream game dates back to 2003, when a user named IceFrog (one of the main designers of the initial version) introduced a Warcraft III game mod, called «Defense of the Ancients». The mod, or as some might refer to it as just a Warcraft 3 map, shortly became popular and caught an eye of the then embryonic esports industry. A couple of years later (2009), IceFrog was hired by one of the video game industry's big players Valve to start working on a modern sequel, which was born after two years of the beta testing in July 2013. Dota 2 quickly became one of the Steam's most played games, peaking at over one million concurrent players. What happened next? Well, you already know.
Let's talk a bit about how the game works. The Dota 2 match is played (competitively or not) between two teams with 5 players on each side. Players have to pick one of many available characters that are generally divided into 3 main groups: Intelligence, Agility and Strength. Each character has a set of its unique abilities and the entire action takes place on a classic map with a variety of runs and other hidden tweaks that can enhance your character's ability. Each player also has a set of special abilities, which creates quite a unique experience when combined with other characters'. The goal of each game is to destroy the opponent's main structure called «Ancient». To achieve such a goal player have to implement certain strategies by cooperating, collecting gold and buying character-needed items to boost your character's abilities.
Popular Dota 2 betting options?
Enough of that empty talk, we all know what we came here for. So, let's not waste any more time and just hop straight to it. We have prepared a list of all the betting options on can currently place your Dota 2 wagers on around the industry.
Please, keep in mind that the availability of Dota 2 markets and related betting options might vary from the bookmaker to bookmaker
This one is probably the most traditional market for any competition & sport. It is quite straightforward and is rather considered a basic option. All you have to do here is to pick either Team A or Team B (or Draw option, is some cases). Quite easy, right?
---
Map winner? Yes, the majority of competitive Dota 2 matches are carried out in best-of-three or sometimes even in best-of-five formats. In such cases, a team has to win 2 (Bof3) or 3 (Bof5) games to win the whole match. This market helps you mitigate the risk & gives you a range of opportunities. If you have some doubts about your team winning the whole match, it might be smarter to opt-in for this particular market instead.
---
Another great market to help you find more value. This one comes in handy especially when you have a situation where one team is heavily favoured over another one. In such cases, you can back your team to, let's say, win by 1 or 2 maps, meaning place a bet on a -0.5 or -1.5 maps handicap, respectively. The same goes for underdogs, however, goes the opposite way. You can also back the underdog not to lose by more than two games, for example, betting on a +1.5 map handicap option.
Esports Betting Step-By-Step Tutorial: How to place an esports bet?
---
Another great maps betting market. In the case of maps totals, you do not have to bet on the winner of a particular map, instead, you only have to place a wager on the number of matches that will be played in total. Since the Bof3 format is used quite predominantly in Dota 2 competitions, you will usually have 2.5 Over/Under option to place your wager on. This is very straightforward. If you think the games will be dominated by one team, meaning the match will end with a 2:0 score, then you should back the Under 2.5 maps option. However, if you believe the match will be a close one and a tiebreaker will be required, then go ahead and back the Over 2.5 maps option, instead.
---
The honey hole in terms of winnings. Those who are familiar with this market from football betting, know well how hard it is to predict the exact score. Unlike football or any other traditional (and even esports) discipline, the variety of correct score options for Dota 2 matches is limited, which only makes it easier for punters. Again, assuming the Bof3 format is being used, any given Dota 2 matchup can only end up in the following ways: Team A to Win 2-0, Team A to Win 2-1, Team B to Win 2-0, Team B to Win 2-1. Simply select one of these 4 options and enjoy watching your favourite Dota 2 game.
---
One of the most intriguing markets esports have. First Blood basically stands for who will make the first kill/frag in a particular game/map. It is also one of the most popular markets among punters. Top online bookmakers usually offer such markets for each of the maps, which gives you a possibility to scoop extra winnings.
---
Another interesting market. This time you have to predict which team will reach 10 team kills/frags first. Just like the First Blood market, this one is also offered for each map/game separately.
---
Team To Destroy The 1st Tower
This one market is exclusive to games like Dota 2. Due to the structure of the Dota 2 battlefield, there are 3 separate lanes, with 3 defending towers on each one. Such towers serve a defensive mechanism and will attack any non-neutral unit within its range. Your task here is to predict which team will take down the opponent's tower first.
---
Team To Destroy The 1st Barracks
Let's start with a short explanation about what Barracks are in Dota 2. For those who are unfamiliar with it, the barracks are another unique type of base structures that are constantly spawning non-neutral creeps (system-controlled units). Each lane has two barracks, one for melee creeps and one for range ones. Destroying each of those enhances your team's corresponding creeps (the destruction of a barrack does not stop creeps from spawning throughout a game). Usually, teams are trying to destroy all 6 barracks to get so-called mega creeps, which are extremely hard to defend against, to gain an edge over the opponent. Since it is one of the important stages of winnings a Dota 2 game, you can also place your bets on which team will destroy the first barrack.
---
Team To Slay The 1st Roshan
Who is Roshan? Roshan is a unique neutral unit that is spawned by itself every 8-11 minutes in a special place throughout the course of the game. It is quite hard to kill and usually requires multiple characters to be taken down. Upon slainning Roshan drops a unique non-tradeable item called Aegis of the Immortal, which reincarnates its holder if killed. 
Note: It is not possible for multiple Aegises to be present in the game at once.
Many Dota 2 teams are known for their Roshan-killing strategies, therefore you might want to keep an eye out for them. Coming back to the market itself, you simply have to back a team, which will be first to take down this powerful beast.
---
Livebetting markets are as much common among esports, as they are among traditional sports. Many punters prefer it over the pre-match markets due to a higher level of excitement they bring. The majority of the top online bookmakers usually offer a couple of livebetting markets depending on the popularity of the event. Try checking out what your favourite online betting operator has to offer to learn more about your Dota 2 livebetting options.
Esports Betting Guide - Esports betting odds and how they work
Important factors to consider while betting on Dota 2
Just like any other betting market, betting on Dota 2 requires you to conduct research and get familiar with the statistics before each particular event. This involves checking the teams' current results, their form, head-to-head record against each other (very important), roster changes and all sorts of similar data. The golden rule here is the more information you know the better it is for you.
Esports Betting Tutorial - Top 10 ways to become successful at esports betting
---
What is META? It is an acronym that stands for «most effective tactics available». In other words, it means there are certain ways that are currently more effective in terms of achieving the goal of the game. This is usually related to character or item buffs or nerfs. 
Such META changes can significantly affect a team's chances of performing well due to various reasons. These game updates usually take time to get used to. Therefore, it is only a matter of how fast a team adapts to it. Keep an eye out on such things to predict the game better.
---
If you are only a bit familiar with esports than you must already know that the large share of all major esports events is carried out offline, or on so-called LAN. Offline tournaments usually have a stage where both teams are located during the match and, most importantly, the crowd. Such competitions usually create a more competitive environment and feature higher prize pools.
However, not all the events are carried out in such a format. There are also those done online. While it might not happen too often, it is still advised to watch out for teams that perform differently online and offline.
---
Just like traditional sports, professional esports stage also has some sort of division within. Top esports teams & competitions are mainly distinguished by the region where they are coming from. If you are looking for a more competitive Dota 2 environment than Europe is the place. The European continent is known for having the best Tier 1 teams, while Asia (China in particular) is dominating in Tier 2. American region (both North & South) have shown to be not very consistent in their performances over time, with only one team standing out on the major stage - Evil Geniuses. Keep that in mind when betting on international Dota 2 tournaments that feature teams from all around the globe.
---
Strategy, teamplay & skill
While all the above points can give you a great idea about what team has more potential, a competitive Dota 2 game involves a large share of strategic planning along with team coordination and individual skillset. This is far more crucial when it comes to game time.
Keep in mind, there are currently 119 playable characters (as of July, 2020) and each player has their own playing style. A competitive Dota 2 game starts with a character picking stage. Both teams have to ban and select their heroes based on who and how they play. Taking a look at the draft and knowing your team's habits and playing style you can easily predict whether or not the team will be playing in their comfort zone or if someone will be forced to use the character they are less comfortable playing with.
The properly picked hero selection will not only improve the individual player's skill but also enhance the overall team performance by creating the in-game synergy.