Betting News
Bitcoin Cash payment method at Cloudbet bookmaker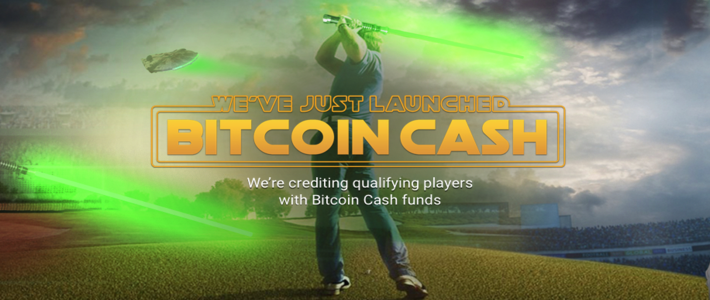 The most popular Bitcoin online bookmaker in the world, Cloudbet, has a very special surprise for its customers. From this moment on, this online betting operator offers a new, special payment method for all deposits and withdrawals, that is called Bitcoin Cash.
Cloudbet - a bookmaker that has one of the largest Welcome Bonuses at the market  
Cloudbet bookmaker has been operating at the sports betting market ever since the 2013 and in this time people from over 100 countries in the world managed to register their sports betting accounts at this bookmaker's website. Cloudbet's popularity is attributed mainly to its great sports betting offer, that is surely on par with regular online bookmakers and also, and maybe most of all, for its focus on the safety of the betting funds and personal information anonymity of its customers, all because of Bitcoin cryptocurrency, which was till recently the only available payment method. 
Yes, till recently because now all the customers of Cloudbet bookmaker can make deposits and place their money on any sporting events and different gambling games as well as withdraw their funds from their betting account with the help of Bitcoin Cash option. Seems complicated? Only on the first glance.

What is the difference between Bitcoin Cash and the traditional Bitcoin?
Bitcoin Cash was created in August 1th 2017 as the result of the split of the Blockchain of regular Bitcoin on two alternative paths. To put it simply, Blockchain technology is a amazing technology and concept but as Bitcoin is not an universal and perfect system and currency, from time to time, some users and miners of Bitcoin try to change the way the cryptocurrency works. Whey they do not seem to agree on something, they fork from the main Blockchain creating their own separate chain, their own fork, which in this case is the Bitcoin Cash.
At the moment (18.04.2018) its price is roughly about 630 euro for one Bitcoin Cash. We purposefully say the price for this new Bitcoin option as the online bookmaker granted an extra bonus funds as an equivalent for punters who had any Bitcoin as their funds at August 1th 2017 in their betting accounts. For example, if at the day when Bitcoin Cash was created, You had 1 BTC at Your betting account at Cloudbet bookmaker, today, the bookmaker will give You the bonus of 1 BCC, which is already mentioned 630 euro. Pretty nice, huh? 
Furthermore, let us not forget that for all new customers of the Cloudbet bookmaker, the betting operator prepared a special Welcome Bonus which maximal amount can reach even 5 BTC which is about 30 000 euro (as for 18.04.2018).