Betting News
A punter hit the jackpot and broke the bank in Cloudbet casino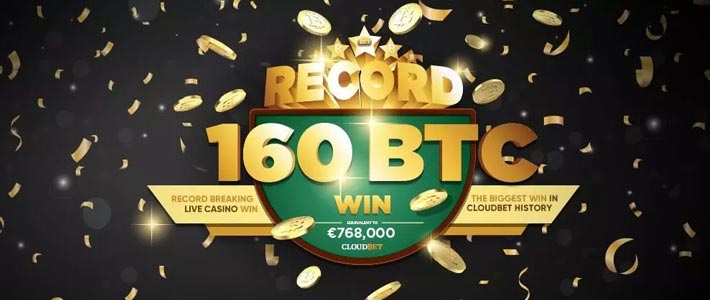 A record-breaking win was registered in the Cloudbet bookmaker casino. Anonymous player have won 160 BTC during one session, which is about million dollars!
About million dollars in...few minutes!
Every rich person in the world, without any exceptions, say that the hardest thing for them was earning their first million. After that, it is supposedly piece of cake. They claim that it was that first million that cost them the most sacrifices and they spend the most time and effort to get it, the rest of their career and fortune was very easy after that.
Those sort of thing is definitely not a problem for one, anonymous gambler, who while visiting the Cloudbet casino website, and in just one session who took about few minutes managed to win 160 BTC! - for those who were hiding in some kind of cave for the last few years, BTC means Bitcoin, the most popular cryptocurrency, for usage of which, Cloudbet is well known. Furthermore, also for those who are not very up-to-date, at this moment, 160 BTC means about million of dollars!
So, who was the lucky winner? We will gladly find out ourselves, but because Cloudbet, like the majority of the Bitcoin-based bookmakers, provides full anonymity, the lucky gambler that won this fortune, will remain, like many other Bitcoin millionaires, fully anonymous. He got about  million dollars and did not leave any trace behind him. Something like…
...And it's gone! All we know that he played the game called baccarat, also known as the official James Bond card game as it was the favourite casino gambling game of the most famous secret agent in the world. Famous 007 played this game in "Casino Royale", "For Your Eyes Only", "In the Service of His Majesty Queen" and in "Goldeneye" among others.
Cloudbet is known for their shockingly high wins
What is even more surprising, this is not the first time that a gambler hits the jackpot and wins such large amount of money at the online bookmaker that has been operating since 2013. To find other examples we do not need to look far away as in March of this year, also an anonymous player won over 200 BTC. This would be impressive if it happened now, but back in March, with all the fluctuations of the Bitcoin value, almost nobody even noticed such a win. As it was just 214 000 dollars at that time, it was quite a nice win, but many gamblers managed to win more during one session. When we look at the price of the Bitcoin from few weeks ago, or even now, the winnings he got in March seem like a pennies in contrast to what the 200 BTC means right now. One way or another, if he waited and did not convert his Bitcoin to dollars, right away, he is probably very rich right now.