Betting News
New Trump bets section from Paddy Power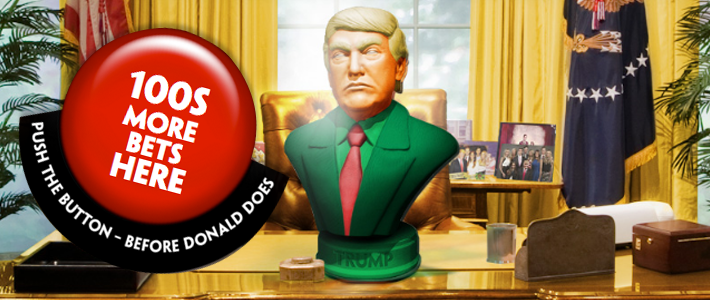 Known for their novelty bets, Paddy Power bookmaker created a special Trump Bets Hub with over a hundred special bets connected with President Donald Trump.
Paddy Power is known for its novelty betting. One of the most, if not the most popular market that the Irish bookmaker is offering is that of bets connected to president Donald Trump. We already presented the most interesting bets concerned with future decisions and events connected with President Donald Trump here. Now, the bookmaker goes even further and for the first time in history of gambling, launches a special betting section dedicated solely to a political figure - Donald Trump.
 
Donald Trump is the betting idol
Donald Trump's politics have been controversial for a very long time. Nevertheless, more than a half of voters in the 2016 United States Presidential Elections, decided that they would trust him with the most important position in their country, and maybe even in the world. What is more, Trump became a cult figure for punters all over the world, joining the ranks with Brexit and Leicester as one of the biggest surprises of this decade. His popularity and the demand for special bets connected to him was so big, that Paddy Power bookmaker, who is known for paying over $1.1M early-on to people who placed bets on Clinton's win, created a special section on their website, with more than a 100 novelty bets connected with the new U.S president.
 
Paddy Power embraced the popularity of Donald Trump special bets.
Paddy Power realised that the demand for bets connected with the new President of the United States was enormous and decided they will turn their loss into a profit. Who else but Paddy, bookmaker known for novelty bets, could create better Trump bets. They have prepared a special Trump Betting Hub called 'A golden shower of Trump odds' which can be opened after clicking on the red button that imitates the nuclear attack button that every president of the United States of America can push. The bookmaker compiled over a hundred bets connected with the president of the U.S.
Most interesting bets from these markets include the bets for Trump building a wall on the border with Mexico (Mexico Specials), Trump and Melania's divorce (Family Specials), Trump being impeached from the presidency (Impeachment Specials), Trump and Vladimir Putin jointly winning the Peace Nobel Prize, Trump being accused of coalition with Russia (Russia Specials), Trump first state visit will be to North Korea (Foreign Policy Specials), Trump announcing that aliens exist, Trump admitting that he had some sort of hair transplant surgery (Other Specials) and finally, for the president Donald Trump to sue the Paddy Power bookmaker for all their novelty bets connected to him!