Betting News
Kevin Durant might play for the Nets if NBA returns. Check out the odds.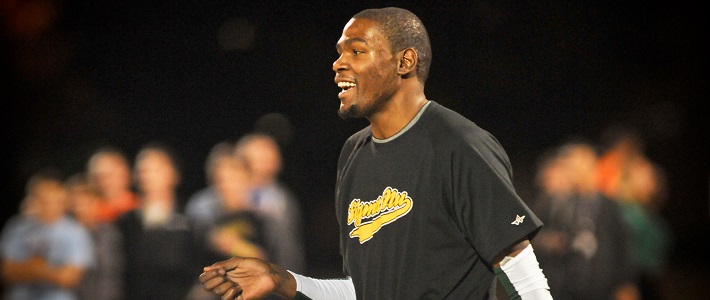 After suffering a terrible Achilles injury during the NBA Finals last year, Kevin Durant was announced to miss the whole next season for rehabilitation reasons. However, since NBA is currently put on hold, KD's return seems more and more realistic.
Rumours are swirling around about the potential Kevin Durant's return this season. A three-time NBA Season MVP, two-time Olympic Gold Medalist and a four-time NBA Scoring Leader made a blockbuster trade last season moving from the trouble-ish Golden State Warriors to the rebuilding Brooklyn Nets to join his fellow Kyrie Irving. Unfortunately for KD, he suffered an awful Achilles injury during the last year's Golden State Warriors - Toronto Raptors NBA Finals and had to miss the entire season.
Since the NBA announced a hiatus due to the ongoing situation in the world, it only bought time for the Nets to fulling load their gunpower. Brooklyn is currently seeded seventh in the Eastern Conference and misses its two main pieces due to injuries - Kevin Durant (Achilles) and Kyrie Irving (shoulder). Such a situation might question Nets' chances of making it further in the playoffs, however, true fans are not losing hope to see KD & possibly Uncle Drew back on the court if the season resumes this summer.
"I promise you, Kevin and I have not talked about that. I know it sounds crazy, but my assumption has been that wasn't very realistic"

Rich Kleiman on KD possibly returning if the NBA season resumes https://t.co/4TlnTqhoJ3

— The Crossover (@TheCrossover) April 17, 2020
One of the top online bookmakers has recently opened its market on the possible KD return this season. According to the oddsmakers, such a scenario is very doubtful and only given the odds of 8.50 (15/2) to happen. While some might see tons of value behind it, experts suggest rather not banking on the KD's return, considering the «No» option is priced at 1.05 (1/20).
What do you think is going to happen? Are you waiting for the NBA season to finally return? Do you want to see KD back on the court again? Let us know down in the comments below.