Sports Betting Guide
What to look at while betting on table tennis?
As online betting becomes more and more popular, we get to bet on a larger variety of sports. Thanks to that, we get to explore more and more interesting markets like table tennis. What do such sports offer to the regular punter and how to beat a bookmaker betting on table tennis? Find answers to these and many other questions in our table tennis betting guide.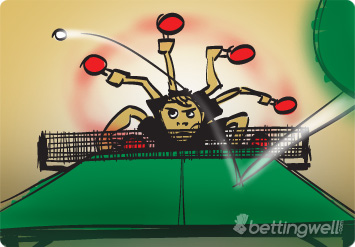 Table tennis betting
Table tennis is not a popular sport discipline to bet on, although best online betting sites have it in their offers. What distinguishes betting on table tennis from betting on football? First of all, the main factor is bookmakers' lack of knowledge and, what goes with it, a possibility of finding incredible value. Sometimes it is shocking how even the top online bookmakers set the odds, making you ask yourself where do they get them from. In the majority of cases, they are probably prompted only by the ranking and leaving aside much more important factors. It is possible that they might be using some simple formula that has a large error margin, which could overestimate the odds up to 40%, giving punters a huge advantage!
We would like to demonstrate it using a football example.
Let's assume, Manchester United plays its best roster against Wolverhampton and bookmakers set the odds for the Draw No Bet market: Man Utd - 2.87 (187/100), Wolverhampton - 1.44 (11/25). Every football fan or punter would notice right away that something is not as it's supposed to be and that the odds should actually go the other way around. Football is such a popular sport that the odds would get verified by the market within few hours (or even less). However, in the case of table tennis, bookmakers do not have enough knowledge, hence mistakes may happen.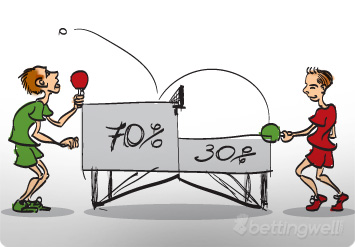 What should we pay attention to while betting on table tennis?
Ranking is not everything. Of course, it is important to check the ranking, but it is even more important to check ups and downs of particular players in the ranking. This part is checked by the bookmakers, therefore, it is hard to gain an edge. Please, keep that in mind.
 
Current shape of a player. It is a crucial factor, which we believe is neglected by the bookmakers. Obviously, recent wins, loses, and overall performance is important. Checking those will definitely do you a huge favour accurately estimating the situation and giving you some sort of advantage over the bookmaker. Have you ever placed a bet on your favourite football team without checking their most recent matches?
 
Tournaments & competitions. Lower-ranked tournaments and competitions always have a bigger share of surprises (not only in table tennis). Just like in every other sport, top players are expected to participate in the higher-ranked tournaments like World Cup, Olympics, Champions League, etc. What is more, low-ranked tournaments might also have their own rules, which in some cases can affect the odds by even 5%.
Important in-game factors. We all know that playing style plays quite an essential role in the majority of sports. Surprisingly or not, but it is of even greater importance in table tennis. For instance, some players struggle against left-handed opponents. There are so many examples of great players, who are winning game after game but fail to perform well against lefties. Every player has their preferred way of holding a racquet, some might be more comfortable with a backhand, while others feel more confident with a forehand. Many European players find it unusual to play against penhold style grip opponents. On the other hand, Asian players find the more traditional shakehand grip quite uncomfortable, as well. The way a player serves the ball and whether or not he/she curls it is also very important.
 
Non-sport-related information about a player. Unfortunately, there is not too much information about table tennis players in the media, and you have to give it an extra effort to find it yourself. We suggest starting your search from social media, which usually offers the most recent and reliable information about the particular person (especially nowadays). Don't forget that table tennis is an individual sport, therefore, psychological and mental aspects play a more important role. If a player has some personal problems, issue or any sort of distraction in his/her life, their performance might be hugely affected.
 
Bookmakers' prices. Despite it being one of the fundamental rules of betting, many punters tend to forget about the importance of price competitiveness. The odds for the particular matches/events may differ among top online bookmakers. The difference might seem ineligible but take our word, it will be worth spending a bit more time shopping for better odds to get the best price possible.

Why is it better to have accounts with multiple bookmakers?​​​​​​
 
Match winner over set winner. Unfortunately, we have noticed that many inexperienced punters are instantly backing the player to be a sure match-winner just after one high-margin winning set. Such behaviour moves the odds down, providing the market with an inaccurate price. Why is it wrong? First of all, it is hard to properly analyse all of the above factors in just one set (moreover if it is played up to 11 only). Second of all, players who get an easy blow-out win at the beginning, tend to get a bit more relaxed & loose, and, as a result, lose focus later on. We suggest treating the first set rather as a tryout, therefore, try to focus more on the following aspects: how well do players deal with opponents' serves, how many and what type of mistake do both players fulfil and what is the scoring pattern.
 
Emotions. Follow the instructions and make sure to keep your head cool. Do not get biased by short-term success, which can ultimately hurt your budget. Try to stay calm and use more common sense, along with our suggestions.
Professional advice from a veteran punter
The best method that at the end of the day will give you an advantage over the bookmaker is to estimate your own odds. Do not look at the odds offered by the bookmaker, instead, always try to find out yourself what the actual odds for the given event supposed to be. The key point here is to avoid getting biased by the bookmaker's odds. Therefore, try not to look at them to have the best result. Fifteen to twenty minutes is usually enough to set the odds even more accurately than the bookmaker. Sometimes you will be impressed by how bookies set their odds so inaccurately. In rare cases, you would find that the odds for the favourite are set around 2.50 (3/2) - 2.80 (9/5)! You can easily find significant price differences & bookmakers' mistakes, thanks to this simple but very handy technique. Do not also forget about the use of a proper staking method, because nothing is for sure in sports! You can also find lots of useful articles and betting guides that will help you find and master your own betting technique in our sports betting guide section.