Sports Betting Guide
How to beat a bookie in live betting?
Live betting became extremely popular among tipsters. When betting live, we considerably have more information about the particular event, compared to when placing pre-match bets. We would like to share some useful tips on how to increase your profits while investing small amounts in this betting guide.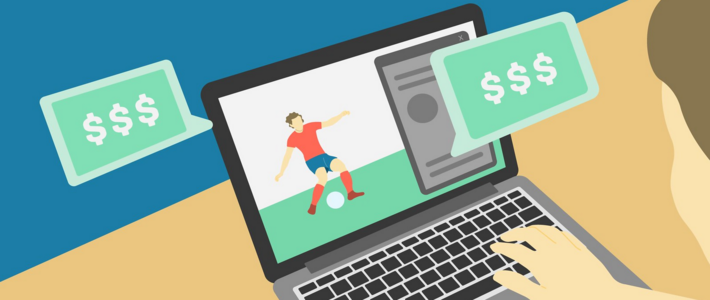 You will definitely not find this on any betting blog or closed forum or in any other betting guide, as it is our own idea, which we can finally share with you after months of testing it by ourselves. This strategy does not bring enormous profits, however, thanks to it, we can achieve a decent level of stability for our betting by not investing significant amounts. Bare with us.
Our system will most likely find itself useful among punters who are looking to place a bet on goals to be scored before the halftime. This is, at least, how we do utilize it, but if you have another interesting idea about where else it could be implemented, we would like to hear it in the comments section below. So, how does it actually work?
First of all, you have to pay close attention to the early stage of the match. If you notice that a lot is going on on the field, you will certainly know whether or not to invest in the game around the 10th minute. What do we mean by that? Of course, a lot would depend on which league (and therefore level) we are talking about. 
It's obvious that some leagues are seeing more goals than others. There is no ultimate formula here, however, based on our experience, we can say that our strategy works better with lower divisions, where, firstly, more goals are scored and, secondly, where bookies make more mistakes. It is quite common that various bookies offer the odds, that vary by even a couple of dozens per cent, for the same sporting event!!! Despite such an attractive scenario, we would like to suggest you not taking it for granted, due to its constantly fluctuating nature. The situation could flip upside-down in a matter of just few months, whereas the lower Australian, Czech, Slovakian, German, Finish, and Estonian leagues gave us the best results during our testing (May - October 2019).
We used the number of attempted shots as an indication of whether or not the matchup is worth being bet on. For example, if we saw both teams taking at least 5-6 shots up to roughly 10th minute, then we would consider it a value and apply our approach.
Most hilarious sports you can place a wager on
Namely, we would invest 0.3 units in the Over 1.5 HT and 0.2U in Over 2.5 HT bet. The important part is that you have to place both bets at the same time!!! Looking back at how we started, we might have some doubts about such high goal lines. You will need to simply get over it because 3 HT goals are not rare at all in scoring-prone leagues like that. Top this with quite long odds that allow you to go small with your stakes. You all probably wonder how it does look mathematically-wise.
Well, we would use the average indicators, as every match is different. For example, the odds for the Over 1.5 bets are listed around 3.30 (23/10), while the Over 2.5 option is usually priced at around 8.00 (7/1). As a result, we end up investing a total of 0.5U, which gives us the following possible winnings outcomes:
2 HT goals ⇒ 0.3U x 3.30 = 1U, which means our net profit is 0.5U
3 HT goals ⇒ 0.3U x 3.30 + 0.2U x 8.00 = 1U + 1.6U = 2.6U, which gives us a net profit of 2.1U
There are be some that would say what about if there are no goals by the 25/30th minute despite such extraordinary stats? One of the advantages of our system is that it also has an answer for such an obstacle. At this moment, the offered HT goal line is usually 0.5. We are investing the whole unit to back the possibility of the ball finding itself inside the net during the remaining 15-20 minutes. 
At this point, we have already invested a total of 1.5U and our possible winnings for the particular outcomes will be looking the following way:
1 HT goal ⇒ 1U x 1.80 = 1.8U; 0.3U net profit
2 HT goals ⇒ 1U x 1.80 + 0.3U x 3.30 = 1.8U + 1U = 2.8U; 1.3U net profit
3 HT goals ⇒ 1U x 1.80 + 0.3U x 3.30 + 0.2 x 8.00 = 4.6U; 3.1U net profit
What is there won't be any goals before the halftime? Oh well, we are 1.5U down. However, such an outcome happened quite rarely during the entire experiment. Besides that, those who have a reasonably balanced budget will not treat a loss of 1.5U like the end of the world, right?