Sports Betting Guide
What is moneyline betting and how it works
Despite the fact that many punters are completely unfamiliar with its name, it is still one of the most common types of bets out there. Let's find out more about what benefits it gives you, who it works and what can you do to increase your chances for success.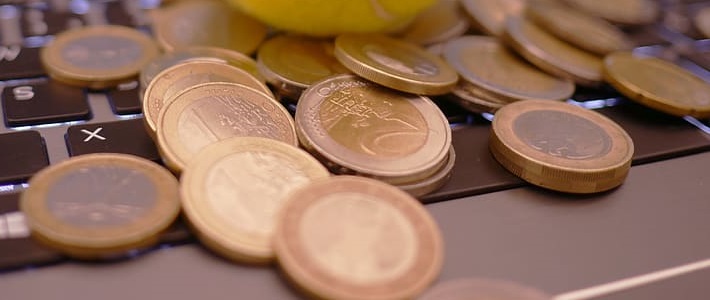 What is moneyline?
First things first, let us clarify that it is not a new betting top or something that you would never come across. The situation looks rather more simple. Moneyline betting is nothing else as a form of a winner market betting, where instead of traditional 1X2 format you only have to back either team/player A win or team/player B win. In other words, it is the most simple and common way to place a sports bet. Looks familiar now?
How does it work?
Since we already know what moneyline is, let's talk more about how does it work and why does it exist. First of all the need for something like moneyline came up from sports like American football, basketball, baseball, volleyball and even MMA. Although some of these disciplines have the draw option, the majority of their events like NBA or NFL games cannot end in a tie game. That is exactly why this type of bets is a predominant one for the aforementioned markets (followed handicaps & over/under). Let's not forget that popular markets like football do also offer moneylines. Obviously, football punters are more used to the traditional 1X2 betting, however, you can also find plenty of betting options without the draw. In such cases, the prices are adjusted, hence given only two options, and in the case of a draw, the stake will be voided and fully returned to you.
Betting Tutorial - Betting strategy - how to gain an edge over the bookmaker?
When placing your moneyline bets, you do not have to worry about anything but your backed team/player winning the event. It doesn't matter if your team/player wins by 1 goal or scores 40 points more. A win is a win, and that is what only matters on this market, which is, again, great if you are either unfamiliar with Asian/European handicaps or do not feel confident about betting on the Over/Under goals/points market. Despite their differences, these markets are all tightly related. Well, at least, they should be. By monitoring all of them, you can get a better idea about the market and what is going on. Sometimes it helps to find a bookmaker's mistake, and sometimes it just makes more sense to place a handicap bet or vice versa.
What is the difference between the moneyline and 1X2 markets?
While the difference between these two types of bets might seem to be really small, the effect it has on the odds you get is quite substantial. Not only it decreases the number of outcomes that the action will take on, which mitigates the risk, but also the odds will be looking a bit different, hence there is no draw option (in case of which you will not lose but get your stake back). This key difference is very important since many punters tend not to pay enough attention, placing a bet on a 1X2 market instead of a regular moneyline one and vice versa. Simply double-check whether or not the market you are placing your wager on has the third outcome (draw), in order to avoid any further misunderstanding.
Please, take a look at the following examples. The following markets are taken from the offers of some of the top online bookmakers. Therefore, it should only make it easier for you to recognise how do they look on the website, and, most importantly, be able to tell them apart from traditional 1X2 betting.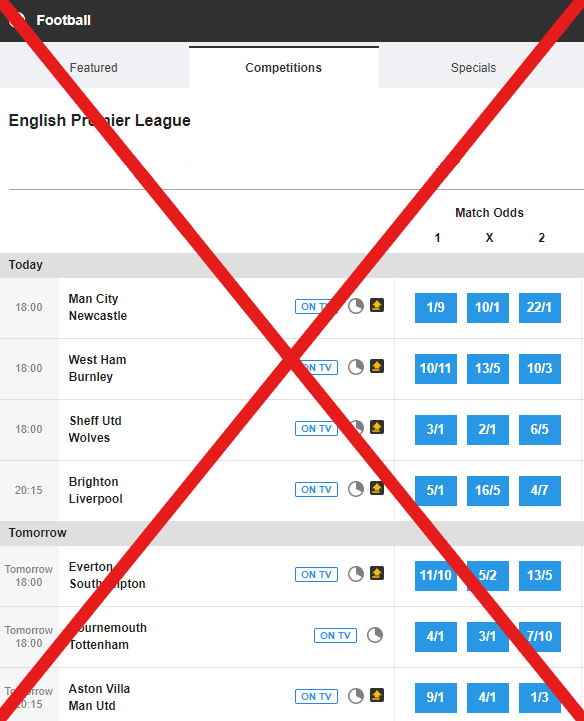 When should you bet on moneyline?
Since you are more or less familiar with what moneyline markets are, how do they work and how to tell them apart from the traditional 1X2 markets, you might want to place a wager. Well, what is the best way to do so..?
Depending on your attitude towards betting, you can either bet for fun or give it some extra effort and take a more serious approach. Once again, if you are serious about your betting, then you might need to spend some extra time looking for value. The key here is to look for the team that is according to your research is somewhat underestimated by the oddsmakers and take advantage of that difference.
Betting Guide - When should you place your wager?
While moneyline is very simple and one of the most common types of bets, it does not mean it is easy to make profits betting on it. Long-term profitability if a tough craft to master, but there are plenty of complex and rather more simplified betting models that will help you achieve your goal.
Last but not least, never stick solely to one market, which in our case is moneyline. Differentiate your betting routine, explore more options. By limiting yourself to only one type of bets, you are not doing yourself a favour! The illusion that you're mitigating the risk will quickly hurt your budget. Try checking out all the available markets to find and then exploit the mistakes bookies make. 
We hope this guide will help you get more familiar with moneyline betting and only bring you satisfactory results.