Sports Betting Guide
Which type of bet is better? Single or multiple?
Have you ever placed a wager? Well, the majority of us might have already caught ourselves thinking, which type of bet is more profitable: single or multiple? We would like to talk more about what those bets are, how do they work, and what benefits do they bring us? Most importantly, we will try to find answers to which type of wager is better, and why?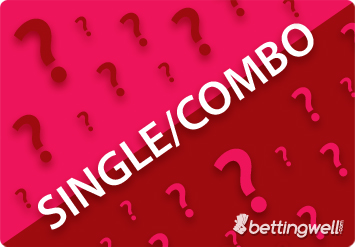 Singles or multiples?
We strongly believe that punters, who place their money on singles have way more chances of winning. Rather than pointing out the advantages and disadvantages of both betting types, we would be focusing more on the actual examples to show you the real picture. If you would like to learn more detailed information about various bet types, please check out this sports betting guide here. 
Let's get back to business & analyse the example of an ATC (Any To Come) wager. Let's assume the bet has a £10 stake and consists of two selections played at different times. 
Lyon To Win @ 1.50 (1/2) (Lyon vs Metz, starts at 15:00)
Arsenal To Win @ 1.50 (1/2) (Arsenal vs Everton, starts at 18:00)
If the best-case scenario (both selections win), we are going to get a profit of £12.5 (£10 x 1.50 x 1.50 = £22.5). Let's now take a look at what the situation is going to look like if we break the wager down into separate singles.
Using the data from above, we would´ve placed a £10 wager on Lyon's victory at 15:00 at the bookmaker X. Aussimg that we win it, we now have £15 to wager with (£10 x 1.50). Now, we can back Arsenal's victory with £15 at the same odds of 1.50 (1/2) at the same online bookmaker. What do you think our net profit would be? Well, exactly the same - £12.5 (£15 x 1.50 = £22.5). The question now is why should we worry about all these multiples, if that makes no difference at all.
Does it pay off to break down multiples?
Every punter knows all your selections will be made at one bookmaker & its prices when placing a multiple. This way, you are limiting yourself to just a single betting operator. What about shopping for the best offer on the market? What if one of the top online bookmakers offer more attractive odds for the exact same event? If you pass on such an opportunity, you're automatically putting yourself at a loss. Let's moderate another situation.
Sporst Betting Guide - Why is it better to register accounts at multiple bookmakers?
Using the same example, let's assume, we placed our first wager at the same bookmaker once again with £10 stake and the odds of 1.50 (1/2). So far, so good. Here's the moment when things take a little change. We are going to place our second wager at a different online bookmaker, who offers a bit better price for Arsenal's victory, pricing it at the odds of 1.55 (11/20). Therefore, our calculations are going to look the following way: £10 x 1.50 = £15 ===> £15 x 1.55 = £23.25, bringing us a profit of £13.25! This is one pound more comparing to your previous example. Some might say it is not a big of a difference and that it does not pay off to bother yourself with such things. Does it really, though?
How big of a difference is a difference?
Once again, using the same example, we have a situation of 1.50 (1/2) and 1.55 (11/20), which is barely a 3.33%. It might not be a significant number as it is, and the majority of inexperienced punters will probably dismiss it, thinking it is not even worth their attention. Well, being honest with you a 3.33% difference is a huge one when it comes to sports betting and exploiting it could definitely get you some extra profits. If these words are not enough for you, please take a look at the numbers. If we would opt-in for a multiple, our winnings would total at £12.5. On the other hand, if we decide to place a couple of singles instead, we have the possibility to get a bit more profits, £13.25 to be exact.
Such a small difference gives us £0.75 extra on just one single bet! Multiply it 10 times, and you get £7.5. There are punters who place up to 100 bets per month. Just do the math, assuming you make £0.75 extra on each of those 100 wagers… All you have to do is just to break down your multiple (not necessarily Any To Come, could be any type of accumulator or system bet) into separate singles and shop for the best odds on the market. We suggest taking a look at our recommended online bookmakers for a more reliable & trustworthy experience & competitive prices. Once again do your research and find value, even a small difference in odds can benefit you in the long run. Do you still think a 3.33% difference is irrelevant?
If you would like to boost your betting even more, please click here, to review our special offers section and claim your free bet or cash bonus.