Sports Betting Guide
Which type of bet is better? Single or Multiple?
Every punter, during his adventure with sports betting, starts to wonder at some point, which type of bets are more profitable: single or multiple. In this article, we would analyse both options  (single and Any to Come bets) and try to answer that very important question.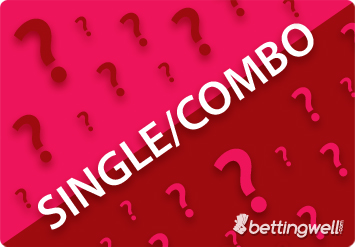 Single bets far better than Multiple
In our opinion, punters placing money on single bets have much greater chances of winning. Instead of pointing out advantages and disadvantages of both options we will focus on practical examples as we already described both types of bets in our article Bet types. In this article we will show you that you have both lesser chances and smaller potential winnings when betting on multiple bets.
Let us analyse the example of an ATC (Any to come) bet for £10 that consists of two selections that will be played at different times - it is an unavoidable condition in this case.
First selection - Lyon vs Metz, starts at 15:00 (we bet for Lyon to win with 1.50 odds)
Second selection - Arsenal vs Everton, starts at 18:00 (we bet for Arsenal to win with 1.50 odds)
If we assume that both teams that we have placed our money on, will win their games, our winnings will be £12,5 (£10 x 1.50 x 1.50 = £22,5). But what would happen if he have placed separate bets for each selections at the same bookmaker? Let's find out.
At 15:00 we bet £10 for Lyon to win their match with the odds of 1.50 in the bookmaker X. Giving that we have won the first bet, we place £15 we have now (£10 x 1.50) for the Arsenal's win in their game with the 1.50 odds at the same bookmaker. How much we get? Exactly the same - £12,5 (£15 x 1.50= £22,5). So why all this trouble with multiple bets?
Is it worth to split Multiple bets into single bets
Every punter knows that the selections in the multiple bet must be picked at the same bookie. This way we limit ourselves to a single bookmaker - what if another bookmaker has better odds for particular event? What if one bookmaker will offer 1.55 odds for Arsenal win and the one that we have already picked other selection offers only 1.50? In such case, we are at loss. That is why we mentioned the time of the events as a crucial factor in our analysis.
Using our example from earlier on, we place a bet for £10 for Lyon's win in a game that will commence at 15:00 with the odds of 1.50 at one bookmaker and then we place another bet on Arsenal's win in a game that will start at 18:00 for £15 (£10 x 1.50) with 1.55 odds at the different bookmaker. In the multiple (in this case Any to Come) bet, our winnings were £12,5 (£22,5 overall, together with our initial stake), and how much did we win here? £13,25! (£10 x 1.50 = £15 ===> £15 x 1.55 = £23,25). Someone will say that the difference is very small and not worth our time, but is it really like that?
Is the difference of 3,33% a lot in sports betting?
The difference between the odds of 1.50 and 1.55 is barely 3,33%. A less experienced punters will easily dismiss such a small amount and do not consider it worth their time. Nevertheless, 3,33% is a huge difference in sports betting and could mean a lot of money for us. If you are still not convinced look at the amounts that we are talking about. In case of the multiple bet, our winnings were £12,5 and when it comes to the single bet, we have won £13,25.
This gives us the difference of £0,75 on one bet! Multiply it by 10 times and it will give you £7,5. We even know punter's that are able to make a 100 bets in a month. Just imagine this 'difference' will give them £75. All you have to do is split the multiple bet (Not necessarily Any To Come bet, it could be any Accumulator or System bet) and find the odds that are, for example 3% higher than compared to other bookie. You still believe 3,33% is a small, unimportant difference?