Sports Betting Guide
Bet types
Types of bets in sports betting.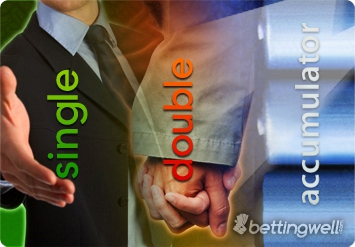 Single bets
A single is a bet on an individual event. Single bets are thought to be the easiest and safest type of bets, since our chances of winning are within 33-50%, depending on the number of possible outcomes of the event. If the bookie offers three possible outcomes of the game: 1, X or 2 (home win, draw or away win), the chances for winning are 33.3%. In case of two possible outcomes, the probability of winning is obviously 50%. What is more, when we place our money on single bets, we not only have a great chance of winning but also more time to analyse the chosen event.
Double & Treble bets
As the name suggests it, multiple bets are bets in which you predict the outcome of more than one event. Double bets, are type of bet in which you place money on two different events. As for treble, it is three different events. In order to win such bets, you need to correctly predict the outcome of all chosen events. That means that even if you successfully predict the outcome of one of the events, you still will lose the bet. The chances of predicting a double bet are slightly lower in comparison to a single bet. The probability of winning the treble bet is lower than both double and single bets. Nevertheless, many punters choose these types of bets because of the higher odds (the odds for every event in double or treble is summed) and variety of options.
Example of a double:
Real Madrid 6:0 Barcelona (1)
Bayern 0:1 Dortmund (1)
The bet is lost because although we have successfully predicted the first event, we lost the second one, and consequently, the entire bet. If we would correctly predicted the results of both fixtures we would win the bet.
Example of a treble:
Chelsea 1:3 Liverpool (2)
Golden State Warriors 136:82 Los Angeles Lakers (1)
Juventus 2:2 AS Roma (X)
We have correctly predicted the outcomes of all three events, thus we have won the treble bet. If one of the results would be different than we have anticipated, the bet would be lost.
Accumulator
Accumulator bets, also known as combo bets are bets placed on at least two events. It is worth mentioning that double and treble bets are accumulator bets. A bet with four selections is known as a Four-fold Accumulator, with five, five-hold, and so on. Some bookmakers set limits on the maximum number of bets on the bet ticket. Usually, the maximum number of events in an accumulator bet is 20. Combo bets can be made out of standard bets (win/draw/loss) as well as other types of bets (under/over, draw no bet). As it was already mentioned in double and treble bets, winnings in the combo bets tend to be larger than in single and system bets but the risk is much higher. If only one prediction of the outcome of an event will be wrong, you will lose the entire bet. An advantage of the accumulator bets is that you can combine lower odds from few events and get an overall good odds for the combo bet. This way, you could even bet on the favourites with low odds and still win a lot of money. 
Example of accumulator:
Ottawa Senators 4:2 New York Islanders (1)
Toronto Raptors 100:102 Charlotte Hornets (2)
Manchester United 0:0 Arsenal (Under 2,5 goals)
PSG 0:1 Nice (Draw no Bet 1)
We have successfully predicted the scores of 3 events but unfortunately the fourth one was different from what we have chosen and thus we have lost the bet. If all the selections were successful, we would win the bet.
System bets
System bets, also called permutations and perms, are very similar to the accumulator bets in that you place bets on few events. The difference is, in system bet you do not have to predict all the outcomes of chosen events correctly. Even if one of the results of the events is different from what you have selected, you still can win the overall bet. For example, in a 2/3 bet, if you correctly predict the results of at least two events, you win the bet. It should be said though, that the punter must predict the outcomes of all events correctly if he wants to win all the money for this bet, otherwise, depending on the number of selections he predicted unsuccessfully, his winnings will be cut.  What is more, in order to have good profit, system bets need to be placed with higher odds. Permutations are the most creative type of bets where you can design multiple combinations from few events. It should be said though that every combination in a system bet is a separate, individual bet and the more permutations you include in your bet, the more money you must place and can win or lose.
Example of system bets:
Minnesota Vikings 14:8 Washington Redskins (1)
Porto 3:3 Benfica (1)
Tottenham 4:0 Leicester (1)
We have successfully predicted two results out of three overall. This means that we win the bet, but do not get the maximum winnings for this bet. If we would have correctly picked all three scores, we would win all the money on this bet.
Most popular full cover system bets (permutations) include: Trixie, Patent, Yankee, Lucky 15,  Canadian, Lucky 31, Heinz, Lucky 63, Super Heinz, Goliath.
Other types of bets
Forecasts
In forecast betting you have to predict the correct order in which the competitors will finish the race. Forecast bets are mainly used in horse and greyhound racing and are not offered by all bookmakers. In sports betting, forecasts are predominantly used as outright bets in which punters predict the first few places of a given season's league table. For example, you can place a forecast bet on that Real Madrid will finish as the champion of Spanish Primera Division and Barcelona will be second. Note that all places must be predicted in a correct order, otherwise the bet is lost. Forecast bets have usually very good odds but that comes with much greater risk.
 
Any to come (ATC)
Any to come, also known as a conditional bet is a bet that involves a series of separate bets that all need to be correctly predicted in order to win money. In this type of bet, you need to predict the outcome of the first event correctly, so that the money you have from this bet, could be used as a stake in your second bet, and so on. This gives you the opportunity to win a lot of money with minimal stake, but from the other hand, it is much riskier than other types of bets. If only one result of an event will be different from what you have predicted, you will lose an entire bet. It could be understood as a chain of bets. The longer it gets, the more money you can win, but the risk gets higher.

Special bets
Special bets, also called novelty bets, are type of bets that are much different from the rest. Special bets include bets on both sporting and non-sporting events. An example of a special bet can be betting on the presidential elections or on the top-goalscorer of the UEFA Champions League. In this type of bet, the punter needs to have an additional knowledge on the subject as well as a bit of luck because here the statistics do not matter as much as they do in regular sports betting. Special bets can vary from more possible ones such as bets on who will be the next Manchester United manager or on the number of goals Messi will score this year to the more adventurous ones such as the date of first manned flight to the Mars or the gender of the new royal baby. Paddy Power bookmaker is known for its special bets.
 
Live Bets
In-play live bets are nowadays really popular among the punters. This might be because betting on live events attracts more viewers who want to follow the results of the game. To place a live bet, the punter needs to have an account on the website of the bookmaker that have live bets in his offer. Live-betting could be very profitable if the punter have considerable knowledge of the statistics, good reflexes and a bit of luck. It should be noted that the odds tend to change very rapidly in live bets as the course of the event influence as well as number of placed bets influence them directly. Thus, a punter who placed a live bet few seconds earlier that others may win more money on the same bet. Read this article if you want to know more about livebetting. Bet365 bookmaker is considered to be the best bookmaker when it comes to live-betting.