Sports Betting Guide
Gambling addiction - betting guide
Sports betting and gambling activities, in general, were meant to be an innocent hobby and a good & interesting way of spending time. Usually, it is the case, and people have lots of fun doing it, occasionally winning some money. However, there are cases when this harmless hobby turns into a passion, which later ends up being an addiction. Punters getting caught up and your betting experience becomes the main reason for your financial & personal problems without you even noticing it.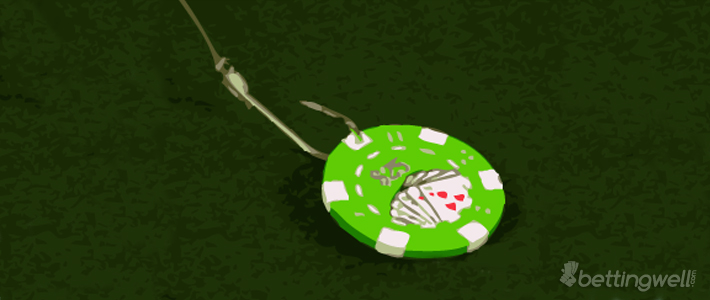 Can sports betting be considered a gambling activity?
Sports betting is commonly considered to be one of the main vectors of the gambling industry. We believe otherwise and distinguish sports betting and gambling as two separate things. Gambling, in all of its forms, involves a large share of luck. You have to admit hoping that you will pick the right colour in the roulette or get good cards in poker greatly differs from a precise analysis and thorough evaluation of the probability that punters have to go through when betting. It is definitely not all about luck (which of course plays its role, as it does in every other part of our lives) when it comes to sports betting, but mostly about your knowledge & skills. We think that sports betting is more similar to trading on the stock exchange than gambling. What is more, how many times have you heard a broker/trader being called a gambler?
Nevertheless, there are a couple of things worth mentioning. Different sources provide different numbers, but it is commonly believed that approximately 90% of all people who bet on sports are amateurs without proper knowledge and experience. In their case, we can consider sports betting as a gambling activity since these punters almost entirely rely on pure luck. Things look completely different when it comes to professional punters. These guys are hard workers and have tons of experience & knowledge behind them. As for them, luck and randomness are rather secondary factors. Thus, how should one describe their activity, since they are only using their knowledge to make accurate sports outcome predictions in order to beat bookmakers?
Phases of gambling addiction
Winning phase - you all must have heard this old saying: the beginner's luck. It is hard to explain how it works, but in some cases, even the very novice punters have very good results at the beginning of their betting adventure with a particular online bookmaker. Let's face it - winning against the bookmaker is one of the most pleasant feelings, especially for the beginners. When it happens, our brain produces tons of hormones that cause the euphory. An easy win only boosts the releases of these «happy hormones», which makes your body to demand more and more of them. As a result, you can easily develop a harmful addiction.
 
Losing phase - right after the winning phase, we are getting stumbled with our first loss, which, in many cases, triggers a losing phase. This process is, unfortunately, unavoidable and cannot really be prevented by anything. Your betting efficiency usually drops right after a short initial success due to various reasons and, therefore, somewhat worsens your financial situation. At that point, punters are desperately trying to get back on the winning streak, doing whatever it takes to achieve that goal.
 
Desperation phase - this stage comes right after a losing streak. Here, punters are trying to do everything to cover all their losses. Unfortunately, very few succeed to turn the tables in their favour and get back on the winning streak. In most cases, this is where punters give up and stop betting at all, not being able to get out of the slump.
 
Resign phase - a very critical phase, where punters start understanding their hopeless situation, however, find themself helpless to change it. The feeling of drowning takes over, and tipsters start abusing alcohol or drugs in pursuits to numb the desperation. Sadly, but without a helping hand, suicide attempts are not a rare occasion.
 
A great way to avoid such situations and improve your betting experience is to check out our free betting tips & only play with the most reliable online bookmakers which are not going to leave you on your own if you develop a gambling addiction.
Symptoms of gambling addiction and how to cure them
Unfortunately, the majority of addicted bettors are not capable of identifying the problem on time to get the proper help. Many of them make excuses, saying it is just a hobby and financial losses are just a result of having fun and relieving stress. Please, take a look at the list of gambling addiction symptoms and the ways to cure them down below:
constant financial problems (borrowing money)
giving up on your physical appearance
focusing troubles
decreasing interest in other activities
conflicts with family and friends
constant lying about your financial situation
So, where you should start looking for help? The first step towards curing your addiction is recognising that something is not right. However, in the most extreme cases, the only solution is a gambling addiction rehab facility. There are a number of organisations and places that offer free help to people with gambling problems via free anonymous hotline and support. The help of your family and close ones is also very important, especially at the beginning of the therapy. Gambling addiction is nothing different from alcohol or drug one. Therefore, our body and, especially, the brain will start feeling empty and in need of something important during the withdrawal stage (in this case, the hormones & adrenaline released during betting). A wise move would be to, at least temporarily, pause all the betting accounts that you have at various online betting services, as well as, let someone you trust to take care of your budget. We urge you to take your gambling addiction treatment seriously since the chances of developing it back are very high.
What to do to protect yourself against gambling addiction?
Online sports betting can be a very enjoyable activity, full of emotions and excitement. What is more, many punters have it as an alternative or even the main source of income. As we have already mentioned, it is difficult to classify sports betting as pure gambling. Obviously, as long as we do it thoroughly and professionally. Make sure you follow the below tips to keep you betting healthy:
never stake more than 2% of your budget on a single bet
stay cold-headed & think rationally
monitor your results
only bet on markets you have knowledge about
thoroughly analyse every event
avoid chasing loses
P.S.: We also suggest checking out our bonuses & promotions section to help you make your betting more enjoyable. Have a chance to qualify for a risk-free bet, stake refund and occasional free bet bonus to protect your budget.