Sports Betting Guide
How to bet on English Premier League betting guide
English Premier League (EPL) is one of the most popular betting markets. Its growing popularity among the gambling community attracts millions of punters annually. It attracts more bets than German Bundesliga and Italian Serie A together volume-wise. So how to become successful in one of the most-verified markets? Read on to find out.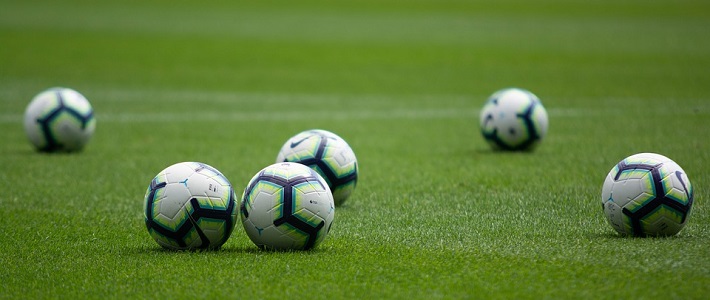 If you know at least a tiny bit of information about sports, then you have probably heard about the English Premier League. Its clubs like Liverpool, Manchester United, Chelsea, Arsenal and Manchester City are world-class brands. They compete in all the European football cups and tournaments gathering billions of revenue around themselves.
The question, however, is how to be successful betting on such a market, since it is such a big deal.
EPL Betting Markets
There is a vast selection of betting options for each English Premier League match, for example:
Match Results (1X2)
European & Asian handicaps
Total goals (Over/Under)
Both Teams to Score (BTTS)
First Goalscorer
Let's start with the main markets connected with EPL.
Premier League Winner Market
The Premier League, as we know it today, started its history back in 1992. It now features 20 teams that go against each other 38 times from August to May. The top-seeded teams always qualify for the Champions League and Europa League. The Premier League Championship market is one of the most popular outrights markets in the industry. You can wager who will finish at the number one seed by the end of a season. It is always exciting to wager on such a market due to the highly-competitive environment where even the underdog can beat an odds-on favourite. For example, Leicester City managed to secure the deal in 2015-2016 being a 5001.00 (5000/1) underdog at the beginning of the campaign that year.


It is always important to check the odds at various online betting operators in order to be sure you get the best value out of your wager.
Premier League Top 4 Finish
This is another popular EPL market where you have to back the 4 top-seeded teams. The last couple of years have been dominant by Pep Guardiola's Manchester City and Jurgen Klopp's Liverpool, meaning there are only two vacant spots to fill. 
Due to the inconsistent results of many rebuilding clubs, the odds fluctuation makes it extremely hard to find true value. Such clubs like Chelsea, Arsenal, Tottenham, Manchester United, Everton and Leicester go toe-to-toe in order to finish at the top of the table. The key of such a market is to find the right timing for your bets.
There are also a couple of similar markets for those who like to diversify their betting routine:
Top 3 Finish
Top 6 Finish
To Finish in Top Half
To Finish in Bottom Half
Premier League Relegation
Next up, is relegation market. This one is also tricky because many even historically successful clubs can find themselves at the league standings bottom. There is at least one team that will be relegated each year. On the other hand, top two teams from the EFL Championship will be promoted to highest football tier.
Generally, the newly-promoted teams are the ones to keep an eye on for relegation. However, the clubs that barely managed to avoid the relegation the previous season are also among the favourites to go down.
Great value can also be found midway through the season. A great start can be interrupted by the injury plague. Newly-acquired players can take time to build up the team chemistry and find their own rhythm, resulting in success later into the campaign.
Premier League Top Goalscorer
Another, we would even say, prestigious Premier League market. You basically have to back whoever will score the most goals by the end of the season. It sounds easy, however, requires lots of planning before placing a wager.
Generally, you have to keep an eye on players from the top clubs. They are more likely to score when surrounded by other world-class players, especially when they play an important part of the team's offence.
Historical data suggest that players from the top 6 clubs have won the scoring title each time since the 2000-2001 season. For example, the former Arsenal and France National Team forward - Thiery Henry won the award 4 times (3 in a row) during that period. Sometimes it happens that players getting tied up with the number of goals they score by the end of the season. Such an instance took place in during the 18-19 season when Aubameyang, Mane and Salah all netted the ball 22 times.
To sum up, in order to place a winning goalscorer bet, you have to evaluate:  
how well does the player's team perform
playing style of both the team and the player
team role
injuries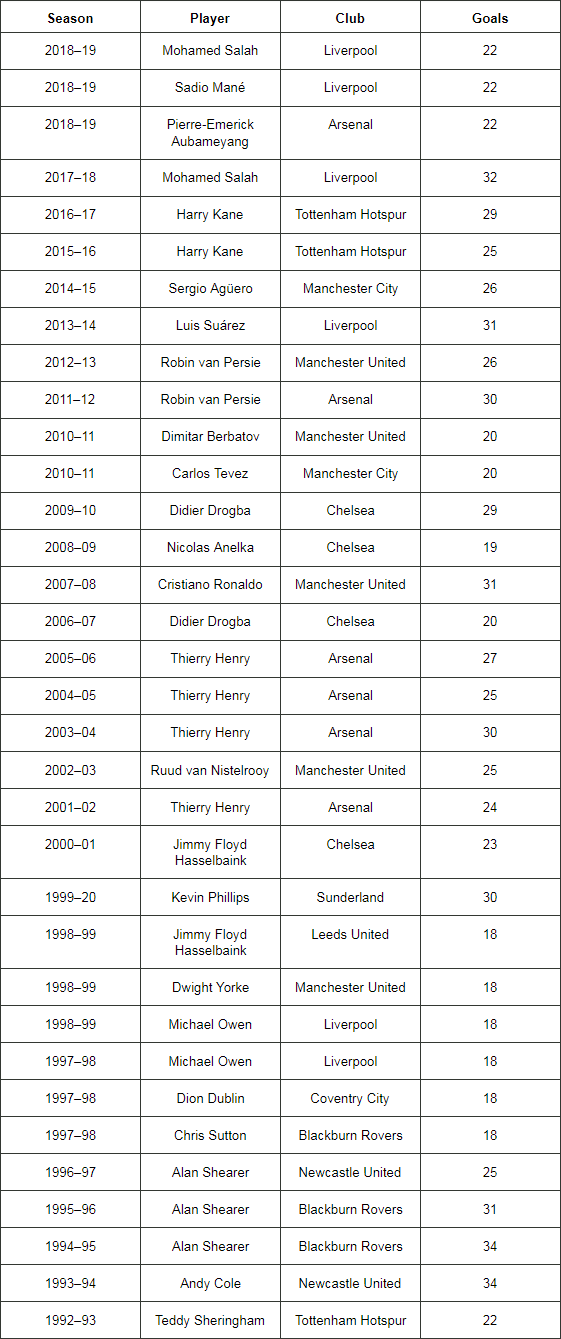 How to properly bet on the Premier League
EPL is similar to the majority of the football league in the world. Generally, it requires the same skillset and approach to place a winning wager, however, you also have to keep in mind the historical data that makes this league different.
So, what is generally needed to place that winning punt?
Search and identify value 
Diversify your betting by focusing on a couple of markets
Stick to one staking method
Keep a detailed record of your bets
Monitor a couple of the top online bookmakers
Research & analyse based on statistics
Since Premier League is one of the, if not the most popular football betting markets, beating bookies will not be easy, however, possible. In order to gain an edge over the bookmaker on such a verified market, you really have to spend some time analysing and being consistent.
You always have to be up to date with all the news connected with EPL. You also have to be familiar with the historical data as well as recent stats.
Goals
When it comes to match results, there is no extreme deviation between wins, draws and losses, which is beneficial for punters around the world. 
As for goals, the historical data shows that approximately 2.7-2.8 goals are scored per game (season average).
If the average for scored goals is so high, how often do teams actually go over a 2.5 total goals line? Total Goals Over/Under is one of the fundamental betting markets in football betting. Please, take a look at how often (percentage-wise) did EPL teams go over 2.5 goals during the 2018-19 season.


There is also a 3.5 goal line which attracts lots of betting volume as well. Please, also take a look at how often (percentage-wise) did EPL teams go over 3.5 goals during the 2018-19 season.

Both to Score
Definitely, another great betting market. Its biggest advantage is that you do not have to bet on any team to win, draw or lose. Moreover, your wager can be settled even before half time. Looking at the previous two tables, we can see that there are a couple of teams that tend to score a lot: Arsenal - 45% over 3.5, Manchester United 42% over 3.5, Manchester United 68% over 2.5, Watford 63% over 2.5, Bournemouth 63% over 2.5, Southampton 61% over 2.5, Manchester City 61% over 2.5.
Despite being a piece of cake for goal-line betting, there is another side. Such teams that play an attacking style are often vulnerable on defence, meaning that can concede a goal as easy as score it. This gives us a nice hint on what to pay attention to when betting on the Both to Score markets. Just for example purposes, check out how often did Premier League teams had matches where both teams scored during the during the 2018-19 season.

Summary
Overall, this guide should help you become more familiar with the Premier League betting markets and choose a proper strategy. We hope this tutorial will help you become more successful with your EPL wagering. If you have any questions, please let us know in the comments below and like always we wish you happy betting!