Sports Betting Guide
Football - how to bet on the top leagues
The most common mistakes of bettors. Eliminate them and start making money on sport.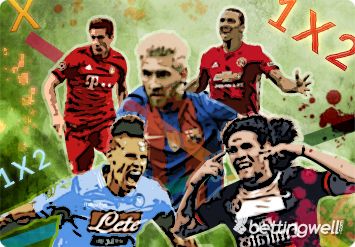 Introduction
Even though betting on football is the most popular thing to do, the financial results of many bettors are poor or even none. 
Why it is that way? After all, most of you posses considerable knowledge and it seems you are 'destined for success'. Many of you probably ask yourself the question: if betting on football makes any sense?
Unfortunately, there is a deficit for good type-makers in football. I mean those that bet on the most popular leagues (Premier League, Ligue1,  La Liga, Bundesliga, Serie A). Oddly enough, the players bet mostly in those league competitions that are the hardest to win in…
Looking through the numerous chats and bookmaker websites, one could notice that only a few could achieve a good yield. It is a lot easier to bet in 'lower leagues' where bookmakers are not such experts.
Does that mean that one should forget about it and try to found money in other leagues or sport disciplines?
Not necessarily. Always remember the rule" 'I bet on what I am familiar with'. If after a year I still do not reach the intended result, I try to change something based on my observations. I have noticed that the bettors year by year make the same mistakes, hoping it will eventually 'happen' for them. In most cases its a dead end.
The most common mistakes of bettors
1. Betting on certain winners
It is a common knowledge that betting on certain winners (odds between 0/1 (1.01) and 1/2 (1.50)) makes no sense. Unfortunately many players type a few matches on a bet with low odds believing in eventual success. The statistics show that it is a mistake. Of course a win can happen, but statistically that doe not look well. Don't get me wrong, it is not true that every fixture with the 2/5 (1.40) odds is no-good for a bet. It is nowhere near the truth. A reliable information for the 1/2 (1.50) odds that have not been yet noticed by the market can be a good bet, but it rarely happens.
 
2. Odds offered by the bookmakers in a three-way manner
Football is the most common discipline when it comes to the three-way bets. From a mathematical point of view it is better to bet on two-ways bets. Unfortunately in a three-way event we have three options, thus the theoretical chances split into 33,3%. The number of surprises in modern football shows that everything is possible on the field. Professional bettors most times choose the asian handicaps (two-way option). Not every bookmaker offers that option because of the lower margin.
3. Do not bet on your favourite teams
Almost every bettor has its own favourite teams, towards which he has a 'soft spot'. Try to omit betting on matches with those teams. Most of the times, emotions get in the way and generally we are destined for loss in this path.
 
4. Bookmakers generally are rarely wrong
Sadly it is the truth. I do not mean the statistics
from the last few matches but from from last few seasons. Odds-makers in football are first-rate experts, but it does not mean you could not be better :) In betting the human factor is very important, and it is commonly known that all humans make mistakes...
5. Quickly analyse and react to the offered odds
The most common practice of the bookmakers is to present the odds for the entire week on monday, which should be your busiest day. It is that time that you can find interesting odds which will eventually significantly drop. I have noticed a tendency of many bettors – that is a mistake – who take interest in an fixture a day, two days tops before it occurs. It is advised to pick those fixtures in which the drop of the odds can happen earlier on. That way we can often close the bet with profit even before the match begins. Searching for that types of matches may be very profitable for us.    
  
6. Do not underestimate the statistics from the direct matches between the teams
Even though it is difficult to judge the possible profits of the offered odds based on such statistics, it is good to check the results of the past clashes between the teams. New players, new season, different coach, it seems that results from previous seasons should be irrelevant but as the history proved it is often differently...
7. Top players transfers = success?
Numerous times I have encountered the opinion that: 'That team bought those players, their win is a sure-thing' or 'It will be their season'. One bettor is inspiring the excitement of another. After all, if someone spends millions on transfers, the success is guaranteed. 'Maybe the bookmaker did not take it into the account and the odds are still high'. It does not work that way. Football is a team sport discipline and the 'star players' not always fit into the squad right away. Oddly enough, this team can play worse not better, but most people will be enchanted by the 'big name'. The player analysis is rather based on theoretical player value on the field. It is wrong to think like that, but it is hard to bet against yourself. In my opinion it is better to skip that kind of fixtures, at least at the beginning of the season.
8. Betting at the beginning and at the end of the season
Every fan as well as bettor can not wait till the start of a new season. The adrenaline is once again pumping in our veins :) Unfortunately both the beginning and the end of the season are mostly not profitable times. The results are often surprising even for the best analytics and bettors.