Sports Betting Guide
Running – betting guide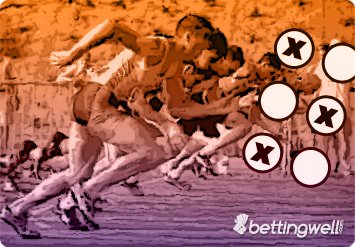 History of running
Athletics is called the queen of sports. It has been accompanying man since the beginning of all, the beginning of the world, because people ran after animals while hunting them, jumped over balks or threw something heavy. With time unification of rules was held and people started to compete among themselves. In Ancient Greece huge attention was connected to physical culture, especially it was significant during war. Young men in all cities competed in athletics which also was available at the first Olympic games in Olympia in 776 B.C.    
Since athletics is the queen of sports, its key discipline is running. Running for short distances was the main part of ancient competitions and each Olympics was later called in honour of the athlete who won the race. And though the idea of running kinds does not differ from the modern one, still some details have changed. For example, one of running kinds in ancient times was called "hoplite", running with full military equipment, helmet, armour, shield. The next difference was that every sportsman who made a false start was immediately fined by beating.
Types of bets on running
The most important tournaments, as well as for all running kinds, of course, are the Olympic games, the World and European Championships and a whole series of prestigious competition IAAF. Namely during these tournaments bookmakers suggest a rich offer what does not mean that there will not be any events till the end of the year. The running season is very long, after competitions at open stadiums end, an inside season begins, so fans of running bets will not be disappointed. Depending on the kind of competition, bookmakers set their odds on several markets.
Bet on top 3 – our task is to correctly predict last names of three athletes who will end running on the podium. The task is much easier that in case of a little misfortune, a payer has some bound of mistakes, unfortunately, due to lower odds.
To Win Outright – at first site there is nothing easier than to choose one athlete from the list who will be able to win the competition. The odds for such events are rather high, but betting on this kind of bets requires huge knowledge about the actual condition of sportsmen, and you should remember that the difference in results is counted in hundreds splits of seconds.
H2H bet – a punter has to choose a sportsman who will end the competition at a higher position between to competitors. The bet is ideal for punters who perfectly orient themselves in situations in world ratings, since our task is to find the best odds among lower qualified athletes. Small mistakes of bookmakers while setting the odds are a frequent occurrence here.
Successful betting on running
Knowledge of athletes – in what condition they are, their plans for the closest season will probably make your betting on running easier. So, you should know everything and track the latest news from the field and track athletics world.
Preparation method – in contrast to football or tennis sometimes the final result is decided by luck or its lack, in case of running this factor is completely excluded. An athlete being in the best form or the fastest will win in 9 out of 10 competitions against slower opponents (we do not take into account accidents, false start or falling on grass).
Actual form – unexperienced punters often make mistakes while betting and take into account just statistics and the number of won competitions in previous seasons. This, of course, is very important and should be taken into account for prediction, but most important is the actual form and results of the last competitions.
Tournament's rank – the higher is the rating and the prize fund, the better will the leading athletes be prepared. Surprises should be looked for in less prestigious tournaments, with smaller amount of sponsors and medial noise.
Season's phase – first competitions in the season are characterised by often weaker form of the favourites, and bookmakers setting the odds not always know about it. If you are able to get such information, then you get some advantage.
Outdoor/indoor – some athletes prefer open stadiums, while other reach better results indoor. There also are such for whom the kind of accommodation does not play any importance and they are equal everywhere. It is very simple to check – you just have to look through the history of their performances at different objects.
Weather – before the tournament at an open stadium you should check the weather forecast. Of course, it will not impact the result of the whole tournament, since rain falls and wind blows at everybody equally. Some bookmakers offer bets on whether a record will be broken during the tournament. In conditions of bad aura this task will be more difficult, if not to say virtually impossible.
Fear before high odds – a frequent mistake done by punters – betting at low odds, safer ones. High odds cause anxiety in punters. Unnecessary. Sometimes bookmakers higher the odds by mistake for a good runner, and if you find such event you can earn good.