Sports Betting Guide
Running – betting guide
You have probably heard a lot about how to bet on football, tennis or even basketball. Well, what if your speciality is athletics or running? Do you know how to place a wager on the upcoming running competition properly? Which top online bookmaker has the best offer for athletics? If you have any doubts, then this very sports betting guide is exactly for you. Let us share our knowledge about the most efficient ways to start betting on the sport of running.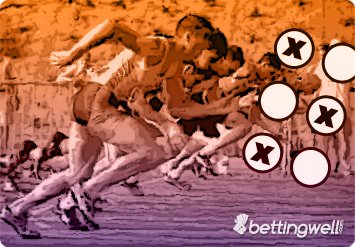 History of running
Athletics is called the queen of sports. It has been accompanying mankind since its very beginning. People used to run after animals while hunting, jump over baulks or throw something heavy. Over time competitive spirit grew up into something more, and people decide to come up with rules to compete against each other. The aspect of physical culture found its flourishing in Ancient Greece, where it was given huge attention, especially during the wartime. Young men from all the cities competed in all sorts of athletic competitions, among which there was also the Olympic Games, held in Olympia back in 776 B.C.
Since athletics is the queen of sports, running, as its key discipline, was always of great importance for ancient people. Running for short distances was the main event of the majority of ancient competitions. What is more, each Olympics was then called in honour of the athlete who won the race. Although the idea of running events remained more or less the same, some features definitely have changed over time. One of the best examples is the running event called «hoplite», where athletes had to run in full military equipment, including helmet, armour & shield. Well, that is probably not the most significant change that took place. However, you cannot say the same about the following one. Luckily for all the athletes out there, beating is not anymore considered a proper fine for a false-started athlete.
Types of bets on running
The most important and prestigious running events are obviously the Olympics, the World & European Championships, as well as the whole IAAF tournament series. The leading online betting operators always have a well-prepared offer for these type of events. However, that does not mean you will not get any other markets throughout the year.
Find out more about which online bookmaker has the best offer for running.
The running season is very long, after outdoor competitions come to an end, an indoor season begins. Therefore, running fans will never run out of the betting options. Bookmakers are usually offering the following markets, depending on the competition.
Top 3 – our task is to correctly predict last names of three athletes who will end on the podium. Betting on this market is quite easy, since punters have a small room for a mistake, however, at the expense of the lower price.
 
To Win Outright – at first sight, there is nothing easier than to choose an athlete who is going to win from the list. The odds for such events are rather high, but betting on these markets requires extensive knowledge about the actual condition of an athlete. You should also keep in mind that the difference in results is counted in splits of a second.
 
H2H – a punter has to choose one of the selected athletes (usually in pares) who will finish the competition at the higher position. This type of markets is ideal for punters who feel confident and know a lot about the environment on the world's top running tracks since the task is to find the best odds for lower-ranked athletes. It is one of the best places to fish for bookmakers' mistakes.
How is your predictive ability? Would you like to learn more about how you can predict the results of various sporting events. Click here for more.
How to efficiently bet on running?
Know your athletes – you have to know in what condition they are, their plans for the upcoming season and all the other sort of information, which will probably make your betting on running easier. The key here is to know as much information as possible and constantly stay up-to-date.
 
Preparation method – as much as the final outcome in football or tennis sometimes is decided by luck or its absence, the complete opposite can be said about running, where such a factor is wholly excluded. An athlete who is in better shape, or simply faster, is going to win 9 out of 10 times against slower opponents (excluding the accidents like false-start & falling or an injury).
 
Current shape – inexperienced punters often make mistakes while betting by only taking into account statistics and the number of won competitions in previous seasons. This is definitely important to consider, however, the current shape and the most recent results are more important.
 
Rank of the tournament – the more prestigious the event and the bigger the main prize are, the more you can be sure about the top athletes being in their best shape. On the other hand, if you are looking for surprises and favourites' upsets, then you should start looking at lower-ranked competitions with smaller prizes, less prestigious sponsors and media coverage.
 
Stage of a season – the beginning of the running season is not always the shinning time of the favourites, and bookmaker are not always aware of this when setting their prices. Staying up-to-date and knowing a bit more information than the market will definitely give you an advantage over the bookmaker.
 
Outdoor/indoor – some athletes prefer open stadiums, while others perform better indoors. There are also those who do not care about the type of venue, equally performing both in- & outdoors. Such information is quite easy to check - simply go look up their previous performances, and that's it.
Weather – we suggest you check the weather forecast before an outdoor running event. Obviously, it is not going to affect the outcome of the entire event, since the wind blows & the rain falls equally. Some bookmakers also offer the market on whether or not a record will be broken during the given event. However, in case of the bet aura, such a task will be extremely hard to achieve, if not impossible at all.
 
Fear of longshots – one of the most common mistakes fulfilled by punters is betting only at the short odds, reasoning it for having a high probability of happening. Punters are usually afraid of the longer odds, which is completely unreasonable. Top online bookmakers are moving their odds up for quite decent athletes, at times. However, finding such a situation is only beneficial for us.
Want to know how to be on various sports? Check out our sports betting guides section here.