Betting News
Trump vs Clinton - Their chances after last debate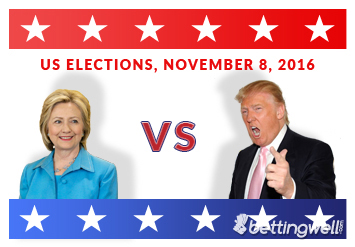 Because of the recent controversies and not a very good performance in the previous debate, Donald Trump found himself in a very difficult position before the third, and final debate of the U.S elections. It was his last chance for winning the votes of both the undecided electorate and people who stopped supporting him because of the scandals surrounding him.
And despite all these negative factors, both experts and public opinion considered Trump to be better prepared in this debate than in the previous one, often saying that there was a draw between the candidates this time, and that he performed really well. The one thing he failed, and unfortunately for him, it was the most important moment of the debate, was that he refused to accept the election result if he would lost. He started talking about conspiracy theories, fake votes and even bad-mouthed his rival. And in the end, he probably blew up his last chance of winning the election.
Below, we present you with the best odds offered by the bookmakers (UK offer) for the 2016 United States presidential election.
As for the American bettors, we advise to bet on at Bovada bookmaker that offers -550 (9/50) for Hillary Clinton and +375 (15/4) for Donald Trump.