Sports Betting Guide
Snooker betting guide
Snooker is considered a gentleman's game and it was first played by Englishmen as far back as the 15th century. Today, there are two faces of snooker. On the one hand, it is an increasingly popular pub game, very relaxing and social activity. On the other hand, competitive, professional snooker is a very demanding sport, requiring lots of practice and commitment.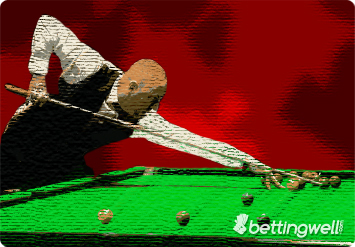 Introduction
Unlike most other sports where general physical fitness is the key to success, in snooker emphasis is placed on manual dexterity. Mental preparation and concentration are also necessary ingredients for victory. In this ultimate mind game there is no room for frustration or adrenaline rush. 
Bookmaker offer for snooker
Because snooker is not as popular as other sports like football or tennis, the majority of the bookmakers do not have big offer for snooker betting. Bookmakers such as William Hill, Coral, BetVictor and Ladbrokes offer some snooker bets.
Snooker betting tips
Snooker betting can be quite difficult. If you want to make well-informed snooker decisions, then don't limit yourself to mere snooker statistic. Delve deeply into the world of professional snooker. Read as much as possible about top players. Watch snooker tournaments in TV and pay attention to what commentators have to say.
Since it is a sport played at a very slow tempo, commentators-experts have all the time in the world to express their opinion which very often can be utilised into valuable betting insight. We recommend the BBC snooker coverage which, in itself, is simply fantastic. Each pro snooker player is different, each one has a different style of playing, temperament or priorities. For instance consider the fact that some top players suffer lapses in concentration when playing in the early tournament stages or against theoretically weaker opponents. Other snooker players have problems coping with intensifying pressure and usually fail in the later stages of the tournament, despite promising performances early on.
These are details that fairly few people pay attention to. It is your task to find them and draw appropriate conclusions! Online snooker betting concentrates on the major events of the season. Current ranking tournaments include: World Championship (April-May), UK Championship (December), Grand Prix (October), Welsh Open (January), China Open (March-April), Shanghai Masters (September).
Snooker bet types
Top sports betting companies offer plenty of snooker betting opportunities both pre-match and in-play. Below find the most popular snooker bet types:
Winner – predict the winner of the match.
Frame winner – predict the winner of a specific frame.
Frame betting – predicting the correct final score in frames.
Length of frame – predict the time elapsed from the starting break to the end of the frame.
In-Play/ Live betting – betting on snooker during the game.
Length of match – predict the time elapsed from the starting break to the end of the match.
Highest break – roughly predict what will be the highest break in the match.
147 break – will there be a 147 break in the match or not.
First ball potted – predict which ball will be potted as the first one in the frame
Handicap betting – one of the players is given advantage in order to level the odds.
Long-term bets – e.g. the outright winner of the World Series of Snooker or the World Championships.