Sports Betting Guide
Horse racing betting guide
Horse racing is also considered the cornerstone of the British betting industry. In 2008 in the UK, far more than 750 million bets were placed off-course on horses with the total turnover of app. £6400 million. The 2010 Grand National, which is the Britain's biggest horse racing event, was witnessed by more than 650 million viewers from all over the world.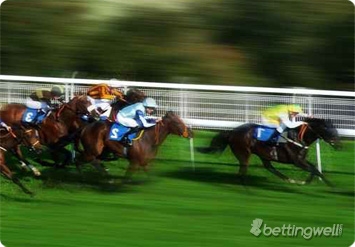 Horse racing betting
The geographical reach of horse racing is broader than most people imagine. Over 330 race courses currently operate in Australia, more than 150 race tracks in the USA, 30 race tracks in Japan and a number of courses in New Zealand, Ireland, South Africa, or even Hong Kong. The term horse racing itself encompasses not only flat racing or hurdling for Thoroughbreds, but also other forms of racing which include harness for Standardbreds, endurance racing for Arabian horses and quarter racing for American quarter horses.
Bookmaker offer for horse betting
As it was mentioned earlier, there would not be sports bettign at all if it was not for horse racing. The discipline is considered to be one of the oldest sports in the history, practiced on all continents, in every part of the world. Even though it is not as popular as it used to be, horse racing is still one of the most bet on sports, especially in the UK, where it was first introduced. Biggest British bookmakers such as Paddy Power, Coral, Ladbrokes, William Hill or BetVictor have very good betting offer including events from Europe, United States or Australia. Because horse betting was the first major discipline of sport that was used by the bookmakers to create their bets, the majority of betting terminology and concepts have their roots in this discipline. It is worth mentioning that the bookmakers offer both Tote and fixed-odds betting.
Horse racing history
Horse racing seems to be as old as the history of the world itself. The highly spectacular and dangerous Roman chariot races drew hundreds of enthusiastic spectators to stadiums. Top drivers were Roman heroes and enjoyed the status of today's celebrities. The ancient Romans admired horses so much that they carved their giant figures into the chalk hills of southern England.
For centuries, the Arabian peninsula was the stage of a strenuous spectacles whereby the ancient Arabian horses, the purest and oldest horse breed in the world, carried riders who competed in popular long-distance races across the stretches of desert land. In the 17th and 18th century, the crossbreeding of English mares and Arab horses produced the first Thoroughbreds. Today, the breed is almost synonymous with horse racing.
What horse racing means to the British is difficult to describe in words. When it became a professional sport in the 18th century, during Queen Anne's reign, horse racing immediately won the hearts of Britons. It now plays a huge role in British social life and culture.
An exceptional social micro-climate is created at the racecourses by far more than 5 million people who go racing in Britain every year. For the past ten years, about £2M annually is generated for charitable causes through special race days. In terms of demographics rather than numbers, it is horse racing rather than football that deserves to be called the national sport of Britain. It is because of more or less equal proportions of each major social group and a much higher proportion of women than in any other spectator port.
Horse Racing Bet Types
Horse racing uses two betting systems: the parimutuel betting (pool betting) and fixed odds betting.
The most popular horse racing bets include:
Straight bet (aka Single or Win bet) – pick the winner from a list. If your horse is first, you win your bet.
Place bet – pick the winner from a list. If your horse is first, or second you win your bet.
Each Way bet – pick the winner from a list. If your horse finished first, you receive full winnings. If your horse finished second or third, you receive only part of your winnings.
Show bet – pick the winner from a list. Odds are fixed so that you know how much you can win. If your horse is third or better you win your bet.
Daily Double – pick winners of 2 daily races on 1 ticket
Pick 3 – pick winners of 3 consecutive races on 1 ticket. Similar bets: Pick 4 (four consecutive races), Pick 6 (six consecutive races). Advice: it is more profitable to bet Pick 3 than to bet on the same races in the 3-way Accumulator (Parlay)
Quiniela (Reverse Forecast ) - pick two horses you think will finish first and second in either order.
Perfecta (Exacta, Straight Forecast) – pick two horses you think will finish first and second in exact order.
Trifecta (Tricast, Treble Forecast) – pick three horse you think will finish first, second and third in exact order.
Superfecta – pick four horses that you think will finish first, second, third and fourth in exact order.
Accumulator (Multiple bet) – between 2-12 selections on a single ticket. All the selections must win for you to win the ticket.
Future – as the season get under way, odds compilers give us prices for horse to win upcoming events. As each race gets closer, the price usually falls. Skilful punters use their extensive knowledge to bet on their favourites at a better prize.
Exotic bets (Proposition bets) – betting on unusual events not directly concerned with the outcome of the race courses
Placepot – a bet in which you need to select a horse in each race to be placed. The number of races you decide to bet on determines whether a horse needs to win the race, come in the first two, three or four. See below:
2-4 races – horse needs to win
5-7 races – horse needs to be 1st or 2nd
8 or more races – horse needs to be 1st, 2nd or 3rd
Jackpot – similar to placepot, but for each race you have to indicate the winner
Scoop6 – a bet in which you have to predict the winner of six major races held on Saturday.
Horse Racing Trivia
Byerley Turk, Darley Arabian, or Godolphin Barb were the three first horses imported to England in the 18th century. Now, almost every racing horse in the world is their descendant.
Australia boasts over 470 Thoroughbred racecourses which is more than in any other country. Thoroughbred Racing is also the second most popular sport in the Land of Kangaroos.
Far in excess of $100 billion is bet on horses every year.
There are more than 21,000 horse races in Japan and the wagering turnover for horses is also the largest among the Japanese.
The lightest jockey in the world weighted 49 pounds (22kg).
An average race horse's weight is close to 1,000 pounds (454kg).
Never in the history of horse racing has a horse over the age of 18 won a race.
Anatomy matters. "Big hearted" horses have an edge over horses with regular hearts. The 1921 Epsom Derby, however, was won by Humorist, a horse with only one lung.