Sports Betting Guide
Sure Bets
What are the Sure Bets and where we could use the concept? Sure bet is simply a bet we win irrespectively of the matches outcome. Impossible? After reading our guide you'll find out it is not only possible, but also widely used, and with some work you'll be able to find and use them for your profit.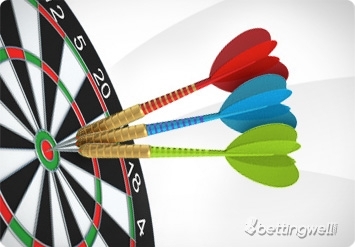 What are Sure Bets and where we could use it?
In the section Bookmaker Advice an assertion was made that there is no reliable stake in sure betting which of course is true. But let's not forget, that this kind of betting gives us income irrespectively of the game result. It can be said that placing of Sure Bets is something different than search of bookmaker mistakes with the aim of increasing own capital. The search of Sure Bets is not an easy task and what is worse, it is a labour-intensive activity what can discourage lazy punters at the very beginning.
Sure bets example 1
Lets compare coefficients of several online bookmakers. An internet research and comparison will be useful in such case. It is very important that events comparison has to be two-sided and first of all there have to be only two possible outcomes of events, of the bet types: win/defeat, ½, over/under. This is why these stakes are more often used in tennis.
Example 1:
Lets look into stakes placed for a tennis match Hajek – Minar, odds are approximately equal but there is no Sure Bet here. Suppose that you have £200 and can place bets:
£100 for the win of J. Hajek in BetVictor site with the odds 1/1 (2.00).
£100 for the win of I. Minara in Bet-at-home site with the odds 9/10 (1.90).
Match outcome:
Suppose that I. Minar wins. In consequence we lose money placed at BetVictor (£100) winning simultaneously at Bet-at-home (100x0,9)= £190. Ultimately we spend £10 of difference. In this case we do not deal with Sure Bets since the sum of our wins can equal £200 or £190, so as at the best we come at 0.
Sure bets example 2
Suppose we deal with the same bets (Hajek – Minar). But the odds have slightly changed. In such situation irrespective of the match outcome we still win:
Suppose we have an additional budget and place stakes at:
£100 at the win of J. Hajek in BetVictor  with the odds 2.10 £100 at the win of I. Mirana in Bet-at-home with the odds 2.30
Match outcome:
Suppose I. Minar wins. In such case we lose £100 placed at the win of J. Hajek in BetVictor but win our coupon at Bet-at-home 100 x 2.30 = £230. If Hajek won then playing at both bookmakers we could have won 10£ clean. But Minar won and our income makes £30.
What has to be remembered using surebets?
Sure Bets are used in most cases for events in which only two results (tennis, volleyball, basketball, H2H bets, over/under) are possible.
The exact calculation of odds should be remembered (check if there is a Sure Bet). The easiest way is to multiply odds of both events by £100. If the win equals:
- more than 200£ in both cases, which equals to both odds over 1/1 (2.00)
- £200 in one situation and even more than £200 in the other – we deal with a Sure Bet.
To win it is needed to bet for both events (A and B).
We will earn with Sure Bets if we play at several bookmakers.
Practical advice
Open an account at several online bookmakers and pay in money. Have a look on our page to check the best online bookmakers
Use odds comparison with the aim of fishing out events.
Place stakes at equal odds, for instance 2,10/1,80 for over odds and wait until another odds increases.
A good decision will be to place money at first odds not less than 2,00 and try to oppose at livebetting in a situation that odds for another team appear higher than 2,00.
Our opinion
Sure Bets undoubtedly provide certain income irrespectively of the result. Unfortunately in reality bookmakers very rarely give such possibilities to fish out such events. It should be remembered that a game with Sure Bets mean a very small income unless we have an unlimited budget. 

Undoubtedly we advise this game system to punters who like to deal with statistics and also those of you who know the market well and who can easily find mistakes of bookmakers and are able to predict their corrections after the first put out odds.