Sports Betting Guide
Live Streaming Matches - matches and fixtures live with bookmakers
The thing that often determines the choice of the given bookmaker is the possibility to view live broadcast of an event which we are interested in. An online streaming is a service which has been offered by online bookmakers for years now, but not every bookmaker has it in his offer. Nowadays punters have wide selection of websites at which they can watch live streams of desired events.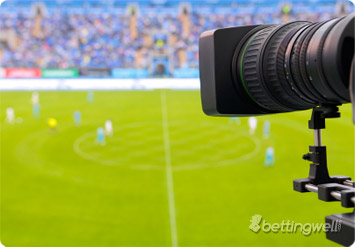 What is live streaming?
Live streaming are platforms which allow transmission of video-broadcasting of the chosen sporting events. Real time video transmissions, are available at several online bookmakers, mainly at the most popular ones. This is the result of the fact    that these companies have to purchase sublicenses for transmission availability from operators of broadcasting stations. According to our information the following bookmakers offer live streaming: Unibet, SkyBet, Betfair, Paddy Power, William Hill, Ladbrokes, Bet Victor, Coral.
Why is live streaming so popular?
"Live matches" is one of the most searched sports betting-related phrase. This is why many bookmakers offer their players live streaming – an availability to view the matches for which bets were placed, together with live betting on their site. Live video transmissions on bookmaker sites are first of all a connection of a possibility of placing bets in real time and view the event. Live betting in compilation with live streaming bring unusual emotions and raise adrenaline during the viewing of sporting events. Premier League, Bundesliga, Volleyball, Basketball, and maybe horse races. Not all bookmakers have every sport in their live streaming offer. Fans of football don't have such a dilemma since they may watch all football leagues without interruption. But the question is where to find all live streaming of matches with live betting? We decided to help our readers and placed an informer dedicated to the topic of where to find "direct transmissions" and live betting in your web-browser on our site.
Live streaming - what will you need?
Before we get to the comparison of offers of Live streaming bookmakers it should be remembered what has to be done to view a transmission of the chosen sporting event.
Firstly you should open an account at the given bookmaker which means an obligatory registration on the site. At which bookmaker can you register? You can get acquainted with our list of recommended bookmakers and check if the bookmaker have live streaming in their offer.
After opening an account you should login to it using your password.
Some bookmakers also demand an input of money to the account or betting on the event we wish to watch live.
The next demand of bookmaker companies is the purchase of a subscription for an important sporting event, for instance the Australian Open. This one is mandatory only at few bookmakers.
After fulfilling the conditions you can enjoy live streaming.
Live streaming at online bookmakers - best offer
When discussing live streaming, two types of bookmaking companies should be mentioned:
a) those which require existence of monetary funds at the account;
b) those which require betting on chosen event to watch live.
We present a short description of live streaming offer at defined bookmakers.
Remember:
Bookmakers' offer of sporting live streaming may slightly differ on our site from the recent bookmaker's offer due to some updates. This is why you should always check offers of live streaming on the bookmaker's sites to be sure that you can find what you are looking for.
Must place £1 bet to watch horse racing live. Every other sport requires only charged account and having a bet placed within the past 24 hours on any sports event.
Horse racing requires £1 bet to watch live. Other sports are available to watch to all registered punters.
Horse racing and greyhounds require a bet of at least 50p or exchange bet of at least £5 to watch live. Most sports require only funded account.
Horse racing min bet of £1 to watch live. Other sports require customers to have a charged account.
Horse racing can be watched by any customer who has placed a bet worth at least £1 on the race. Other sports requires customers to have a funded account or have placed any bet within the past 24 hours.
A bet of at least £1 is required to watch live horse racing. Most other sports require customer to have funded account, and have a bet placed within the past 24h.
Pluses and minuses
Concluding our review of bookmakers which offer live streaming of sporting events we decided to prepare all pluses and minuses of such offerings.
Pluses:
1)Access to the majority of sporting events beginning with football, basketball, tennis, volleyball, hockey and finishing with darts, snooker, cricket.
2)Possibility of placing bets observing the chosen match without limits.
3)Paradoxically the necessity to place money on the accounts is also a plus since it limits access of non-interested in sports betting players who overcrowd the system which affects the quality of transmission.
Minuses:
1)To be able to watch a match broadcast you have to open an account on the bookmaker site and sometimes place a bet on chosen event.
2)It is hard to view a match online on a mobile phone without strong internet connection.
3)Bookmakers often block the possibility of viewing events taking place in clients' country which means that we cannot watch live matches of Bundesliga or handball. This happens because only 1-2 channels can have an exclusive right for transmission.
What should you remember about online sports betting with live streaming?
1.Some events are limited which leads to the fact that not all punters have access to live streaming:
    When you are not in the country of competition/matches
    When you are not in the country which takes part in the competition/match
    Some exceptions can occur for some territories because of the limitations.
2. Always remember to have the most recent version of video encoding software, e.g. Flash player - that way you're not risking sudden error when trying to watch desired match.
Remember:
No bookmaker is responsible for unsuccessful live betting for matches broadcasted on his site and in connection with this the punters are not paid any compensations.