Sports Betting Guide
Sports betting for large sums at bookmakers which have the best odds and do not limit players.
Earning on sports continuously gets more and more popular among players. 95% of bettors in the gambling business are the so called amateur-players for small sums up to 200 pounds for a bet and often bet for few matches on one ticket.The rest 5% are professional players who concentrate on matches which are worth playing such as value bets or sure bets. In professional betting every percent is important because later on it translates to reasonable income.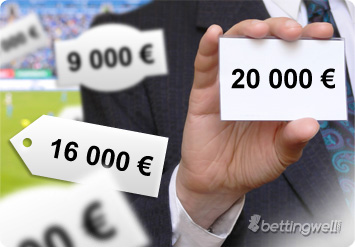 Sports betting for large sums at bookmakers
Many online bookmakers try to counteract to betting for large sums first of all due to fixed matches in sports or vast knowledge of bettors, by not accepting large sums of money for unpopular leagues or at a last resort closing players' accounts. Every bookmaker uses its own policy although regularly winning bettors my await a ban on their account. In such case a question – at which bookmaker can you play for big money and enjoy your winnings as well as get fantastic offer of odds with low margin - arises. Thanks to more than a 10 year gaming experience at different bookmakers, tracking opinions of bettors we can divide the bookmaker market into 3 parts.
Bookmakers with high limits and low margins. Virtually everybody knows that the largest sums of money are bet in Asia. Thanks to an enormous potential of this market some bookmakers accept single bets for 20-30 thousand pounds without any problems. We should enlist the bookmaker Unibet as the leader, which is considered to be the most innovative and the best bookmaker in the world. If you look for unpopular bets you will certainly find them here.
Bookmakers at which sure bets and interesting value bets are available. Among them are found: BetVictor, William Hill. Not every bookmaker reacts quickly enough to lowering odds that is why it is often possible to find good odds.
Bookmakers for amateur players. At some bookmakers you can expect limitation if you play for 300 pounds and win. If you pick such a bookmaker it is only to play few matches on one ticket. Although after few matches we can be acclaimed as a professional player and therefore blocked