Sports Betting Guide
How to bet live on handball. Betting systems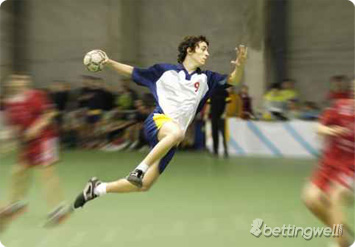 Analysis of different betting systems
Thanks to such big number of goals and frequent changes on the court - handball always raises tension. Below I present few betting systems which were tested by me, and which I think are more or less successful.
I suppose that a punter is not professional handball analyst, therefore he cannot decide if a match is worth betting on or no. This article is not a compendium of knowledge for professional punters but rather for those which in a given situation during a match will be able to react correctly, not be let by emotion, but by pure math. Are the systems presented below worth consideration? Would you be able to earn on it in a longer run? Honestly, I don't know, the results of some of them are satisfying. I've been analysing some solutions during previous year, each of them based on 1000 matches. Some of them did not bring expected results, others gave positive results. If we count only for the strike of luck in a longer run there is 99% chance that we will lose everything. Odds for live usually oscillate among 1.8-1.9 (I'm thinking about bets with 50% chances).
Unfortunately, punters try to save themselves with strong progression. So if a punter does not hit one match, the next bet he places is x2. With lack of series, even for few days, you can extend your capital. However bad series is going to come and you will probably lose everything in a short amount of time. I strongly believe that experience, information and knowledge of teams is the basis of success. I have observed some regularities in live bets and I disprove quasi-logical solutions. Are they useful? Evaluate yourself.
Attention! Maximum value of progression used by me is 5x of regular stake.
Handball betting system
If in the first half there is few goals, it doesn't mean that after the brake it will stay the same.
Let's say that after first half there were 20 goals, and bookmakers set 47 goals for a line. Many would think that both teams defend well, and line for under 45 is attractive. Nothing more confusing. I noted over and over again that in handball two halves are something completely different, and should be watched as such. Sudden changes by coaches in both teams may cause severe shift in tactics and the tempo of the match. Some time ago I did a comparison in excel looking for advantage in this element, after analysing 1000 matches I didn't see any real profit, only loss. 
High odds for pure draws, is it possible to earn on them?
We are watching a match and see that in the first half none of the teams have greater advantage than 2 goals. After 15 minutes of second half the situation is still the same. Odds for draw on live oscillates between 5-7 after 45 minutes of match. Than I bet on draw, hoping that this situation will stay the same until the end. Does it make sense? I will probably surprise you here, but after analysing around 1000 matches with little progression (after 5 losing matches each stake afterwards +15%) the final match was positive. Yield around 4%. Is this profit accidental? I don't know for sure. It is much probable, that the progression gave us advantage. In some time we are planning to repeat analysis, although it is time consuming and takes around a year of work. In addition, I observed that in friendly matches the number of draws was higher than in league or national teams matches.
Betting on under between 45-50 minute.
There are some situations during a match, which seem to give us a chance of profit. Again to analyse this I used around 1000 matches and following situation. Only league and representation matches, where we know, that teams want to win very much. An important element for a punter is the result, which around 50th minute should be tied or one of the teams could be winning by maximum one point. I noticed that the teams respect the matches and the statistic number of point in last 10 minutes is much lower. Although the odds on average are at 17/20 (1.85), after analysis yield came out to be positive and was close to 2%. In this case I used a slight progression. After not scoring odds I increased the stake by 15%. After scoring the stake goes back to the basic one. Yield 2% might not be overwhelming, but with large turn it gives good chance of profit. Does it make sense in a long run? I don't know but I will surely analyse it again.
High plus handicaps for weaker teams
There is something in it, although I didn't notice chance of profit in this element on live. Inappreciation of weaker teams is of much importance, but you need to have great knowledge. It comes to mind after observing many very good paid tipsters. I noticed that the best ones very rarely bet on negative handicaps, in 99% they play on underdog. Only professionals seems to focus on such matches. Without knowledge we are sentenced to lose. Not every match, even with incredibly high handicap +40.5 is worth playing.
Friendly matches = many points = play on over ?
I have to admit that I wasn't doing analysis, however I received some tips from a friend. Logically, in friendly matches there are more points scored, but bookmakers know it as well, therefore even before the match they set higher lines. In such case does it make sense to play? Even while playing a match live are we able to assume if a match is going to be fast or slow? It is not probable. Coaches are trying different variants, putting their weaker players on the court in most cases. It isn't foreseeable. It seems that they are not defending and we predict the score to be in range of 65-70 goals, and then players defend tightly and a match ends with 10 points less.
The win of theoretically weaker team in the first half (friendly matches, under 21)
Good material to bet on. Usually in the first half teams still have strength, and even weaker squads are able to catch up with better ones. I am particularly talking about matches for nothing, and with players under 21 in which bookmakers are out of touch. I'm interested in odds ranging from 3/2 (2.5) up to 9/1 (10.00). Odds over 10,00 aren't really worth considering because of the class difference. Plus using a slight progression (max stake up to 3x basis) enlarging odds around  3/2 - 4/1 (2.50 - 5.00) by 5% each and in range 4/1 - 9/1 (5.00 - 10.00) by 2.5% each. After first 1000 odds the acceptable result is (+3,7%).
I've had few others ideas for analysis, however the process is time consuming and the results were uncertain, to say the least. If you have some system of playing live, and you want to share it with other users, write to us. If you were making analysis which later on didn't work, we also ask you to send them to us. We hope that it will save many punters from losing.