Sports Betting Guide
How many goals are scored from free kicks?
Any punter who bets on football surely knows, that in order to place a successful bet, you need to consider any, even the most insignificant, details. In this article, we will analyse the statistics regarding the free kicks as well as find out how often players score goals from these set pieces. Without the amazing free kicks executed by Michel Platini, the national team of France would not have won the European Championship in 1984, which they were also the hosts of.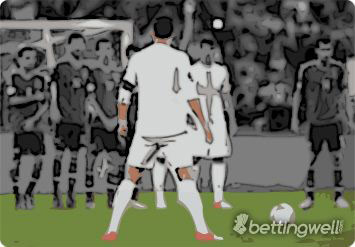 An average of 5% of all free kicks ends with a goal
If it was not for Ronald Koeman's powerful free kick shot in the extra time of the 1992 European Cup Final played on Wembley, Johan Cruyff's Barcelona would not have claimed the trophy. Same goes for David Beckham's perfectly bended free kick in the extra time of the match with Greece that gave England the qualification to the 2002 World Cup. If it was not for that goal, he probably would not consider his national team career successful as he got a red card in the previous World Cup and was heavily criticised at that time.
Every team wants a free kick specialist. A team that has a player who can accurately shoot a direct free kick has a huge advantage over their opponents which defenders cannot make any mistakes close to their penalty box, as that could end up as a free kick, and consequently, a goal. The question is: How often the players score goals after direct free-kicks? And thus, is it important to know such statistics in order to place a winning bet. Let us check the numbers. In one of the previous football guides: What is the correlation between the number of shots and final result of the match? we explained that a player shooting from 10 yards have an approximately 24% chances of scoring a goal.
A shot from 16 yards end with a goal in 13% of the cases and the attempt from over 20 yards is successful in only 3% of all cases. This changes completely when the player have the opportunity to strike the ball from a set piece. In case of the penalty kick, the chance for a goal is roughly about 80%. As for the free-kick, the football statisticians claim that about 5% of all attempts ends with a goal. Whether it is a lot or not is debatable. For example, in the 2011 / 2012 season of the English Premier League, 5,2% of all direct free kicks ended up with a goal. In 25% of the cases the keeper saved the shot, while 38% of the shots were not on target and 32% were blocked by the players in the wall.
How many free-kick goals are scored in major tournaments?
Let us see then, how many goals are scored from free-kicks on the major national tournaments. Our analysed example will be the European Championships between the 1980 and 2016. In the 1980 tournament hosted by Italy, there was only one goal from a direct free-kick. Four years later in France it was better, there were 3 goals, out of which 2 were scored by Michel Platini (one in the final). At the 1988 Euro in Germany, once again there was only one goal scored after a free kick. In 1992, during the competition hosted by Sweden, there were 2 goals after free kicks. Interestingly, they were both scored by the same player, German international, Thomas Hassler. 
There was only one goal (scored by Hristo Stoichkov) after free-kick in 1996 European Championships in England. In 2000, the players two times converted free kicks into goals and in 2004, it was three times. In 2008, there was 2 such goals and only one in the tournament hosted jointly by Poland and Ukraine in 2012 - scored by Andrea Pirlo. The most impressive was the Euro 2016, where 4 goals were scored after direct free-kicks (including 2 by Gareth Bale). Summing up, during the last 10 Euro tournaments, there was 20 goals scored after direct free kicks - this gives an average of 2 goals per tournament. You must say, not a very impressive number.
The best/worst free-kick takers on the major tournaments
The player that can boast the highest free-kick effectiveness in both, the European Championships and the World Cups is Thomas Hassler. We already mentioned his two goals at Euro 1992. As it turns out, they gave him a 20% conversion rate average, which means that every fifth shot of his, ended up as a goal. When it comes to this statistics we could also mention David Beckham - 15,5% and Hristo Stoichkov - 11,8%. 
What about the worst free kick takers? Taking into consideration only the matches from major national tournaments, the player with the worst average free-kick conversion rate is...Cristiano Ronaldo! Not a single from his 34 attempts during both World Cups and European Championships ended with a goal. It is quite shocking in comparison with his club statistics. Furthermore, such famous free kick takers as Gheorghe Hagi (27 attempts) and Ronald Koeman (22 attempts) did not score a single goal from a direct free kick on a major national tournament.
CR7 is the best free kick taker? Not necessarily
594 attempts, 41 goals, 6.9% average conversion rate - these are the statistics of the Portuguese star from his time at Manchester United and Real Madrid (as for June 2016). When they hear 'free kick', many fans see Cristiano Ronaldo in their minds, standing in his characteristic pose before taking the set piece. Maybe he used to be a good free kick taker, but was he ever the best?
We already mentioned his poor run at the major tournaments. Similar bad run also happened to him while playing for Los Blancos - between April 2014 and March 2015 he did not score a single goal from direct free kick, despite 51 attempts! 21 shots were blocked, 14 went for the crowds seated at the stadiums and 16 times the keepers saved them.
Such long bad runs are especially surprising when it comes to Ronaldo, who is said to have a perfect body and capabilities to be a great free kick taker - he is almost 7 foot (185cm) tall and his feet is unproportionally small (european size 41). A ball hit with a knuckle shot by such a small feet gets really weird rotation in the air which baffle even the best goalkeepers in the world. If we add his fantastically muscular legs (which are the result of both hard-work and genetics) we get a player profile for a perfect free-kick taker. So why does he have those bad runs?
This problem was tackled few year ago by Mark Hughes, manager of Manchester City at that time. He noticed that because of Ronaldo's unnatural position while striking the shot, his knees are heavily pressured. He concluded that only a superhuman will be able to withstand such overburden for more than few seasons without any damage to his health. Maybe this is the answer behind the recent ineffectiveness of the Portuguese star?
Messi and Ronaldo far behind...Miralem Pjanić
If we would conduct a survey among 1000 random kids around the world, asking them, who is their favourite player, 95% of them would say Messi or Ronaldo. And although both players are amazing athletes and fantastic footballers they cannot be considered as the best free kick takers in the world right now.  Even though they have scored few goals after free kicks in the past and might as well do it in the future, they are not the leaders of the free kick conversion rate rankings.
Now, let us analyse the 2013 / 2014 and 2014/ 2015 seasons in the European football. The free kick conversion rate of Lionel Messi was 5,7% (70 attempts - 4 goals). Cristiano Ronaldo was a bit better - 6,8 % (73 - 5), as was Andrea Pirlo - 12% (49 - 6), Gareth Bale - 12% (24 - 3), Hakan Çalhanoğlu - 13% (82 - 11), Kevin Mirallas - 15% (22 - 3), Christian Eriksen - 16% (42 - 6) and Zlatko Junuzovic- 17% (35 - 5). A real king of the free kicks at that time was Miralem Pjanić, Bosnian player had conversion rate of 18,5% (38 attempts - 7 goals).
Other great free kick takers include David Beckham, Alessandro Del Piero, Zinedine Zidane, Roberto Carlos, Diego Maradona, Zico, Siniša Mihajlović, Ronaldinho, Roberto Baggio, Steven Gerrard or Frank Lampard. Many of you will probably say that the best free kick taker in history was Juninho. During his 8 season spell in Europe with Olympique Lyon, the Brazilian midfielder netted over a 100 goals with roughly about half of them being scored from direct free kicks.
We also cannot forget about fantastic Rogerio Ceni. The Brazilian keeper have scored an impressive number of 131 goals during his 25 years of playing football, 61 of which were scored after direct free kicks. Because of these accomplishments, he is more renown for his free kick skills than his saves and although he retired in 2015, something tells us that his records (for a goalkeeper with most scored goals overall and after free kicks and penalties) will not be beaten for many years, if ever.