Sports Betting Guide
Baseball betting guide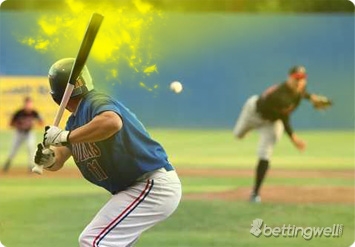 Introduction to baseball
For decades hailed as the national sport of the US, baseball has experienced a slight decline in popularity across the United States in recent years. Nevertheless, the "national pastime" is still the fourth major team discipline in North America. On global scale, baseball is steadily expanding with new leagues being launched in Asia, e.g. Japan, South Korea, and many Latin countries, e.g. Mexico, Nicaragua or Puerto Rico. Founded in 1869, MLB (Major League Baseball) is the highest level of professional baseball in the United States and Canada. Major League Baseball is also one of the richest leagues in the world with the New York Yankees being regarded as one of the richest clubs on the globe. In fact, Yankees lead the 2009 ranking of "Top paying sports team in the world by average first-team pay."
Baseball betting
US baseball is not a very popular sport to bet. It is somewhat strange as there is plenty of betting opportunities with each team playing an immense 162 regular season games! It also means that odds compilers have to release their baseball prices on a daily basis, so baseball punters stand a good chance to find value bets. MLB season commences on the first Sunday in April and ends on the first Sunday in October. There is postseason then which goes into early November. In the regular season, MLB teams usually play six games days per week, with Monday or Thursday as an off day. Games can be played either at night or day (frequently in summer months). Interleague play refers to the period mid-May-late-June when baseball teams that rarely meet play against each other.
Baseball bet types
Match Winner – bet on the winning team e.g. Yankees 5/7 (1.71) vs Red Sox 6/5 (2.20)
Handicap – this form of baseball betting is applied to matches where there is a big favourite and a clear underdog, the chances of both teams are equaled. A number of runs, for instance 1 ½, are subtracted from the score of the team which is considered to win the game. It means that in the example above, the favourite has to win by at least two rounds in order for you to win the bet.
Over/under betting can be divided into:
Over/Under Total of a Game is posted at 9, and if the added up runs of both teams are less than 9, the under wins; if the added up runs are more than 9, the over wins; if the added up runs are exactly 9, your stake is returned. The price is usually 9/10 for both under and over.
Over/Under Total Wins means that you bet on whether the total number of wins of a baseball team involved is going to cross the number set by the online bookie.  
Bet on pitcher
In baseball, probably the most important person in the team is the pitcher. This is the player that can easily become the guarantee of success.
Therefore, in baseball, pitching is an important factor that dictates the odds. The pre-game odds on a specific baseball game are based on the starting pitchers for the game. In case there is a pitching change before the game and an unscheduled pitcher starts, the odds may be adjusted.
Depending on the pitching, you can bet a baseball game in a several ways.
1)betting the game as "action" – bet is live regardless of the fact if the pitchers are changed before the game or not (which may change whatever the odds for the game are)
2)betting based on both of the pitchers – in such case, if an unscheduled pitching change happens in any of the two teams, your wager will be voided and your stake returned.
3)Betting based on one of the pitchers – in such a case, if an unscheduled pitching change happens in the team you have selected, your wager will be voided and your stake returned.
Baseball betting tips
Wait for the season to get into full swing!
If you intend to bet on the early stages of baseball season, then hold your horses! Most baseball teams have somewhat shaky and not so confident start to the season. Team managers may be trying out new line-ups, while players often give faltering performances. Spend this time observing and studying all the teams. Read baseball news, study stats tables and try to find out which teams have the dark horse potential.
Don't rely on the Winning Streak
When a team is having a winning streak and it is their, say, third consecutive win, it is not the best idea to count on them as they may probably rest on their laurels, while the underdogs may be extra motivated to beat the theoretically stronger opponent.
Don't get lured into "old rivalries"
If there are two team with equal strength and are having rivalries against each other, you had better stay away from these hyped-up fixtures. Anything can happen during those games as extra emotions come into play. Major leagues' greatest rivalries include: Yankees vs. Red Sox, or Cubs vs Cardinals.
Make a profit from a few teams.
When it comes to baseball, online bookies have so many games to cover that it is impossible for them to have the odds right on every fixture. Streamline your research into 3, 4 or 5 baseball teams and gain expert knowledge about them. That way you will gain an upper hand over the busy odds-compilers.
Find the bookmaker with reduced juice!
If you want to add to your potential winnings, we recommend that you find a bookmaker offering reduced juice on baseball. We have a separate article on which bookmaker has the best baseball offer?
Some universal rules about underdog and favourite betting...
Whether it is baseball or any other sport, there is a golden rule when you are looking for value with the underdogs, or favourites. If you intend to bet on the favourites, place you wager early in the week, when the odds on the stronger team are highest. However, if you intend to bet on the underdog, we recommend that you place your wager as late as it is possible, when the odds on the weaker team are highest.