Sports Betting Guide
Which online bookmaker has the best baseball offer?
Focusing on MLB, we have analysed online bookmakers which have a good baseball offer. There ore only few bookmakers in the world, at which the offer is worth attention and limits are so rational that one can bet on a single match on a coupon with a higher stake. Usually there are three types of bets offered (win, handicap, total hits under/over) to which we pay a certain attention. We took a closer look at bookmakers fully oriented on typically American sports such as: Intertops as well as global bookmakers such Unibet.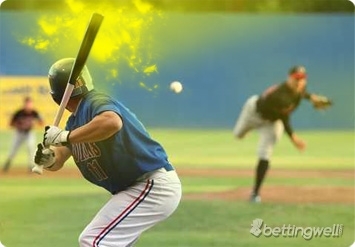 Intertops
Intertops is a bookmakers with a rich tradition at which Baseball can be played for rather high stake. Maximum for a single bet is $2200 in case of playing for a win  or spread, and $1500 if playing for total hits. Live betting has around 30 different bets for a single match and low bookmaking margin (around 2,5%) gives an image of a bookmaker which is distinguished among many bookmakers on the market. Some people have reservations to the appearance of the web, but to many real players it is not a very important factor.
Unibet
Unibet - widely known, European Internet bookmaker which does not specialise in Baseball but his offer is very good, sometimes even better than of bookmakers which pose as American sports masters. Moreover, there are quite a few live bets and everyone can find something for himself. Unibet does not freeze the odds during inning which is important for many players especially those playing on covers.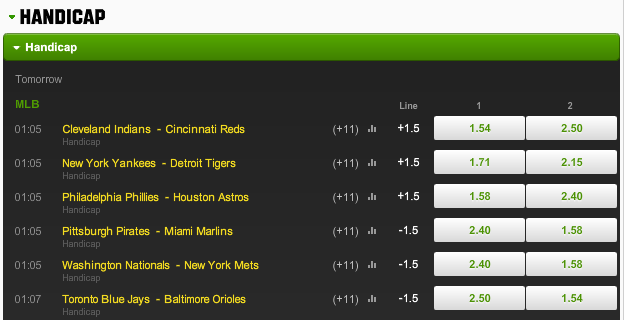 Conclusion
Before choosing a bookmaker each player should answer a following question: what is most important for me? Do I bet only recreationally? Do I aim for high wins with high stakes or bets with high combo for the minimal stakes? Do I play for a few matches or just one match on a single coupon? If you are aiming for the height of the offered odds definitely Bet365 and Intertops will be right for you. 
If you like to bet during the match and have a possibility of choosing out of many bets (Asian handicaps, win, total hits, first inning win, total hits in particular innings, will there be an extra inning, which team will score first, which team will score last, inning with the highest amount of hits etc) in our opinion you should choose between Bet365, Intertops and Unibet. In case of playing a combo bet considering Bet365, Unibet will be the best option.