Betting News
Win £10.000.000 in Expekt Colossus sports lottery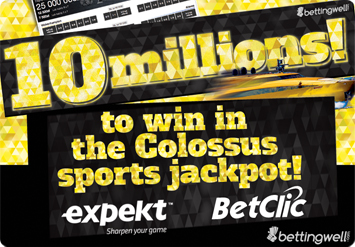 Hands up who wants to win £10.000.000 in a sports lottery! We are certain that all of you. Because of  Expekt and Betclic bookmakers, now you have the opportunity to do so. The bookmakers offer betting pool sports lottery which is considered the biggest sports jackpot in the world.
We introduce you The Expekt Colossus sports jackpot.
From time to time, the whole nation is totally overwhelmed by the lottery mania. All news stations, tabloids and even old ladies at the grocery story are only talking about one thing - the jackpot in the lottery. In the meantime, the Expekt bookmaker offers such lottery jackpot all year long, 24 hours a day. All you need to do to become a millionaire is to £0.20, access to the Internet and...a bit of luck.