Betting News
Strangest bets in sports betting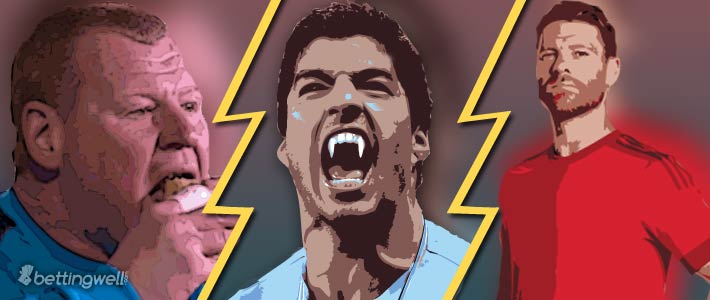 The strangest bets in the history of sports betting as well as the most unusual things people use as the stake in betting on sports events.
Strangest bets in sports betting
Things get really interesting when people make bets whether a footballer will bite another player or eat a meat pastry during a match. What is more, it does not stop on novelty betting for such strange things. People go even further and often replace money as their stake with weird prizes (or punishments) like betting your own wife or house, getting a tattoo in your private places or even stripping on live television.

Paddy Power - king of special bets
Paddy Power is a great example of a bookmaker that heavily relies on special bets. Despite not having the best odds, they are one of the most popular online bookmakers. It is mainly because of their wide variety of different, sometimes weird bets and the way they have embraced their oddness in their marketing campaigns and advertisements. Bets for newly-elected president Donald Trump (including options for him winning the Peace Nobel Prize or being impeached) or the ones connected with the life outside Earth and the date of the end of the world are just a few examples of betting markets in which Paddy Power unquestionably dominates. Other bookmakers that offer novelty bets include Ladbrokes, William Hill and Bet365.

What can go wrong with betting your wife or house?
First on our list of the strangest bets in the history of sports betting is the example from Africa. In Uganda, two men made a bet for the Arsenal vs Manchester United match. Henry Dhabasani bet his house for Gunners win and his friend, Rashid Yiga, placed his car and wife for United. The Red Devils have won because of former Arsenal player - Robin van Persie's goal and Dhabasani and his family of over 8 people were evicted the next day.

Tasering your spouse
One of the most extreme examples of betting using punishment as the stake was that of a married couple that while heavily intoxicated with the alcohol decided to make a bet in which the person that backed the winning team of the American football game they were watching, could shock the other spouse with a taser. The husband's team won and he tasered his wife. She was more than unhappy and called the police which resulted in his arrest. And you would think that the bets for the colour of the Gatorade bath for the winning coach at Super Bowl were strange…

Stripping weather girl
A slightly less controversial case is that of Doria Tillier, former model and French weather presenter who promised that she would take her clothes off on live-tv during her weather forecast if France manage to qualify for the 2014 World Cup. It must be said that the French lost in the first leg 2:0 to the national team of Ukraine and it was quite unlikely that they would overcome such loss. But...they did, they have won 3:0 and Tillier had to strip in front of the cameras.

Xabi Alonso's own half goal
When it comes to sports betting, one of the most famous bets is that of Adrian Hayward, a Liverpool fan that placed £200 on that Xabi Alonso would score a goal from his own half during that season. The bookmaker though that they earned easy money and were shocked when the Spanish defensive midfielder scored a goal against Luton Town from 60m range. Adrian won £25,000 and later on explained that he noticed few long-range shot attempts from own half from Alonso last season and decided to try his luck betting his money on that.

Luis Suarez famous bite
Another interesting bet is that of Scandinavian bookmaker Betsafe, who offered 175/1 odds for Luis Suarez to bite a player during the 2014 World Cup in Brazil. The Uruguayan striker have been already known as a 'biter' and more than a hundred punters took up the bet and place their money. As we all know, Suarez have bitten Giorgio Chiellini in what was his most famous (or infamous) incident so far and a lot of people were more than happy he did so.

Tattoos after lost bets
When it comes to sports, football in particular, a very popular bet involves a tattoo that the loser of the bet have to ink on particular part of his body. This include Manchester City fan tattooing United emblem on his chest after a lost bet, a man having to tattoo Andy Murray on his bum cheek after the Scottish tennis player won the Wimbledon and recent example of Seattle Sounders fan who had to ink Celine Dion after his team won the MLS cup for the first time...also on his buttock.

Eating a meat pastry during a football match
The latest example of a strange bet comes from a 2017 FA Cup match between Arsenal and Sutton United. The National League (fifth tier league) club was already a sensation after reaching the 5th Round of the FA Cup for the first time in their history. They became even more popular because of their reserve goalkeeper, Wayne Shaw. Named by the British media as Roly-Poly Goalie, Shaw was 45 year old and had a weight of 280 pounds at the time. The goalkeeper became the fan-favourite and a social media celebrity which resulted in an extra media coverage for the Arsenal game.
But wait, there's more. During the match, Shaw became hungry and started eating a meat pie. Despite how ridiculous it sounds, it would not be much of a controversy if not for a special bet from Sun Bets, the online sports betting operator of The Sun newspaper, which offered the odds of 8/1 for Shaw to eat a pie at any point during the game. Later on, the goalkeeper admitted that he knew about the bet, but neither he or his teammates did not put money on it. He said it was just a fun thing to do for the fans. Both the club and the Football Association were not pleased with the latter stating that Shaw broke the regulations and could face serious consequences. In the end, although he was sacked by the club, he got his 5 minutes of fame and few people got back their ticket money.