Betting News
Bitcoin is more and more popular in the USA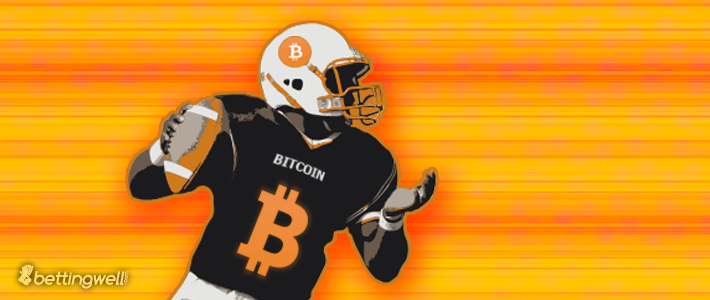 Bitcoin is a virtual currency, developed in 2009 by a person or what is more probable a group of people, hiding under the nickname Satosi Nakamoto. Despite a weak start, the recent years are being characterized by a quick growth of Bitcoin's popularity, at the moment its amount in circulation is 10 billion dollars and increases constantly. It should be mentioned, that 50-60% of Bitcoins available in circulation is used in the world of gambling games and bookmaker bets. 

Bitcoins in the United States
Swiftness of transactions, lack of any commission fees and, first of all, almost full anonymity have led to Bitcoin being of huge demand among bettors. And despite that until lately you could count bookmakers that offer their clients Bitcoins on the fingers of your hand, now virtually every large bookmaker, offering sports betting, has this payment system in its offer. The leading companies are Bovada, BetOnline, Sportsbetting, Intertops.
Why is Bitcoin so popular in demand in the United States? The main reason is very strict laws about gambling games, limitations for players are becoming tougher and the amount of documents needed for the verification process increases from year to year. All this has led to Bitcoin becoming an obvious choice for many bettors.
 
Swiftness of transactions and lack of commission fees
Every self-respecting player has accounts at several bookmakers. Their simultaneous servicing and liquidity has to be at a satisfactory level, swiftness of our funds circulation between bookmakers is in this case is key. In Bitcoin's case, the time of transaction is within several seconds to several hours and has to satisfy the most demanding players.
Support of the simultaneous payments of thousands of clients is one of the largest costs for bookmaker companies, offering online betting. Personnel, which has to be paid, works on correct flow of funds while depositing and withdrawing funds. Bookmakers that offer Bitcoin are not concerned by such costs. All financial operations are done automatically, without the need of employing and paying the servicing personnel. This has led to bookmakers being able to compete with those firms that acknowledge only traditional currency, even at the expense of high odds.
Authorities of the USA try to limit transactions connected with gambling games in the Internet, setting all new payments on bookmaker companies. The majority of bookmakers, "trying to compensate their losses" charge commission fees for all possible financial operations. Of course, these are token money, but there is no doubt that firstly the company's clients lose. In general, depositing or withdrawing funds from a gaming account, it can be rather difficult in the United States, also expensive and requiring much time. Players who have accounts at bookmakers offering Bitcoins can avoid these problems. The realization time is more than satisfactory and the commission fees are zero.

Thanks to Bitcoin we are getting virtually anonymous
The majority of traditional bookmakers require their clients to go through a complex and strict verification process. And despite we understand that this process is devised for security of both parties against any fraud, we are confident that none of us has a smile on his face while going through it.
In case of bookmakers offering Bitcoin everything gets much simpler, often the only information which we can be asked for, is email.

The best odds, a bit worse bonuses
As we have already mentioned earlier. Due to lowering of exploitation costs, connected with financial servicing, which companies bear while servicing their clients just in traditional currencies, bookmakers that offer Bitcoin as a payment system can offer their clients a bit higher odds.

In its turn, one of not many fields where bookmakers that offer Bitcoin lack behind is bonuses. This is probably the result of anonymity, which Bitcoin can guarantee. Bookmakers simply secure themselves in such way from fraud from the players' side who can easily create several accounts at one bookmaker and use the given bonus several times. Nevertheless, some bookmaker companies offer deposit bonuses, with the exception of them being less than at traditional bookmakers.

American bookmakers that service Bitcoin
One of the most popular bookmakers offering Bitcoin to clients is Bovada, a bookmaker company with a many-years' experience on the market of online betting. The thing that differs this bookmaker from others is a maximal concentration on national kinds of sports – American football, baseball, basketball, hockey. The choice of prioritized disciplines on the American market, payment methods and available promotions correspond to Bovada's clients in order for them to feel maximum comfort.

The next solid bookmaker that services Bitcoin is BetOnline. A worthy and recommended bookmaker, that values loyalty and reliability has been creating its position on the market for many years. BetOnline offers unusually rich choice of events you can bet on, especially for the "big four" – NFL, MLB, NBA, NHL.

Sportsbetting also has Bitcoin as one of the payment systems. The company has become a reliable and worth attention bookmaker since the merging with Betonline in 2012, and offers sports betting. Except from providing maximum reliability and even worthy odds, Sportsbetting offers its clients support at the highest level. As they talk about themselves, the company is an excellent variant for both "amateur-players" and professionals.

The last bookmaker company that has Bitcoin in its offer and which should be mentioned is Intertops. The bookmaker exists since 1983 and is one of the oldest and constantly operating. For many years Intertops has earned the name of a reliable bookmaker that tries to justify all expectations of American players. The scope of disciplines is rich, but the main, of course, are American football, baseball, basketball, hockey.