Surprising Manchester City upset. Betting on Norwich victory could have broken a bank!
author: andrew submitted:
16 September 2019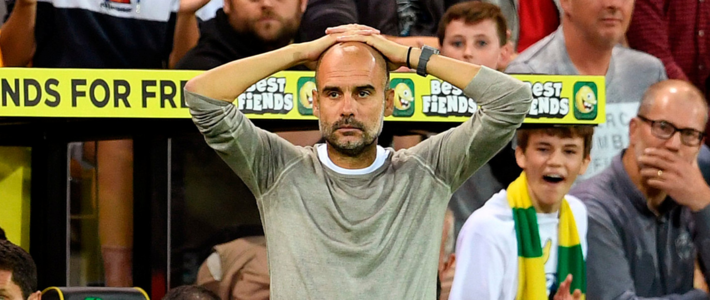 Pep Guardiola-led squad played one of its worst matches during his time at Etihad Stadium. Such a poor performance resulted in a well-deserved Norwich victory. However, we are interested in how much you could've won betting on such an outcome?
There was only one favourite in that match up. The hot City was getting win after win, while Norwich has lost 4/5 of its most recent matches. The underdog did not list 7 of its key players for this match against the reigning Champions. Moreover, the Canaries' starting squad was only worth 6 million pounds compared to the City's astonishing 406!!!
In the meanwhile, such a difference was barely noticeable, and that was the home team which dictated the pace of the game, winning 3:2. How much could you've won betting on that matchup? Let's take a look.
The oddsmakers from William Hill gave the Manchester City victory the odds of 1.07 (7/100), Bwin priced the draw at 13:00 (12/1), and bookmaker Betsson offered 35.00 (34/1) for Norwich victory! The unbelievable Asian handicap AH (+3) priced at 1.81 (81/100) at BetVictor was offering tons of value prior to the kickoff.
The bank was demolished by the tipsters who placed a Ht/Ft bet on Norwich at Betfair at the odds of 51.00 (50/1), as well as by the punters who correctly guessed the Correct Score 3:2 priced at 151.00 (150/1) by BetVictor.
photo. independent.ie