What to look at while betting on table tennis?
Earning money on sports becomes more and more popular. However, we only have a chance to win in sports in which bookmakers do not have great knowledge.
Table tennis is not popular sport discipline to tip, although prestigious bookmakers have it in their offer. What distinguishes tipping on table tennis from tipping on football? First of all the main factor is bookmakers' lack of knowledge and what goes with it a possibility of finding incredibly high odds. Sometimes I am amazed by tips set and I wonder where online bookmakers take them from, in many cases they are probably prompted only by ranking from page ittf.com, and they do not consider much more important factors. I suppose that they use some simple formula with large error margin. For tipsters a plus are odds overestimated up to 40%.
In order to show bookmaker's mistakes I will take an example from football.
For instance Manchester United plays with its best players against Wolverhampton and bookmakers set odds without the draw: for MU win 2,87, for Wolverhampton 1,44. Every football fan or tipster would notice right away that something is not as it supposed to be, and that actually tips should go the other way around. Football is such a popular sport that in few hours odds would get down to logical height. Because bookmakers do not have enough knowledge about table tennis mistakes may happen.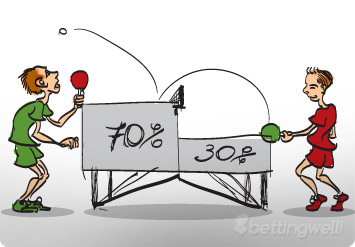 What should we pay attention to while betting on table tennis?

to top
1. Ranking is not everything. Of course it is important to check a ranking place but mostly it is important to check ups and downs of particular players in the ranking. This part is checked by bookmakers, so it is hard to have get an advantage over them, however one should keep it in mind to do it.

2. Current shape of a player - very important element, which in my opinion is neglected by bookmakers. Very important are wins, defeats and points scored. Without such knowledge I do not bet on a given team.

3. Important and less important tournaments. There are always more surprises in tournaments of a lower rank. Like in every sport, in table tennis players with "10" are expected to play in Olympiad, World Championship or important league matches. Low rank tournaments have their own rules and in my opinion odds for the front runners are over estimated by 5%.

4. Style of play, playing against a left-handed player etc. In every sport a style of a play is of great importance but in table tennis its role is even more than important. For instance there are players who cannot play against left-handed opponents. Many times I've met fantastic players who were winning almost every game, but in case of play against left-handed opponents they could not manage to win. Everyone has determined scheme of the play for instance a player may like to play backhand to someone who's good at forehand. Many European players cannot face penhold style and vice versa in case of Asian players. Services , ways and array of rotations are important elements as well. It is also important to check history of matches - it cannot be omitted by any tipster. Thanks to that we can come up with many conclusions which all together will give us few percents of advantage.

5. Many recreational players bet on this sport because there is, for instance, a live betting meeting so its time to bet.... Usually players are directed by bookmaker's odds, that's why they bet on the front runner, which lowers the odds to ridiculous amounts and does not reflect reality. Bets on table tennis are such a small market that odds oscillations are very big. It gives a chance to bet.
6. Off sport information about a player. Unfortunately in case of table tennis there are not many information in media and one has to try harder to find something about a certain player himself. In my opinion it is good to start from social networks which from time to time may provide us with a lot of info. In table tennis there is only one person playing and psychological and mental aspects play an important role. If a player has some problems or other factors which may distract him and therefore a chance of losing a match goes up a lot.

7. The height of bookmaker's odds. Players tend to forget about its importance although it is a basic rule of making money on sports betting. Odds on particular matches may differ among bookmakers by few percent that's why one can obtain much better result. Therefore bet where there are the highest odds in the web.

8. High winning of the first set does not proclaim a win of the whole match. Unfortunately many unexperienced players after noticing high win in a first set on the level for instance 11:5 treat a player as a sure winner and odds for him go down. Currently, in a game up to 11 points, it is of much lower significance than previous matches which went up to 21 points. Now it is hard to sense for instance opponent's services in just one set. Moreover, high wins at the beginning relax a player and lead to easy lost later on. If we bet live we have to look at the first set as at "experimental field", main factors to which you should pay attention include: do the players have any problems with opponent's services, how many strikes are needed in order to gain a point, are mistakes of a player rather small or does he strike outside of the table, or if for instance a player often loses at the beginning in order to later on warm up and win. Emotions of less experienced tipsters take advantage over common sense, and odds for a winner after a first set are usually ridiculous.
A simple method used by professional players

to top
| | |
| --- | --- |
| Determine your own odds, it is probably the best method which at the bottom line gives an advantage over a bookmaker. I do not look at odds set by bookmakers through a deep analysis I try to evaluate them myself instead. It is very important not to be prompted by odds offered by bookmakers because lack of this knowledge while betting | gives us an advantage. Often after 15-20 minutes we are able to set odds more accurately than bookmakers. It happens that odds on a front runner go up to 2,5-2,80 value! Thanks to this method we will find big odd diferfences and mistakes made by bookmakers. Let's not forget about the value of a stake because there are no sure winners in sports. |
Bookmakers at which is it worth to have an account in order to bet on table tennis

to top
| | |
| --- | --- |
| Bet365 - leader in online betting, besides the largest offer of odds on table tennis we have the possibility of live streaming. Bet365 is my favourite bookmaker because of the chance of betting on tournaments of a lower rank as well. | Moreover the bookmaker offers its website in Chinese language because of that there are more bets placed and playing at a higher stake is possible. |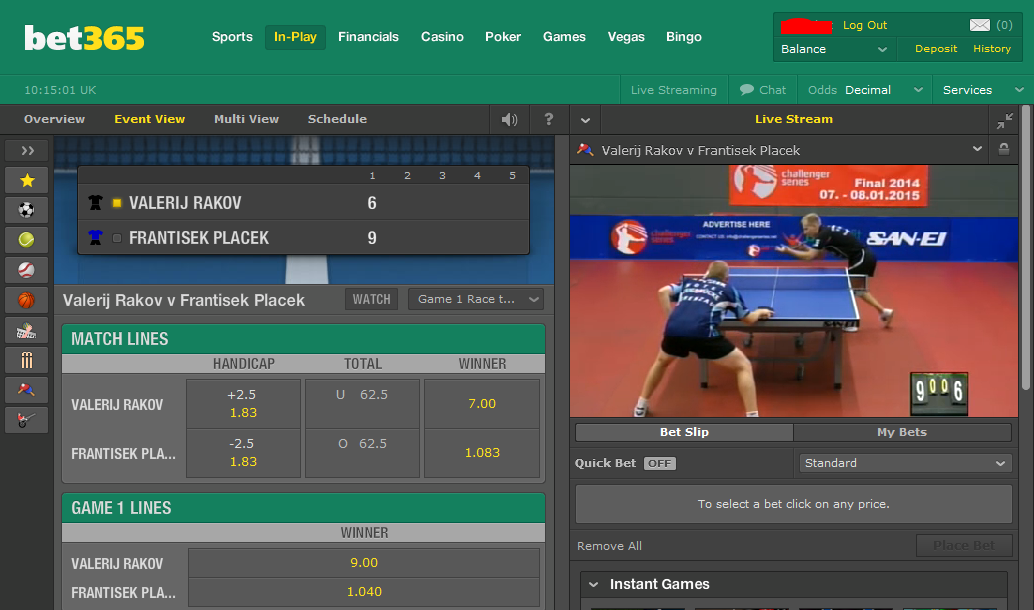 Related bookmakers
Selected Best Bonuses