Sports Betting Guide
Winter Sports Skiing betting guide
The popularity of winter sports is blossoming. Until recently, winter sports were not really popular and often regarded as too expensive as they involved costly equipment, clothes, entrance fees and often travel expenses and accommodation. Recently, however, with ski resorts worldwide more busy than ever, it seems that winter sports have become more affordable. There is also an increasing awareness that it is beneficial to participate in some sort of outdoor activity in winter.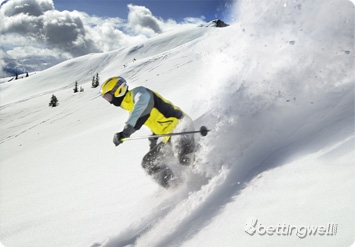 Winter sports
Winter sports, however, are not very popular among the bookmakers and also among the punters. They fall under the category of "less popular sports" and are often hidden somewhere in the drop down menu. In the past, bookies sticked to events they knew very well. Now, with the betting industry much more developed and competitive, top online bookmakers seek to offer as many wagering opportunities as possible. That is why, when you pick the right bookmaker you can bet on almost any winter sport event out there, ranging from Alpine Skiing, Ski Jumping to Cross Country Skiing or Biathlon.
Winter sports betting
Winter sports offer a wide range of betting markets which is compensated by the fact that winter sports wagering is limited to a few months. Betting starts usually in the early December and ends in mid-March at best. Of all the winter sports, ski betting is the most potentially profitable area to focus on.
Most popular ski winter tournaments among the online bookmakers are Winter Olympics, the biannual FIS Alpine World Ski Championships organised by the International Ski federation and the biannual FIS Nordic World Ski Championships (cross country skiing, ski jumping, and Nordic combined).
In the Alpine skiing, which is best covered by Austrian online bookmakers such as bwin, the odds are offered on World Cup' "speed events" such as Super Giant, and "technical events" such as Giant Slalom, and Slalom, both men and women competitions. Cross Country Skiing is contested by both men and women. There are two techniques used called Classic and Freestyle. Classic is the original "stride and glide" format, whereas Freestyle is the newer and faster "skating" style. Events are held over distances varying from the sprints at approximately 1500 meters to the 50 kilometre races. Complete betting offer on cross country skiing is offered by Scandinavian bookmakers such as Betsson.
Ski Jumping is a spectacular sport to watch and even more fascinating discipline to bet on. It achieves huge television audience each year, especially in the Nordic and Central Europe countries. The season usually starts in late November at last until mid March. Ski Jumping betting can be divided into: FIS Cup (most of the events in the season fall under FIS Cup), the annual FIS World Cup, The Four Hills Tournament (four events in Germany and Austria which are also part of the FIS Cup: Obersdorf, Garmisch-Partenkirchen, Innsbruck, Bischofshofen), the annual FIS Continental Cup (heavily attended by juniors) and the Summer Grand Prix. Complete betting offer on cross country skiing is offered by Scandinavian bookmakers such as Betsson.
Winter Sports Skiing Tips
Ski jumping betting can be very difficult.
Ski Jumper's Overall Experience, Successes, Form and Morale which can be easily judged by the Statistics, are not satisfactory unit of measurement for an upcoming event. Performance in ski jumping depends on many factors which are more or less random in nature and depend on the day: weather conditions (strength and direction of the wind, visibility), competitor's reaction and concentration and more.
Home advantage. 
Online bookmakers tend to undervalue the importance of home advantage ski jumping events. The more jumps the player performs on a given hill, the better for him. FIS World Cup ski jumping events are held on less or more 20 venues which means one, two sometimes three jumping hills per participating country. It means that jumpers can easily perfect their technique on their national ski jumping venues. Jumping on a "friendly" hill, knowing all the ins and outs of the venue, presents many advantages for the jumper: almost perfect take-off timing, assuming the best possible flight technique, greater confidence (a very important aspect in ski jumping) and more.
What should also be added is the home crowd advantage. 
Another helpful piece of advice is that the characteristic of each venue favours different type of ski jumper. Some hills reward a good flying technique which is typical of Japanese and Austrian ski jumpers. Other, rather smaller hills reward a strong jump characteristic of smaller jumpers such as Polish ski jumping star Adam Malysz.
Try Head-to-Head betting
H2H betting is where you can make some regular decent profits. What is the biggest single advantage of Head-to-Head betting is that you don't have to be sure who will be the winner of the event. What is enough is to have well-founded trust, or at least one of those prophetic gut feelings, about one participant.
Pick Austrian or Nordic bookie
Austrian and Nordic bookmakers concentrate on winter sports which for you means more betting options than anywhere else, and provided you are lucky, some nice winter sports promotion.
Winter sports bet types
Event Winner – predict who will be the winner of the event
Finish 1, 2, 3 – predict whether the contestant will be at least 3rd
Head to Head – predicting which of the contestants will be higher in the event
World Cup classification winner – predict who will win the general World Cup classification at the end of the season
Special bets - bets not related to the sporting event, related to the private life of competitors