Sports Betting Guide
Biathlon betting
Biathlon - winter sport combining ski running with rifle shooting rarely comes to mind when speaking of sports betting. Despite that we decided to write an article giving you some insight into this discipline, and maybe help you win with the bookmaker.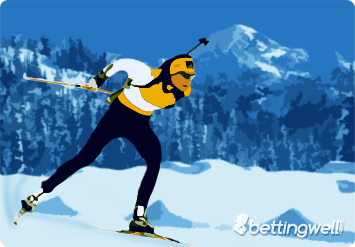 Introduction
Biathlon is a winter sporting discipline that merges the dynamics of cross-country skiing and precision of rifle shooting. The combination, which requires both physical and mental strength from competitors. Because of that it's difficult to type on this type of sports, but worry not, we are here to unveil you the secrets of successful biathlon betting.
What to consider in biathlon betting
During the race situation can change several times. Everything depends on several factors:
Shooting accuracy;
The sportsman's pace speed;
Track surface;
Track profile;
Weather conditions (wind force, snowstorm, blinding sun and so on).
Several leading bookmakers such as Unibet offer interesting positions in their lines. Ranging from standard bets such as outright winner, to less popular markets, such as hitting a particular area in finishing protocol. They also provide the H2H bets, in which punters may chose which of two contestants will finish on a higher position. We will go across all types of bets, and provide you with as much knowledge, as we have gathered, and make sure you will gain additional advantage over the bookmaker.
Bets on the winner and prize winners
In this type of bets the most important thing is to take several factors into account. The world event always has three sportsmen who are in the best sporting form and have already been to previous stages of competition. Because of that defining the next prize winner seems not to be a hard deal, but the margin of error still exists. First of all, a person can be in the top three of the world rating while not getting to the pedestal once. The main thing is stable-strong performance and constant art of the "six" at finish. So you have to analyse player's previous starts.
Secondly, you always need to analyse the state of the sportsman's form. Many contestants try to gain points advantage during early stages of the tournament, just to burn-out just before the finishing line. Thirdly, you always need to learn about a sportsman's health state from the news. This sports' specificity makes biathletes prone to catching cold at trainings and lowering their performance by a lot (illness impact the sporting results within up to 10 days after recovery). Do not forget to watch the weather forecast on the tracks place and better avoid betting on bad "snipers" if strong wind is expected.
Biathlon betting
Bets "who is higher?" or so called "H2H bets" are the most popular in this sport. For those who are experienced in biathlon betting they are the most interesting. Long term punters always follow the championship running and know the shape each of the sportsmen is in.
Those of you who are interested in such positions should first of all analyse the following information:
Tours in which the tournament takes place;
Physical shape of both sportsmen at the moment of the race (analyse the last 2-3 starts of each one);
The factor of own field plays a significant role. It's better not to bet against sportsmen who are citizens of the organising country.
If the start is not combined you should evaluate the track surface's state. When it's warm there will be slush, and the track will become harder with every minute and ski-run worsens. When it is cold or snowing the track becomes more pressed and speedy.
Hitting percentage in shooting. If the weather tends to be windy – an accurate shooter has his chances increased automatically. Reloading takes around 15 seconds, a penalty circle of 150 meters – around 25 seconds of lost time or a penalty minute in case of individual race (+ additional tiredness).
Conclusion
In the end – biathlon is a very dynamic a specific kind of sport. If you do not follow the championship from the very beginning it's better not to bet. In contrast to team game where the form lasts from 1 to 3 years, for individual biathletes it is hard to stay in peak condition for over 2-3 months. This is extremely important when betting on favourites who had won few competitions in a row. Even though it is a niche sport in most bookies offer, experienced punter should find value in it, and - by using our guide - take his share.